Automation already plays a significant role in the U.S. workplace, and most Americans expect technological advances to continue to alter the job landscape in the decades ahead. These seven charts, based on recent Pew Research Center surveys, highlight Americans' views toward job automation:
1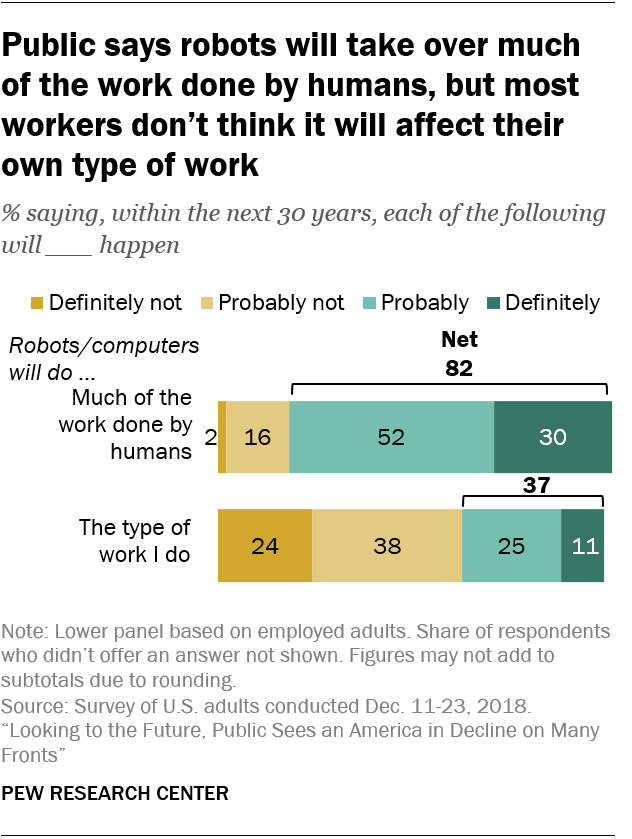 Most Americans anticipate widespread job automation in the coming decades. About eight-in-ten U.S. adults (82%) say that by 2050, robots and computers will definitely or probably do much of the work currently done by humans, according to a December 2018 Pew Research Center survey. A smaller share of employed adults (37%) say robots or computers will do the type of work they do by 2050.
2
The U.S. public generally anticipates more negative than positive effects from widespread job automation. Around three-quarters of Americans (76%) say inequality between the rich and the poor would increase if robots and computers perform most of the jobs currently being done by humans by 2050. Only a third (33%) believe it's likely that this kind of widespread automation would create many new, better-paying jobs for humans.
In a May 2017 Pew Research Center survey, around four-in-ten U.S. adults said an automated future would make the economy more efficient, let people focus on the most fulfilling aspects of their jobs or allow them to focus less on work and more on what really matters to them in life. In each instance, a majority of the public said these positive outcomes are unlikely.