The engagement level of Reddit users taking part in the candidate discussions over the three months studied echoes earlier research about other digital spaces. The majority of authors offered just a single comment naming a candidate, while fewer came back with multiple comments over the course of the study.
Fully six-in-ten of almost 100,000 authors posted just a single comment naming a presidential candidate. A quarter posted three or more.
Undoubtedly there may be instances where a user added additional comments without mentioning a candidate directly. But these findings reinforce much of what we have found in previous studies: A 2015 study of local news habits found that just a small share (less than one-fifth) of commenters to Facebook pages of news outlets left more than two comments. Another study found that on Twitter a small core of active users (12%) tweeted 100 times or more during a four week period. Among all social media users, we have found that just a small fraction say they have posted videos or photos they themselves have taken of a news event.
Repeat commenters more likely to discuss multiple candidates and parties – and to be downvoted
Highly engaged users – those who left three or more comments – tended to leave more than just three comments, as well as participate in multiple forums. About one-in-five of these commenters (21%) left more than 10 comments naming a candidate over the three months studied, and nearly half (45%) posted a comment naming at least one candidate in three or more subreddits.
Users who left three or more comments differed in terms of the number of candidates and parties they mentioned. Among these active commenters, 90% mentioned multiple candidates, with about two-thirds (64%) mentioning three or more. This far outpaces the 38% of all users who mentioned multiple candidates (19% of whom mentioned three or more).
This is also true at the party level. Nearly three-quarters (72%) of these highly engaged commenters named candidates from both the Republican and Democratic parties, compared with only about a quarter (26%) of all users in our analysis.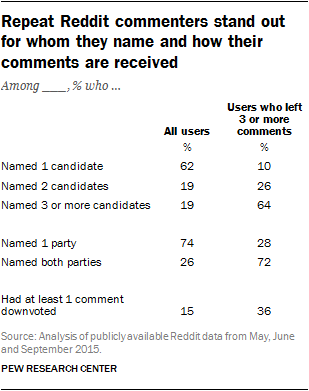 Data on upvoting and downvoting behavior reinforce the notion that repeat commenters operate differently on Reddit than do one-time commenters.
Overall, 15% of authors had one or more comments naming a presidential candidate voted down. However, among repeat commenters, that jumps to nearly four-in-ten (36%). This could be because such commenters are more passionate on the subject and thus more likely to inspire a reaction, or it may more simply be that posting multiple times presents more opportunities to have a comment voted down.