If the organizational Twitter feed is mainly a way of disseminating their content, might individual journalists exploit the social nature of the tool more-using it to gather information and build connections with their readers? To answer this, at least in part, researchers examined the Twitter feeds of the most-followed individuals on Twitter from each news organization studied. In addition, in order to examine how reporters on a specialty beat use Twitter, Twitter feeds of health reporters from among the news organizations studied were added to this mix.
Certainly, there are reporters who are heavy and innovative users of the tool yet were not included in the study. These include, but are no means limited to, reporters such as Brian Stelter of the New York Times, who gained attention for his Twitter reporting from Joplin, Mo., during the aftermath of a tornado there. Researchers determined that examining the most-followed users offered the most consistent method across the news sites in the study.
As with news organizations, individual journalists use Twitter in widely divergent ways.
Among those studied, some used the tool heavily. The Washington Post's Steve Goff, a sports reporter, tweeted 101 times during the February week studied.
Others hardly used Twitter. Rachel Maddow, the MSNBC cable prime-time host, tweeted only three times during the week studied. George Stephanopoulos, ABC's Good Morning America anchor, tweeted 13 times. The popularity of these individuals, though, is still quite robust. At the time of study, Maddow was followed by 1.9 million Twitter users.[1] Stephanopolous was followed by 1.7 million. They, along with other well-known media figures such as NPR's Scott Simon and New York Times columnist David Pogue, were the most-followed journalists among those that were studied.
Of the 13 most heavily followed individuals at the news organizations in the study, the average number of tweets in a week was 32, or five times per day.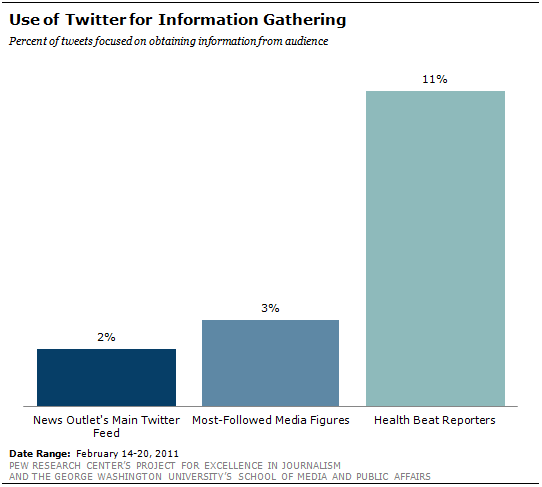 When these journalists did tweet, very little of that material was information-gathering in nature. Eight of the 13 reporters examined never asked followers to help provide information. On average, only 3% of individual reporters' tweets did so. There were exceptions, among them NPR's Simon, who took the opportunity on three different occasions to solicit information from his audience in a week where he tweeted 29 times. USA Today's Whitney Matheson also did so three times in a week with 19 tweets.
One question is the degree to which individuals use Twitter in a more personal way. The idea that Twitter is the venue where professionals share details of their personal lives was true to some degree among the reporters studied. On average, reporters included personal anecdotes in 39% of the week's tweets. As with other findings, there was a wide range when it came to how casual those reporters were in their Twitter persona. Some, like Arianna Huffington, included personal anecdotes fully 62% of the time. Others, such as Goff, did so only 2% of the time.
Those personal anecdotes were sometimes not particularly informational "Comparing notes with David Brooks backstage before our Intelligence Squared debate at NYU tonight #2partydebate" -Arianna Huffington); other instances were more clearly light-hearted ("just wiped out on some ice. both feet in the air, landing on my back. my dog could not have been more amused."-Jack Gray).
Individual reporters did not retweet other content often during the week studied. The average portion of tweets that were retweets was 11%. And about half of those retweets-6% of all tweets-were retweets of postings from outside entities (compared with 1% on the institutional Twitter feeds). Some reporters were more likely to retweet, including Goff (19% of tweets) and Huffington (17%). But on the whole, journalists chose instead to simply share their own comments or link to their own stories, making it more of a micro-blogging tool than an interactive social media tool.
Twitter Use on the Health Beat
In addition to studying the most-followed media personalities at major U.S. news organizations, researchers also singled out one specialty beat, analyzing a week's worth of Twitter use among health reporters at each of the news organizations studied, a total of 11 reporters.[1]
Overall, the findings suggest that when one moves away from the most popular Twitter personalities, usage becomes less personal, but also more interactive.
On average, the health reporters studied tweeted less frequently throughout the course of the week than the most-followed figures, with a mean of 23 tweets compared with 32. The health reporters were also less likely to introduce personal anecdotes into their Twitter conversations, doing so 28% of the time compared with 39% found among the top-followed personalities.
Yet health reporters were at the same time more engaging than the most-followed users were. On average, they used Twitter to gather information 6% of the time, twice as much as the most-followed personalities did (3%).
The Washington Post's Jennifer Larue Huget invited her followers to voice their opinions. "What do you think about this Nutella law suit?" she asked on February 14. Or, in a tweet from February 15, "Anyone else worry that your dog's breed will do so well at Westminster that it will suddenly become very popular?" Huget used Twitter as a reporting tool 21% of the time during the week studied.
ABC News' Dr. Richard Besser, who tweets about health and medicine, wanted to know what his followers do for exercise. "What Gets You Moving?" Besser tweeted on February 18. Besser used Twitter as an information-gathering tool 12% of the time.
The practice of retweeting also indicated the levels to which health reporters studied were more interactive-on average, 22% of their tweets were retweets, compared with just 11% among the top-followed journalists.

---
FOOTNOTES
[1] For two of the outlets studied, the Toledo Blade and The Daily Caller, there was no reporter identified as dedicated to health issues.
[1] These tallies were updated from those taken during the original period of data collection. The number of followers in this report was recorded on August 25, 2011.