See the most recent estimates of the U.S. unauthorized immigrant population, published June 12, 2019.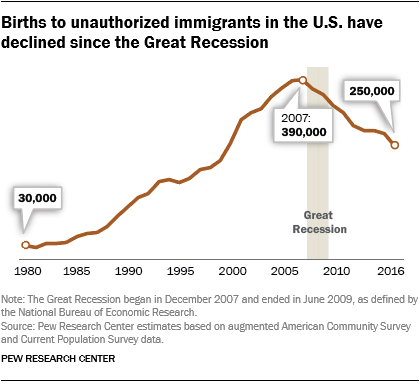 About 250,000 babies were born to unauthorized immigrant parents in the United States in 2016, the latest year for which information is available, according to a new Pew Research Center analysis of government data. This represents a 36% decrease from a peak of about 390,000 in 2007. The analysis follows President Donald Trump's announcement that his administration may seek to end "birthright citizenship."
Births to unauthorized immigrants in the U.S. generally rose throughout the 1980s, 1990s and 2000s but have declined since the start of the Great Recession about a decade ago, according to estimates based on data from the Census Bureau's American Community Survey and its Current Population Survey.
The number of babies born to unauthorized immigrant parents represented about 6% of the 4.0 million total births in the U.S. in 2016, compared with 9% of all births in 2007.
Birthright citizenship derives from the 14th Amendment to the U.S. Constitution, adopted in 1868, which grants citizenship to anyone born in the U.S. The provision has long been interpreted to apply to U.S.-born children regardless of the immigration status of their parents.
While the Center's new analysis provides estimates about the number and share of U.S.-born babies with unauthorized immigrant parents, it's important to note that the legal status of immigrant parents can change over time. For example, parents who have legal permission to be in the U.S. at the time of their child's birth might later overstay their visas or otherwise become unauthorized. Similarly, parents who are unauthorized immigrants at the time of their child's birth might later become lawful immigrants and then naturalized citizens. (This analysis also slightly revises earlier estimates published by Pew Research Center.)
Overall, around 5 million U.S.-born children younger than 18 were living with at least one unauthorized immigrant parent in 2016, up from around 4.5 million in 2007, according to the new estimates. The number of U.S.-born children has leveled off in recent years, reflecting the decline in births and the decrease in the unauthorized immigrant population since the Great Recession.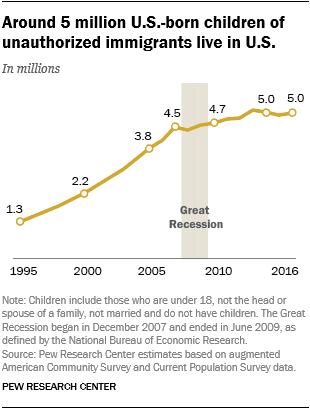 An additional 975,000 U.S.-born adults ages 18 and older were living with at least one unauthorized immigrant parent in 2016. That's up more than threefold from about 300,000 in 2007. (This analysis does not include adults who were born in the U.S. to unauthorized immigrants and were not living with their parents.) The number of U.S.-born adults living with an unauthorized immigrant parent has risen sharply in recent years as children born in the 1990s have come of age. Meanwhile, other estimates show that a rising share of their parents' generation are long-term U.S. residents.
An NBC News/Wall Street Journal survey conducted in September 2017 found that around two-thirds of Americans (65%) said birthright citizenship should continue, compared with 30% who said it should end.
In a Pew Research Center survey conducted in summer 2015, prior to Trump's presidential campaign, six-in-ten Americans opposed the idea of changing the U.S. Constitution to prohibit children of those who are not legal residents from becoming citizens, while 37% supported the idea. Democrats opposed it by a three-to-one margin (75% vs. 23%), but Republicans were more split: About half (53%) favored amending the Constitution to end birthright citizenship while 44% opposed it. Among independents, 58% opposed changing the Constitution for this reason while 37% supported it.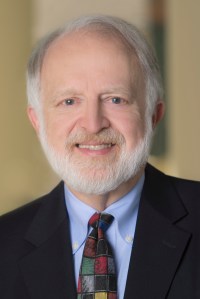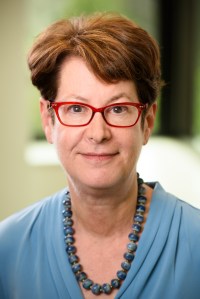 D'Vera Cohn
is a former senior writer/editor focusing on immigration and demographics at Pew Research Center.