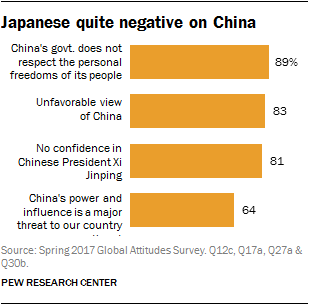 Japan is the world's third largest economy and has the seventh-most powerful military. It plays a major role on the world stage, where its interactions with other nations are increasingly consequential.
Japan's adversarial relationship with China dates from the 13th century and the Yuan Dynasty's attempted invasions of the Japanese archipelago. The first and second Sino-Japanese Wars between 1894 and 1945 renewed animosity. Today, nearly two-thirds of Japanese (64%) see China's power and influence as a major threat, though this is down 10 percentage points from 2013, the last time Pew Research Center asked this question. Notably, it is older Japanese (68% of those 50 and older) who are more troubled by China than younger Japanese (55% of those ages 18 to 29). But the Japanese are also less worried about their regional rival than are South Koreans (83% of whom see Beijing as a major threat) and Vietnamese (80%).
Overall, roughly eight-in-ten Japanese (83%) have an unfavorable view of China, including 35% who hold a very unfavorable opinion of Beijing. Just 13% of Japanese see China positively.
Few Japanese trust China's President Xi Jinping. Only 11% have confidence in him to do the right thing regarding world affairs, while 81% express little or no confidence. Middle-aged and older Japanese (ages 30 to 49 and ages 50 and older, both 82%) are more likely to express a lack of confidence in the Chinese leader than are younger Japanese (68%).
Roughly one-in-ten Japanese (9%) believe that Beijing respects the personal freedoms of its people, while more than eight-in-ten (85%) say it does not.
Japanese have starkly differing views of Chinese economic and military power. Just 19% think China is currently the world's leading economic power (versus 62% who say it's the U.S.). More than half (53%) believe that China's growing economy is a good thing for Japan, though this is down from 68% a decade ago. And just 4% of Japanese believe China's growing military power is a good thing for Japan, a sentiment that has barely changed over the years.