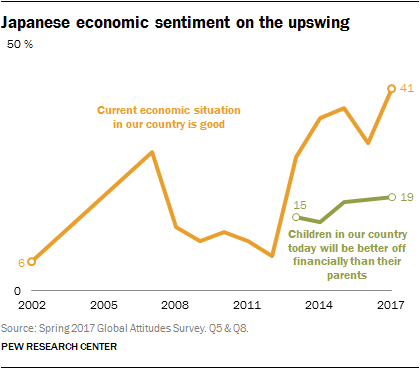 People in Japan believe their lives have improved dramatically over the past two generations. Roughly two-thirds (65%) say life in Japan today is better for people like them than it was 50 years ago. The Japanese are much more upbeat than Americans (37%) who were asked to compare their lives today to a half century ago.
Japanese also feel better about their country's current economic situation than they did a year ago. In spring 2017, roughly four-in-ten (41%) said economic conditions were good, up from three-in-ten (30%) in 2016. While hardly a ringing endorsement of their nation's economic health, the Japanese express a more positive view of their economy than at any time since Pew Research Center began asking this question in 2002.
The echoes of Japan's long-struggling economy are evident among Japanese ages 30 to 49 – they are the most negative about the current economy. Roughly two-thirds (65%) of this age group say economic conditions are bad.
Although overall economic satisfaction is on the rise in Japan, concerns about the future persist.
About half of Japanese (51%) believe the condition of the global economy poses a major threat to Japan. (Concern about this issue is substantially lower than for a number of other threats such as cyberattacks.) Worries about external economic turbulence are particularly strong among the young: 65% of those ages 18 to 29 are worried, compared with 43% of those ages 50 and older.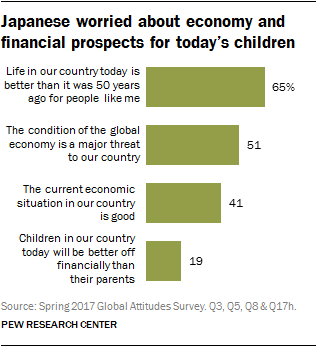 When it comes to the global economic balance of power, just 7% of Japanese believe that Japan is the world's leading economic power. Such lack of faith in the country's economic pre-eminence has been prevalent for years.
When asked about the economic prospects of the next generation, only 19% believe that today's children will be better off financially than their parents, while 72% say kids will be worse off when they grow up. But there is a more hopeful note on this issue: About a third (32%) of younger Japanese believe children will be better off, while pessimism is stronger among those ages 30 to 49 and those 50 and older: Only 18% and 16% respectively in those age groups think today's youngsters will prosper financially.
Unease over immigration and cultural diversity
Japan's population is expected to decline by 30% over the next half century, thanks to aging and a low birthrate. One way to meet that demographic challenge is through immigration. But as of 2015, only about 2 million immigrants lived in Japan, making up about 2% of the population – far less than other aging societies, such as Germany (15%) and the U.S. (14%).
But increasing Japan's immigrant population may face domestic reluctance. Just 24% of Japanese believe that having people of many different backgrounds – diverse ethnic groups, religions and races – makes their country a better place to live. A majority (57%) says it makes Japan a worse place to live. One sign that Japanese views may change: 44% of Japanese ages 18 to 29 say diversity makes for a better country, compared with 17% of those ages 50 and older.