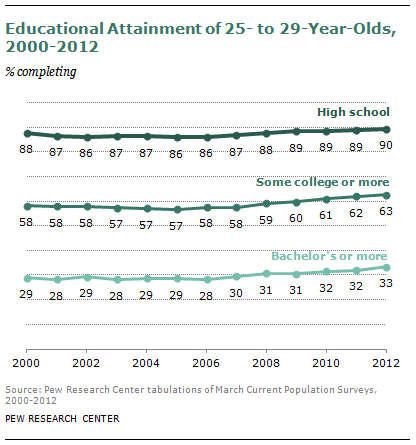 Record shares of young adults are completing high school, going to college and finishing college, according to a Pew Research Center analysis of newly available census data. In 2012, for the first time ever, one-third of the nation's 25- to 29-year-olds have completed at least a bachelor's degree.
These across-the-board increases have occurred despite dramatic immigration-driven changes in the racial and ethnic composition of college-age young adults, a trend that had led some experts to expect a decline in educational attainment.
College completion is now at record levels among key demographic groups: men and women; blacks, whites and Hispanics; and foreign-born and native-born Americans.
Also, a record share of the nation's young adults ages 25 to 29 (90%) has finished at least a high school education. And another record share—63%—has completed at least some college.
Some of the "credit" for recent increases appears to go to the Great Recession of 2007-2009 and the sluggish jobs recovery since. With young adults facing sharply diminished labor market opportunities, their rate of high school and college completion has been rising slowly but steadily since 2007, after having been stagnant during better economic times earlier in the decade.
Changing public attitudes about the importance of going to college to succeed in an increasingly knowledge-based labor market may also have played a role. In 1978, the public was evenly divided over whether a college education was necessary to get ahead in life. Roughly 30 years later, a lopsided majority firmly endorsed the necessity of a college degree. In a 2009 Pew Research Center survey, 73% of American adults agreed that, in order to get ahead in life these days, it is necessary to get a college education. Similarly, when the Gallup Organization asked about the importance of college in 2010, 75% of Americans said a college education is "very important." In 1978, only 36% said the same.
The nation's college-age population is becoming more racially and ethnically diverse – today some 44% of 18- to 25-year-olds are non-white, up from 17% in 1971. Historically, Hispanic and black youths have trailed white and Asian youths in educational attainment. That remains the case, but rates for all four groups are rising at a similar pace.
The trends on college attainment are not all positive, however. The recent increases in the U.S. come at a time when other advanced economies are registering similar or greater gains, leading experts and college presidents to question whether the U.S. has been losing its competitive position as the global leader in higher education. In 2011 the Pew Research Center conducted a survey of more than 1,000 college presidents nationwide. Among those college presidents surveyed, only 19% said the U.S. system of higher education is currently the best in the world, and just 7% said they believe it will be the best in the world 10 years from now. A plurality of presidents (51%) described the U.S. system as one of the best in the world.
That same survey also found that college presidents are concerned about the quality, preparedness and study habits of today's college students. Overall, 52% of presidents say college students today study less than their predecessors did a decade ago; just 7% say they study more.
About the Report
Estimates of educational attainment in this report are based on the March Current Population Survey (CPS). The specific files used in this report are from March 1971 to March 2012. Conducted jointly by the U.S. Census Bureau and the Bureau of Labor Statistics, the CPS is a monthly survey of approximately 75,000 households (in March) and is the source of the nation's official statistics on unemployment. With the exception of an important change in the educational attainment question in 1992, the Census Bureau has consistently collected educational attainment data in the CPS since 1947. The Census Bureau's long-standing historical series on educational attainment are based on the March CPS (http://www.census.gov/hhes/socdemo/education/data/cps/historical/index.html).
The CPS is nationally representative of the civilian non-institutionalized population, and therefore does not include people living in institutions or Armed Forces personnel (except those living with their families). Exclusion of the military does not materially alter the estimates because it is a relatively small proportion of the population. Exclusion of the institutionalized population does not bias overall estimates of educational attainment. But the exclusion of the institutionalized population does affect estimates for specific demographic groups, in particular black males (Heckman and LaFontaine, 2007).
The CPS microdata used in this report are the Integrated Public Use Microdata Series (IPUMS) provided by the University of Minnesota. The IPUMS assigns uniform codes, to the extent possible, to data collected in the CPS over the years. More information about the IPUMS, including variable definition and sampling error, is available at http://cps.ipums.org/cps/documentation.shtml.
This report was written by Richard Fry and Kim Parker, senior economist and associate director, respectively, of Pew Research Center's Social and Demographic Trends project. Paul Taylor, executive vice president of Pew Research Center and director of Pew Social and Demographic Trends project, provided editorial guidance. Research assistant Seth Motel provided assistance with preparing charts and formatting the report. The report was number-checked by research assistant Seth Motel. The report was copy-edited by communications associate Molly Rohal.
Notes on Terminology
College completion: College completion refers to those who have completed at least a bachelor's degree or four-year college degree. Prior to 1992 it refers to those who have completed at least four years of college.
Some college completion: Persons finishing some college have finished at least some college education, including those completing associate degrees and bachelor's degrees. Prior to 1992 the person must have completed at least one year of college. Since 1992 those completing any college at all are designated as finishing some college.
High school completion: A high school completer refers to those who have at least obtained a high school diploma or its equivalent (such as a General Educational Development (GED) certificate). Prior to 1992 it refers to those who have completed at least four years of high school.
Race/Ethnicity: Hispanics are of any race. Whites, blacks and Asians include only non-Hispanics. In order to have a consistent series on Asian educational attainment, Asian refers to those of Asian or Pacific Islander origin.
Nativity: Native born refers to persons who are U.S. citizens at birth. Foreign born or immigrant refers to those who are not U.S. citizens at birth.