52% of internet users look online for information about exercise or fitness.
American adults have stepped up their searches for exercise and fitness tips over the last six years. Among internet users, the percentage of those seeking fitness information has jumped from 36% in the year 2002 to 52% now – one of the biggest growths since 2002 out of all health searches.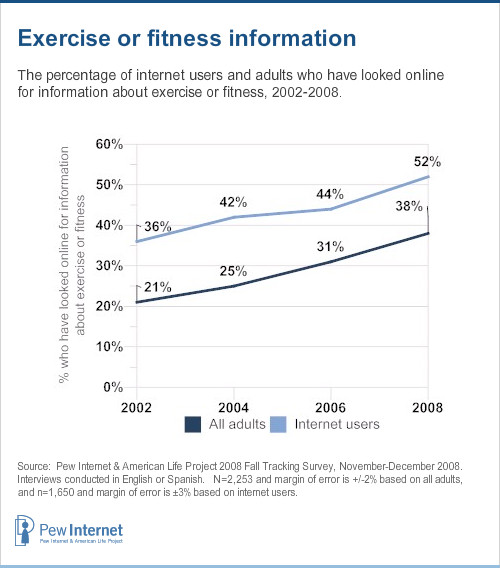 Demographics
Younger and more educated internet users are significantly more likely than their counterparts to have looked online for fitness information.
Online adults under the age of 50 are much more likely than adults 50 and older to look up fitness and exercise information online. Some 61% of online 18-29 year olds and 57% of 30-49 year olds have looked up fitness information online, compared with 44% of 50-64 year old internet users and just a quarter of internet users age 65 and older.
Internet users with at least some college education are also significantly more likely than those with no college education to research exercise and fitness information online. Nearly two-thirds of college graduate internet users sought fitness information online, and 56% of online adults with some college education did so. On the other hand, just 40% of those with a high school degree and 42% of internet users with less education went online to find exercise and fitness information.
African American internet users, internet users with a college degree, and internet users ages 30-49 lead all other groups in their pursuit of online fitness tips, each registering at least a 20-point increase between 2002 and 2008. In particular, 30-49 year old internet users gained ground on 18-29 year olds, compared with whom they were significantly less likely to look up fitness information in 2002.