Internet users have a wide array of online sources for news, and they use them.
The number of choices internet users have to get news online is vast. The December 2005 survey asked respondents about ten different kinds of online news sites as a way to benchmark the variety of sources people may use.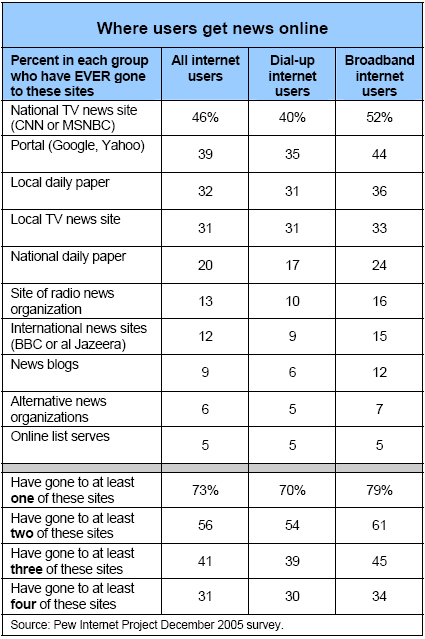 Most internet users have at one time been to at least one of these sites, and a majority has been to at least two at some point. Substantial numbers have been to several different sites, suggesting that online news consumers—broadband ones more so—jump around to multiple news sites.
Traditional, offline media sources have established a place online, too.
The table also shows that established offline media players tend to have a strong foothold in cyberspace as well. (Since Google and Yahoo tend to aggregate news stories from wire services or well-established news organizations, it seems reasonable to include them in this category.) Local news, either from a TV station or a newspaper, also has a prominent place among online news users.
For news consumption on a typical day, the patterns are similar. What is worth pointing out here is that broadband users are particularly active in seeking out several online news sources on a typical day, with one-quarter saying they check out at least four online news sites regularly.
Although the range of choice for online news is large, one recurring issue has been the degree to which people actually take advantage of online news sources that are not connected to the so-called mainstream media. The four categories of news websites that might not be considered traditional media—news blogs, international websites (such as British Broadcasting Corporation or al Jazeera), alternative news sites such as Alternet or Newsmax, or news listservs—obviously rate lower than other sources. Overall, 22% of online users have at one time been to one of these four sources and 8% go to one of these sources on the average day. For home broadband user, 25% have done this, 10% on a typical day. The numbers for home dial-up users are 18% and 5% respectively.
A look at high-powered users
As in the case of general online news consumption, the broadband elite have very different patterns than other high-speed users when focusing on specific news sites. First, they are wide-ranging news surfers in cyberspace—61% have been to at least three out of the ten sites queried, twice (32%) the rate for other broadband users. On a typical day 41% go to at least two online news sites versus only 7% of other broadband users. For the 4 non-traditional media sites, 38% of elite broadband users have at one time been to one of those sites. On a typical day, nearly one in five (18%) goes to at least one of these sites.
Though the news sites of established media organizations dominate among the broadband elite for daily news, it is notable that a sizeable share of elite broadband users turns to non-traditional sites at about the same rate all internet users did for general news in the internet's prehistoric days. In the Project's first two surveys, March and April 2000 when virtually all users had dial-up, 22% of internet users went online for news on the typical day. That is just a bit higher than the 18% of today's broadband elite who use non-traditional news sites.