Online commerce swims against the tide of falling consumer confidence
Even with so many dot-com companies going out of business in the past two years, online purchasing by consumers has followed a steadily upward path. In March 2000, 40 million Americans – or 48% of Internet users – had purchased a product online. That number grew to 72 million – or 62% of Internet users – by the beginning of October 2002. This growth has occurred at a time when the United States has suffered a mild recession and tepid subsequent economic growth, and as consumer confidence has sagged. As the graph below shows, the trend lines for consumer confidence and growth in the number of e-consumers run in very different directions.1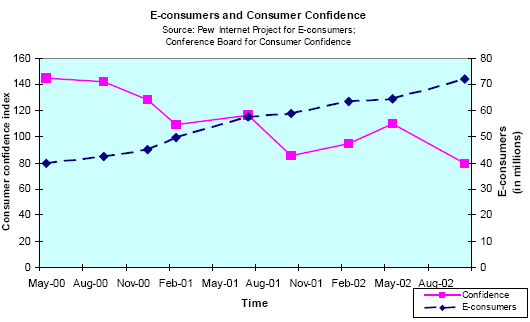 The main reason for the growth in the population of e-consumers is increasing comfort with online transactions for Internet users. Novice Internet users are hesitant to conduct transactions online, as they worry about the safety and security of sending a credit card number over the Internet. As they learn from friends and family that online transactions infrequently result in credit card theft – only 3% of Internet users have had a credit card number stolen online, according to our findings in 2000 – they make that first transaction. Once that barrier is crossed, logging on to buy something becomes routine for Internet users. Consumer comfort with the online world breeds growing confidence in ecommerce, even in the face of general declines in consumer confidence. This explains the growth in consumer buying online; according to BizRate.com, online retail sales in the United States totaled $10 billion in the third quarter of this year, a 37% increase from a year earlier.
All of this adds up to high expectations about finding product information online. Fully 63% of all Americans say they expect to find information at a store's Web site about a product they may want to purchase or learn more about. This breaks down to 79% of Internet users saying this and 38% of non-Internet users saying they expect to find product information online. And success rates run high for online purchases; 85% of those who have ever bought products online say that they "always" or "most of the time" able to find and buy the products they seek. Three in ten (29%) of online buyers say they always find and buy the products they look for online.
With many people relying on the Internet for product information, it is not too surprising that having an online presence – even if a store's Web site is not transactions-enabled – helps bring people into merchants' doors. We presented Americans the following scenario about merchants' online presence: If a store provided only product information online, but did not sell products on its Web site, would you be more likely, less likely, or would it make no difference to you? About half of Americans (46%) said a Web site – even one that did not permit online purchasing – would make it more likely that they would go to the physical store to but the product. Only 6% said that such a Web site would make it less likely that they visit the store, with 45% of Americans saying it would make no difference. These numbers are the same for Internet users and non-users alike. In other words, having a Web site helps a business even if the site does not enable transactions.