The audience for online news has been seen substantial growth in the past two and one-half years. In March 2000, about 52 million Americans (or 60% of Internet users) had gone online for news, a figure that increased to 82 million (or 70% of Internet users) by October 2002. The newsgathering habits of these Internet users are quite varied. Convenience is key for most Internet users, whether they bookmark a weather site for the latest weather report or they go online for political news during election season. A number of Internet users get political news online that they cannot find elsewhere, and in times of crisis, like September 11, the Internet helps people dig deeper into issues that are occupying the nation's attention.
Most Americans (69%) say they expect to find reliable, up-to-date news online, with 85% of Internet users saying this and 43% of non-Internet users saying this. For those who have gone online for news, 87% say they have found what they have sought out. Two out of give online news surfers (41%) saying they "always" find what they need, the highest of any of the four categories we queried.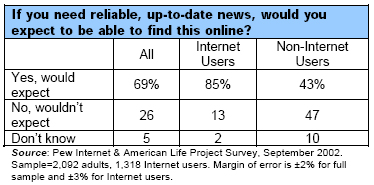 Because most Internet news surfers expect to find what they need online and are successful finding it, these users surfs for news on the Internet frequently. About one-quarter of the online population looks for news on the Net on a typical day, which is less than half the rate at which Internet users watch TV news on a daily basis (59%). However, the faster the Internet connection, the smaller is the gap between daily newsgathering online and on television. About 60% of Internet users with high-speed home connections watch a TV news program on a typical day, while 43% of broadband users get news online on a typical day. For all Internet users—high-speed and dial-up alike—the Internet is an indispensable supplement to their newsgathering habits
With the Net clearly a place many Internet users turn to for news—and with most meeting success when they go online for news—we asked online news surfers to tell us where they turn when they fail to find a specific news item online. Cable TV comes out ahead, with 34% saying they would turn to a cable TV news program, followed by 30% who say they would consult the newspaper. About one in six (15%) say they would look to Network TV news, 5% said the radio, and 11% would stop looking altogether. For the 11% of Internet users who do not bother searching beyond the Internet for a specific news item, it seems that expectations shape behavior. Nearly all of these users (96%) expect to be able to find news online and 40% of them have home broadband connections, meaning getting news online is very convenient. And 44% say they "always" find the news they want when they go online. It is little wonder that if the news is not available for these users, they give up on their search.