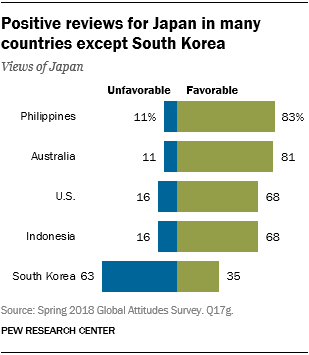 Japan's image is quite favorable in most Asian-Pacific nations surveyed and the United States. About eight-in-ten in the Philippines and Australia report having a positive view of Japan. Roughly two-thirds of Americans and Indonesians also give Japan a favorable rating, and have since 2005.
The exception to this pattern is South Korea, which was long a colony of Japan. Only 35% of South Koreans have a positive view of Japan, while 63% report an unfavorable opinion. South Koreans ages 50 and older – those who may have personally experienced Japanese occupation within their families – are particularly critical of Japan, with only 28% giving a favorable opinion of their Asian neighbor. This compares with 47% of South Koreans ages 18 to 29 who hold a positive view. Still, South Korean views of Japan have actually improved by 13 percentage points in recent years, from 22% favorable in 2013 up to 35% today.
Older Australians (79%) are also slightly less positive toward Japan than younger Australians (87%), but they still overwhelmingly give a favorable assessment. In the U.S., Australia and Indonesia, those with incomes above the national median express more positive views of Japan.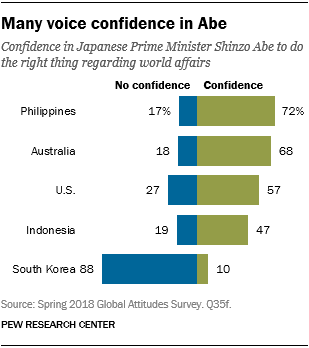 Japanese Prime Minister Shinzo Abe receives relatively positive marks in the countries surveyed. About seven-in-ten in the Philippines and Australia say they have confidence in the Japanese leader to do the right thing when it comes to world affairs. More than half of the American public shares this view. In Indonesia about half have confidence in Abe while 19% do not; however, 34% offer no opinion. South Koreans again give the most negative judgment – 88% say they do not have confidence in Abe.
Japanese views of China still overwhelmingly negative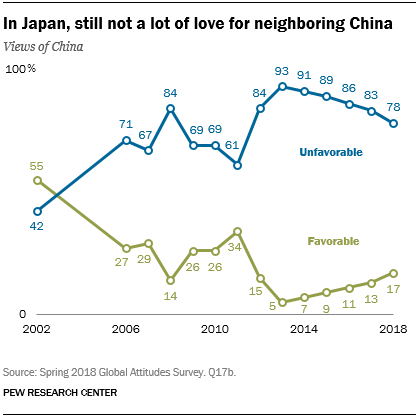 Japan and China share a complicated history that has resulted in immensely negative perceptions across the East China Sea. In 2018, 78% of Japanese have an unfavorable view of China, by far the most negative response across all countries surveyed. Just 17% have a favorable opinion of China. Yet this represents a slight lessening of enmity since 2013, when 93% of the Japanese public expressed disapproval and only 5% had a positive outlook. Still, this year's marks are much different than when the question was first asked in 2002, at which point a majority of Japanese (55%) had a favorable view of China.
Feelings toward China are strongly negative in Japan regardless of age, income, education level or gender. Those with a favorable view of Shinzo Abe's Liberal Democratic Party or Komeito, a political party with Buddhist roots, tend to have a more positive outlook about China.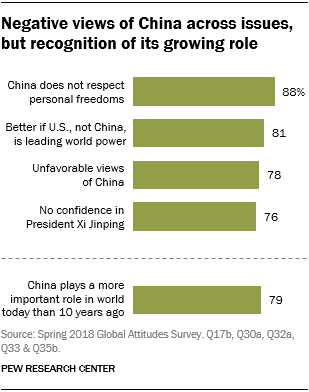 Although disapproval permeates several aspects of Japan's views of China, Japanese still acknowledge that the country is becoming more influential worldwide.
On four different measures, the Japanese public's views of China are consistently negative. Nearly nine-in-ten assert the Chinese government does not respect the personal freedoms of its people. Three-quarters or more express a lack of confidence in Chinese President Xi Jinping, unfavorable views of China and the sentiment that global U.S. leadership would be better for the world than Chinese leadership.
Nonetheless, roughly eight-in-ten Japanese concede that China plays a more important role in the world today compared with 10 years ago. Japanese with higher incomes and education levels are more likely to agree. Those with favorable views of the liberal opposition Constitutional Democratic Party are more likely to believe China's role is growing than those who have an unfavorable view of the party.