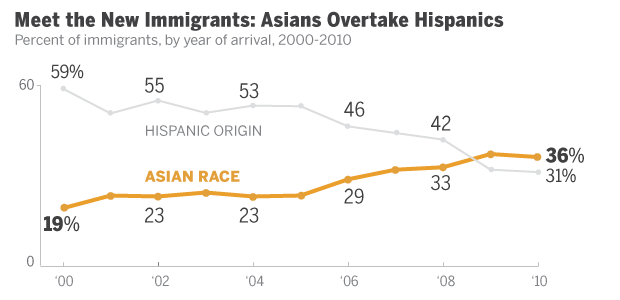 Asian Americans are the highest-income, best-educated and fastest-growing racial group in the U.S, with Asians now making up the largest share of recent immigrants. A Pew Research survey finds Asian Americans are more satisfied than the general public with their lives, finances and the direction of the country, and they place a greater value on marriage, parenthood, hard work and career success.

Full Report: The Rise of Asian Americans
Maps: Explore Asian-American Population Data
Interactive: Demographics by Asian Origin Group
Video: Pew Research Panel Discussion

What Defines Asian Americans?
Asian Americans are a distinctive group, and the population is by no means a monolith. It is made up of immigrants or their descendants from dozens of countries in the Far East, Southeast Asia and the Indian subcontinent, each with a unique history, culture, language and pathway to America. While these groups share much in common, they also have a range of differences in their demographic characteristics, beliefs and perceptions of life in the United States.
Land of Opportunity
Compared with the general public, Asian Americans stand out for their success in education and career. Most also believe that the U.S. offers more opportunities and freedoms than their countries of origin. A large majority of Asian Americans believe that hard work pays off and most place a strong emphasis on higher education, career and family. In fact, a striking number of recent Asian immigrants hold college degrees. By their own accounts, many say their parents put too much pressure on their children to succeed.

EDUCATION


CAREER & PROSPERITY
Typical American?
How do Asian Americans see themselves compared with the larger population? It depends on who you ask. On average, half of Asian Americans say they are very different from the typical American, and more than 60% of Vietnamese Americans and Korean Americans say they feel this way. Still, a majority say being an Asian American doesn't make a difference when it comes to some of the milestones in getting ahead, such as getting into college or getting a job or promotion. More Asian Americans say they are satisfied with their lives than the general public.


Family Ties
Asian Americans stand out for their strong emphasis on family. They are more likely to be intermarried with other racial groups, their children are more likely to live in households with two married parents and they place a higher priority than the general public on having a successful marriage. As a group, they tend to lean Democrat and they maintain strong social ties with others from the same country of origin. Almost half live in the Western part of the United States.


SOURCES: 2010 American Community Survey and other Census Bureau data; Pew Research Center 2012 Asian-American Survey; U.S. State Department
NOTE: Census data based on mixed-group and mixed-race populations, regardless of Hispanic origin. For Census figures, Chinese includes Taiwanese. Data on characteristics of Chinese and Taiwanese adults are not available separately. For Pew Research survey findings, respondents with more than one Asian heritage are classified based on the group with which they "identify most." Respondents who identified as Taiwanese or Chinese Taipei are classified as Chinese Americans.