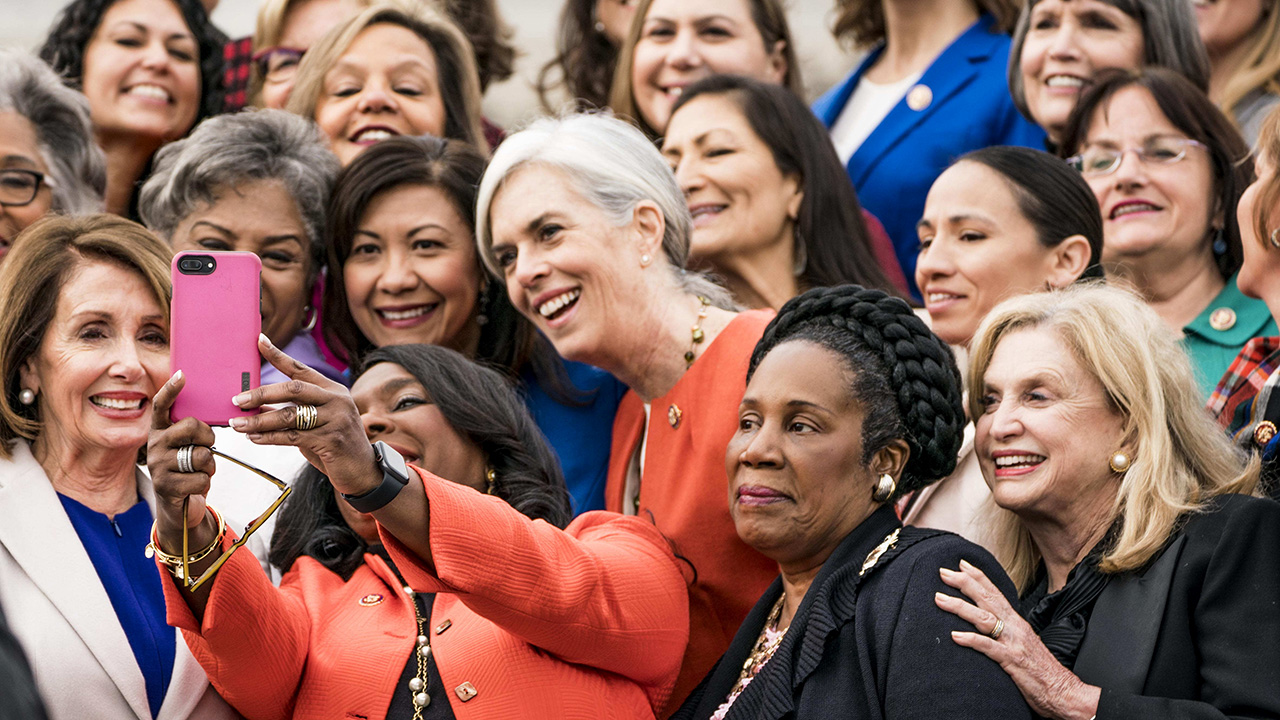 More than one-in-five voting members (22%) of the U.S. House of Representatives and Senate are racial or ethnic minorities, making the 116th Congress the most racially and ethnically diverse in history. There has been a long-running trend toward more racial and ethnic diversity on Capitol Hill: Each of the previous four Congresses broke the record set by the Congress before it.
Overall, 116 lawmakers today are nonwhite (including blacks, Hispanics, Asians/Pacific Islanders and Native Americans), according to a Pew Research Center analysis of data from the Congressional Research Service. This represents an 84% increase over the 107th Congress of 2001-03, which had 63 minority members.
Although recent Congresses have continued to set new highs for racial and ethnic diversity, they have still been disproportionately white when compared with the overall U.S. population. Nonwhites make up 39% of the nation's population, according to U.S. Census Bureau population estimates. (For this analysis, Hispanics are included in the Census Bureau estimates for the share of each racial minority group in the overall population.)
In the House of Representatives, however, some racial and ethnic groups are now on par with their share of the total population. For example, 12% of House members are black, about equal to the share of Americans who are black. And Native Americans now make up 1% of the House, equal to their 1% of the population.
Other nonwhite groups in the House are somewhat less represented relative to their share of the population. The share of Hispanics in the U.S. population (18%) is twice as high as it is in the House (9%). Asians account for 6% of the national population but 3% of House members.
The increase in minority representation in the House has largely come among newly elected Democrats. Of the 22 freshman representatives who are nonwhite, just one is a Republican (Rep. Anthony Gonzalez of Ohio, who is Hispanic).
Nine senators are a racial or ethnic minority, unchanged from the 115th Congress. Four senators are Hispanic, three are Asian and three are black. (Kamala Harris, D-Calif., is black and Asian). There are no nonwhite freshman senators.
In the full 116th Congress, the overwhelming majority of racial and ethnic nonwhite members are Democrats (90%), while just 10% are Republicans.
Non-Hispanic whites make up 78% of voting members in the new Congress, considerably larger than their 61% share of the U.S. population overall. And despite the growing racial and ethnic diversity of Congress, this gap has widened over time: In 1981, 94% of Congress was white, compared with 80% of the U.S. population.
This analysis includes a few members who are counted under more than one racial or ethnic identity. In addition to Harris, Rep. Robert Scott, D-Va., is counted as both black and Asian. Reps. Antonio Delgado and Adriano Espaillat, both New York Democrats, are listed as black and Hispanic. Espaillat, the first Dominican American elected to Congress, self-identifies as a Latino of African descent. Portuguese American members are not included in the Hispanic count. In addition, one disputed seat in the House – North Carolina's 9th District – is not included in the total number of voting seats.
Note: For analyses of previous Congresses, see our earlier posts:
115th Congress sets new high for racial, ethnic diversity