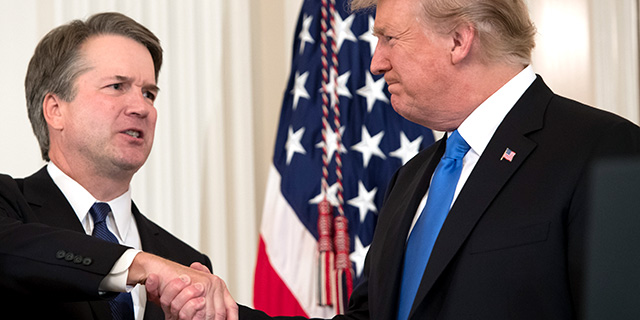 Donald Trump has successfully appointed more federal appeals court judges so far in his presidency than Barack Obama and George W. Bush combined had appointed at the same point in theirs, according to a Pew Research Center analysis of data from the Federal Judicial Center. And with his nomination of Brett Kavanaugh to the Supreme Court, Trump soon could install his second justice on the nation's highest court, too.
But while Trump has already left a considerable imprint on the nation's higher federal courts, he trails Obama, Bush and other recent presidents in the number of lower-court judges he has appointed to date.
As of July 12, Trump has successfully appointed 43 judges, including one Supreme Court justice (Neil Gorsuch), 22 appeals court judges and 20 district judges. Dozens of other court nominees are awaiting votes in the Senate, including two more appeals court judges who could be confirmed this week.
While a few of Trump's predecessors going back to Jimmy Carter had also appointed a Supreme Court justice by July 12 of their second year in office, none had appointed close to as many appeals court members – the powerful judges who sit just below the Supreme Court level. (Kavanaugh is currently a federal appeals court judge, just as eight of the nine current Supreme Court members were before they became justices.)
Obama and Bush had each appointed nine appeals court judges at this point in their presidencies, while Bill Clinton had appointed 11. George H.W. Bush and Ronald Reagan came closest to matching Trump's total with 15 and 14 confirmed appeals court judges, respectively. Carter had appointed 10.
Despite his record on higher-court appointments, Trump trails his predecessors in confirmed district court judges, the lower-court jurists who are charged with deciding civil and criminal trials, rather than appeals. Trump has appointed 20 of these judges, while Obama had appointed 27 district court judges at this stage in his tenure. George W. Bush and Clinton had appointed far more than both Trump and Obama – 48 and 60, respectively. George H.W. Bush, Reagan and Carter all appointed more than 30 district court judges by July 12 of their second year (Reagan had appointed 51).
Several factors can determine the number of judges that a president successfully appoints. These include the number of court vacancies that exist and the rate at which the president identifies and nominates candidates to fill them.
Other important factors involve the Senate, which is constitutionally tasked with voting on judges put forward by the president. Trump has the benefit of a Republican Senate majority, just as Obama had the advantage of a Democratic-led Senate during his first two years in office. An additional benefit for Trump is that the Senate now has a lower vote threshold for confirming judges than existed during other recent presidents' first two years in office.
Trump has received mixed reviews from the public for his handling of judicial appointments. In a Pew Research Center survey earlier this year, 46% of Americans said they were at least somewhat confident in Trump to make good appointments to the federal courts, while a nearly equal share (48%) said they were not too or not at all confident in him to do so. But these views were sharply divided along partisan lines. About eight-in-ten Republicans and Republican-leaning independents (82%) said they had at least some confidence in Trump regarding judicial appointments, a view shared by just 19% of Democrats and Democratic leaners.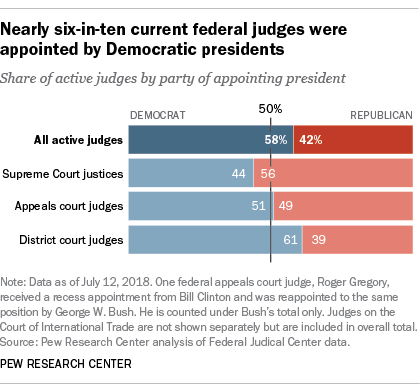 As of July 12, the current federal judiciary overall consists of 725 active judges across 94 district courts, 13 appeals courts, the Supreme Court and one additional court, the Court of International Trade. (This analysis counts only Article III judges who are included in the Federal Judicial Center's biographical database, which excludes three district-level courts in U.S. territories.) Of these judges, 58% were appointed by Democratic presidents and 42% were appointed by Republicans, according to the Center's analysis.
But these shares differ considerably by the level of court in question. Five of the nine current Supreme Court justices (counting Justice Anthony Kennedy, whose retirement takes effect on July 31) were appointed by Republican presidents. The appeals courts are roughly evenly populated with appellate judges appointed by Democratic (51%) and Republican presidents (49%). In district courts, 61% of active judges were appointed by Democratic presidents and just 39% were appointed by Republicans.
Across all levels of federal courts, 44% of currently active federal judges were appointed by Obama, 30% by George W. Bush and 14% by Bill Clinton. Just 6% of active judges were appointed by Trump. But that figure is certain to rise as the Senate confirms more of his nominees – and as more judges appointed by earlier presidents retire.