Background
Men, especially young, white, educated, and fairly affluent men, were the earliest adopters of the internet. Surveys by the Pew Research Center for The People & The Press in 1995 showed that about 20% of American adults used the internet and the online population was 58% male. By March 2000, the internet population had grown to 46% of the American adult population and internet users were evenly divided between men and women, although the proportion of men and women who went online was not.
In the first nationwide poll conducted by the Pew Internet & American Life Project in March 2000, significantly more men, 49%, than women, 44%, were internet users. Over the years, the proportion of men and proportion of women who went online drew closer, and by 2005, they were almost equal. Some 68% of men and 66% of women are now internet users, with no statistically significant difference between the groups.
Men and women are equally likely to go online.
In the following demographic section of the report, the data come not from individual surveys, but instead have been aggregated from all surveys conducted in 2002 and through June 2005. The total number of respondents polled from 2002 was 14,416 and for 2005 was 6,403.
In 2002, a slightly higher proportion of men, 61%, were online than women, 57%. Though the difference was not large, it was statistically significant. It is important to note, though, that there were actually slightly more women online than men in 2002. There are more women than men in the country, so the smaller proportion of women using the internet still yielded a larger overall number of female internet users than male internet users.
By 2005, men and women were equally likely to be online, including 68% of men and 66% women. And it was still the case that the absolute number of women online slightly exceeded the number of men.
Younger women and older men are more likely go online.
There are significant differences within groups at each end of the age spectrum: more younger women, age 18 – 29, go online than younger men, and conversely, more older men, over age 65, than older women.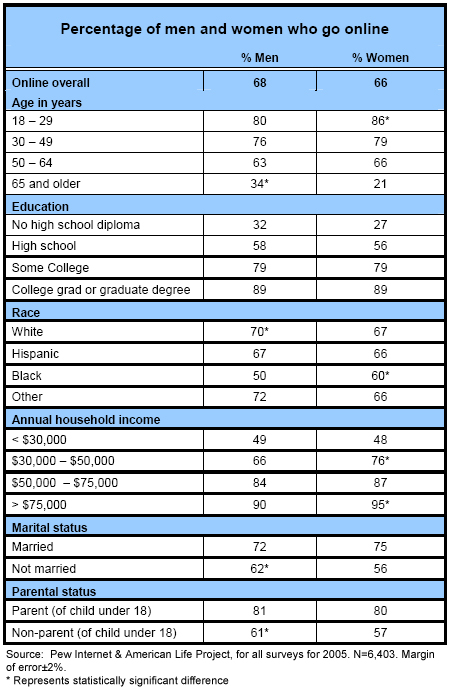 These data suggest an interesting future possibility that the percentage of women who go online will continue to approach and even surpass that of men as the younger cohort of women ages.
White men outnumber white women online, while black women have surged online to outnumber black men.
When it comes to sex differences, there are also significant differences within the races. In 2005, more white men, 70%, than white women, 67%, were online. The same was true in 2002, when 62% of white men and 58% of white women were online. White women increased their online presence 16% during the last three years, compared with 13% for white men.
Most strikingly, more black women, 60%, are online than black men, 50%. Over the last three years, 30% more black women have surged online, increasing from 46% in 2002. During that same time, the number of black men increased from 48% to 50%, for an increase of just 4%.
Also during this time, English-speaking Hispanic men and women both increased their online presence in nearly lockstep. The number of English-speaking Hispanic women has increased from 56% to 66%, a rise of 18%. English-speaking Hispanic men increased their online presence from 59% to 67%, for a rise of 14%.
The percentage of both men and women who go online increases with the amount of household income.
In 2005, about half of both men and women who earn less than $30,000 per year go online. The percentages increase at every higher income level, and do so somewhat more so for online women than men.
For both men and women, married people are more likely to be internet users than unmarried people. Among those who are unmarried, men are more likely than women to be online.
In 2005, 75% of women who are married or living-as-married are online, compared with 56% of single women. Likewise, 72% of similarly-attached men are online, compared with 62% of single men.3
While these married or living-as-married men and women are about equally likely to be online, the unmarried women, at 56%, are somewhat less likely than unmarried men, at 62%, to be online.4
Parents are more likely to be online than nonparents. Among nonparents, men are more likely than women to be online.
In 2005, both men and women who have children under age 18 are significantly more likely than the rest of adult Americans to go online. There is a dramatic 80% online rate for both mothers and fathers, compared with about a 60% rate for others.
Among adult Americans who have no children under age 18, men, at 61%, are more likely than women, 57%, to go online.