Views of NATO remain favorable among member nations
This Pew Research Center analysis focuses on public opinion of Russia and North Atlantic Treaty Organization (NATO) in 24 countries in North America, Europe, the Middle East, the Asia-Pacific region, sub-Saharan Africa and Latin America. Views of Russia, Russian President Vladimir Putin and NATO are examined in the context of long-term trend data. The report also explores views of Ukrainian President Volodymyr Zelensky. This is the first year since 2019 that the Global Attitudes Survey has included countries from Africa and Latin America due to the coronavirus outbreak.
For non-U.S. data, this report draws on nationally representative surveys of 27,285 adults conducted from Feb. 20 to May 22, 2023. All surveys were conducted over the phone with adults in Canada, France, Germany, Greece, Italy, Japan, the Netherlands, South Korea, Spain, Sweden and the United Kingdom. Surveys were conducted face to face in Hungary, Poland, India, Indonesia, Israel, Kenya, Nigeria, South Africa, Argentina, Brazil and Mexico. In Australia, we used a mixed-mode probability-based online panel.
In the United States, we surveyed 3,576 U.S. adults from March 20 to 26, 2023. Everyone who took part in this survey is a member of the Center's American Trends Panel (ATP), an online survey panel that is recruited through national, random sampling of residential addresses. This way nearly all U.S. adults have a chance of selection. The survey is weighted to be representative of the U.S. adult population by gender, race, ethnicity, partisan affiliation, education and other categories. Read more about the ATP's methodology.
Here are the questions used for the report, along with responses, and the survey methodology.
CORRECTION (Sept. 8, 2023): A previous version of this report included an incorrect chart. The map graphic "Lack of confidence in Putin is widespread" has been updated to accurately reflect confidence in Putin in 24 countries.
As a new Pew Research Center survey highlights, Russia and its president, Vladimir Putin, continue to be viewed negatively by people around the world. A median of 82% of adults across 24 countries have an unfavorable view of Russia, while a similar share have no confidence in Putin to do the right thing regarding world affairs, including nine-in-ten or more in Poland, Sweden, Spain, Japan, South Korea, Australia, the Netherlands, Germany, France, the United Kingdom and the United States.
Ratings for the country and its leader plummeted in many nations following Russia's invasion of Ukraine in February 2022, and they are at all-time lows in several countries in this year's survey.
Data was collected prior to the late June uprising by Russian paramilitary organization the Wagner Group.
In contrast to Putin, Ukrainian President Volodymyr Zelenskyy is seen more positively. While a median of just 11% express confidence in the Russian leader, 51% say this of Zelenskyy. But opinions of Zelenskyy vary by country and fewer than half have confidence in his leadership in 10 nations, including NATO members Hungary, Greece and Italy.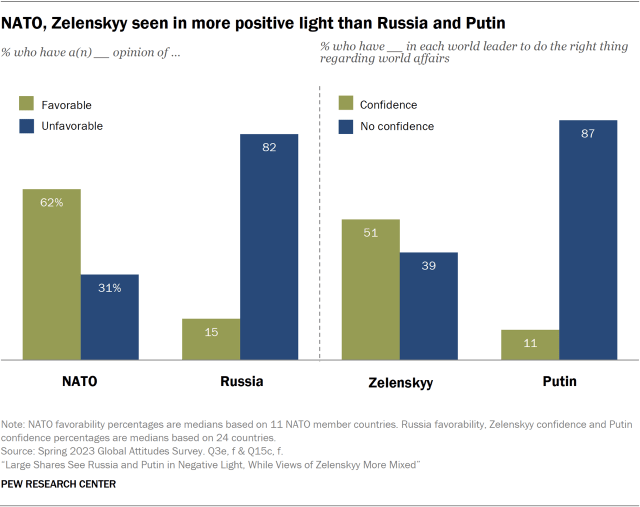 NATO, which has contributed weapons and training to Ukraine since the February 2022 invasion, is seen favorably by 11 member states included in the survey. NATO has been consistently viewed more favorably than not in recent years, and views have grown slightly more positive in Greece and Poland since 2022. However, negative opinion of NATO has crept upward in Hungary and the U.S. While about six-in-ten Americans continue to express a favorable view of NATO, there is a large partisan difference on this question: 76% of Democrats see the alliance positively, compared with 49% of Republicans.
In 11 European countries surveyed, as well as India – where Russian oil access is a relevant issue – people were asked if being tough with Russia on Ukraine or maintaining access to Russia's oil and gas reserves is more important to bilateral relations. Across these countries, a median of 66% say it is more important to be tough with Russia, while 29% say it is more important to maintain access to Russia's energy reserves. People in Hungary, India and Greece are the most likely to want to maintain access to Russia's oil and gas reserves, while Swedes and Poles are the most likely to want to be tough on Russia.
In several ways, publics in Greece, Hungary and India are outliers when it comes to views about Russia and Putin. Greeks and Hungarians stand out relative to European counterparts as being more favorable on Russia, confident in Putin and negative toward Zelenskyy. Hungary, in particular, has faced criticism for delays in sanctioning Russia, while public sentiments in Greece have tended to favor remaining neutral in the conflict. India (which has abstained from condemning the Russian invasion) is the only country where a majority expresses a favorable view of Russia and confidence in Putin.
These findings come from a new Pew Research Center survey conducted from Feb. 20 to May 22, 2023, among 30,861 people in 24 countries. Below are some of the other findings regarding views of Russia and NATO, attitudes toward Russian energy and confidence in Putin, Zelenskyy and key NATO leaders.
Ratings of Russia and Putin in middle-income nations
The survey includes eight middle-income nations that Pew Research Center has not surveyed since 2019 due to the outbreak of the COVID-19 pandemic and subsequent difficulties in conducting face-to-face interviews across the world. Opinions toward Russia and Putin are on balance negative in these countries, although India and Indonesia are exceptions. Negative sentiment toward Russia and Putin has increased by double digits in nearly every middle-income country since 2019. For instance, 74% now express a negative view of Putin in Argentina, up from 51% four years ago.
Confidence in Zelenskyy
A median of 51% across the 24 countries surveyed express confidence in Zelenskyy's leadership, while 39% hold the opposite view. Confidence in Zelenskyy ranges from 86% in Sweden to just 11% in Hungary. Besides Hungary, half or more do not have confidence in the Ukrainian leader in Greece, Mexico, Italy, Israel, Brazil and Argentina. Age is linked to these views: Younger adults (those ages 18 to 39) are more likely to express a lack of confidence in Zelenskyy than adults 40 and older in several countries.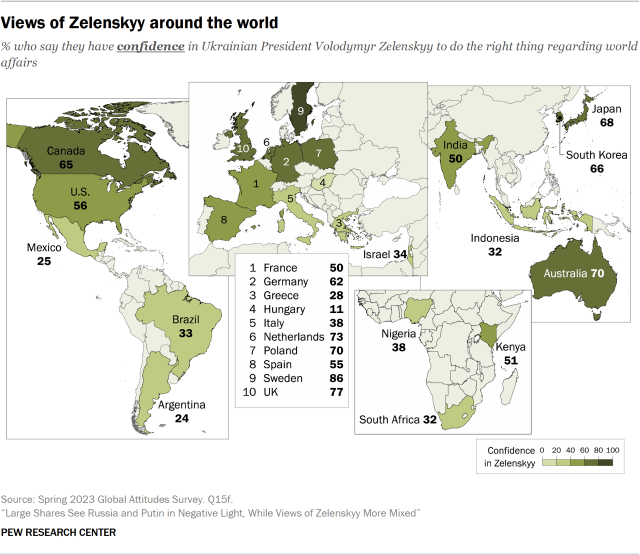 Views of NATO
Positive opinion of NATO in the 11 member states polled ranges from 93% in Poland to 40% in Greece. And in Sweden, which is currently in negotiations to join NATO, 78% have a positive view of the alliance. Among these countries, NATO favorability has been largely stable, historically, and particularly high in the aftermath of the Russian invasion. Greeks, who tend to have more negative views of NATO compared with other countries surveyed in recent years, have grown more favorable since 2022, as have Poles. However, positive sentiment has declined in both the U.S. and Hungary.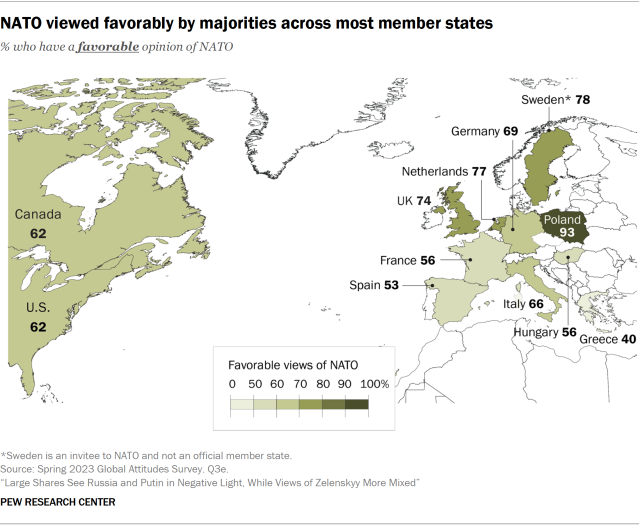 Those who place themselves on the ideological right in several European countries are more likely to express a positive view of the alliance than those on the left. However, in the U.S. and Canada, this pattern is reversed: Those on the left are more likely to say they have a favorable opinion of NATO.
Confidence in Biden, Macron and Scholz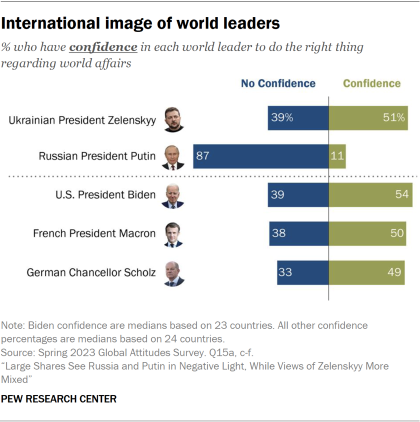 On balance, confidence in Zelenskyy largely aligns with views of U.S. President Joe Biden, French President Emmanuel Macron and German Chancellor Olaf Scholz. A median of 54% have confidence in Biden on the world stage, 50% have confidence in Macron and 49% say the same of Scholz.
While Biden is largely viewed with confidence across the world, support is weaker among some NATO allies, such as Hungary and Italy. For more on international views of Biden, see "International Views of Biden and U.S. Largely Positive." While medians of 50% and 49% have confidence in Macron and Scholz, respectively, support of both leaders has declined in many countries since 2022, particularly among NATO allies.
Road map to the report
The chapters that follow discuss these findings and others in more detail: