More Mexicans view the United States unfavorably than at any time in the past decade and a half. Nearly two-thirds of Mexicans (65%) express a negative opinion of the U.S., more than double the share two years ago (29%). Mexicans' opinions about the economic relationship with their country's northern neighbor are also deteriorating, though less dramatically: 55% now say economic ties between Mexico and the U.S. are good for their country, down from 70% in 2013.
This erosion of Mexico's goodwill toward the U.S. coincides with low approval of American President Donald Trump and one of his signature policies. An overwhelming 94% of Mexicans oppose Trump's proposed border wall and only 5% have confidence in him to do the right thing regarding world affairs, Trump's lowest rating among 37 nations polled in 2017. President Barack Obama's lowest rating in Mexico was 38%, in 2011. (For more on America's image around the world, see "U.S. Image Suffers as Publics Around World Question Trump's Leadership.")
Despite the negative shift in Mexican attitudes about the U.S., the share who believe that Mexicans who move to the U.S. have a better life has increased by 7 percentage points since 2015, reaching a level last seen in 2012.
A third of Mexicans say they would move to the U.S. if given the opportunity, a figure that has remained relatively steady since Pew Research Center began measuring in 2009. However, Mexicans express less of a willingness to live and work in the U.S. without authorization than they did in 2015, with only 13% saying that they would do so, down from 20% two years ago.
These are among the major findings from a Pew Research Center survey conducted among 1,000 respondents in Mexico from March 2 to April 10, 2017.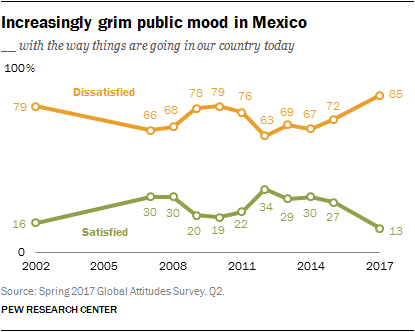 Overall, the national mood in Mexico is grim: 85% are dissatisfied with the way things are going in Mexico generally, and perceptions of the national economy are not much better, with seven-in-ten believing the economic situation is bad.
Today, Mexicans are most concerned with crime, political corruption, cartel-related violence and rising prices, though corrupt police officers and a lack of employment also alarm many. Lower-level but still significant concerns include poor-quality schools and the wealth gap.
President Enrique Peña Nieto's popularity is at its lowest since Pew Research Center began asking about him in 2011, a year before he took office. Just over a quarter of Mexicans have a favorable view of Peña Nieto today, down from a peak of 61% in 2011. The president's favorability is eroding even among supporters of his own party, the PRI, where he's seen a drop of 18 percentage points since 2015.
Mexicans are most critical of Peña Nieto in his handling of the economy. He receives similarly low marks when it comes to fighting corruption, organized crime and drug trafficking, as well as his relations with the U.S. Since 2015, Mexicans have become more displeased with their president's handling of relations with Washington.
The president's political party, the PRI, has suffered under Peña Nieto's administration. The PRI's favorability rating among Mexicans has almost halved (from 49% to 27%) since 2013. Major opposition parties like PAN and PRD, on the other hand, have gained popularity since 2015, and the relatively new opposition party, MORENA, is viewed more favorably than either the PRI or PRD, at 37%.
The Mexican public generally believes that nongovernmental institutions are having a positive impact on their country, with more mixed views of governmental institutions. Most people see the military in a positive light (79%), as well as the media (76%), human rights organizations (65%) and religious leaders (63%). The police, the national government and corporations are at the bottom of the list, with half or less of Mexicans seeing their influence on society as good.