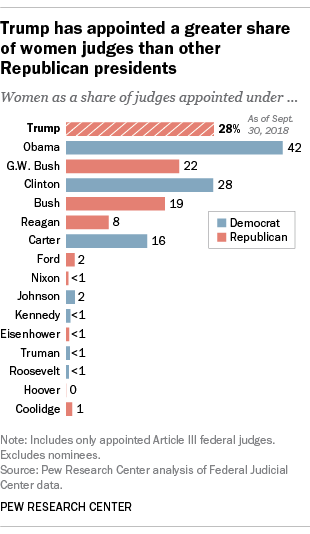 Women account for more than a quarter (28%) of the 67 judges President Donald Trump has successfully appointed to the federal courts since taking office. That's well below the share appointed by Barack Obama – whose 324 judicial appointees were a record 42% female – but higher than the share appointed by any other Republican president, according to a Pew Research Center analysis of data from the Federal Judicial Center.
In both parties, presidents have appointed a growing share of female judges in recent decades. Women represented 22% of the 324 judges appointed by Republican George W. Bush during his eight years in office, 19% of the 188 judges appointed by George H.W. Bush and 8% of the 364 judges appointed by Ronald Reagan. Among recent Democratic presidents, Obama's total exceeded the share appointed by Bill Clinton (28% of 372 judges) and Jimmy Carter (16% of 261 judges). Trump's numbers are as of Sept. 30 and will change as the Senate moves to confirm more of his pending judicial nominees and as he identifies new nominees for vacant positions.
Republican Calvin Coolidge appointed the first female federal judge when he named Genevieve Rose Cline to the U.S. Customs Court (later known as the Court of International Trade) in 1928. It wasn't until the Carter administration, however, that women accounted for more than 2% of a president's appointed judges.
Historically, Democratic presidents have appointed far more women to federal judgeships than Republicans. Nearly two-thirds (66%) of the 427 women who have ever served as federal judges were appointed by Democrats, compared with about a third who were appointed by Republicans, according to the Federal Judicial Center. Two-thirds (67%) of the 256 currently active female federal judges were appointed by Democrats, too.
Democratic presidents have also appointed a larger share of racial and ethnic minorities to the federal bench than Republicans. Of the 382 racial or ethnic minorities who have ever served as federal judges, 268 – or 70% – were appointed by Democrats. And 73% of the 202 currently active judges who are racial or ethnic minorities were appointed by Democrats.
Still, women and minorities account for a small share of the overall total of judges ever appointed by presidents of both parties. Of the 1,724 federal judges ever appointed by Democratic presidents, 16% have been female and 16% have been nonwhite; the 1,832 judges ever appointed by Republican presidents have been 8% female and 6% nonwhite.
This analysis, it should be noted, double-counts a small number of female and nonwhite judges who were appointed by Democratic and Republican presidents, such as those who were first appointed by one president and later elevated to a higher court judgeship by another president. It also excludes judges who are not part of the Federal Judicial Center's database, such as those appointed to certain specialty or territorial courts.
To date, Trump has not changed the historical pattern of GOP presidents appointing fewer minority judges than Democrats. Seven of the 67 judges Trump has appointed, or 10%, are racial or ethnic minorities – the lowest such percentage of any president of either party since George H.W. Bush, whose appointed judges were also 10% nonwhite. Five of the seven racial or ethnic minority judges Trump has successfully appointed are Asian, one is Hispanic (Fernando Rodriguez Jr.) and one is black (Terry Fitzgerald Moorer).
In addition to the record high share of women judges he appointed, Obama appointed the largest share of racial or ethnic minorities to the bench: More than a third (36%) of his judges were nonwhite. Clinton and Carter appointed racial or ethnic minorities to 24% and 22% of the judgeships they filled, respectively – the second- and third-highest shares on record. Harry S. Truman was the first president to name a black federal judge when he appointed Irvin Charles Mollison to the U.S. Customs Court in 1945.
When looking at today's federal judiciary by race, ethnicity and gender, white men continue to make up the largest share of active judges. As of Sept. 30, there were 738 total active federal judges. Nearly half (49%) are white men, nearly a quarter (24%) are white women, 17% are nonwhite men and 11% are nonwhite women. (These totals don't sum to 100% because of rounding.)
The federal judiciary is by no means the only place where women are underrepresented relative to their share of the U.S. population. While women today make up about a third of active federal judges (35%), that's considerably higher than the female share of the U.S. Senate (23%), the U.S. House (19%), state legislatures (25%), governors (12%) and other top political and business leadership positions, according to a newly updated Pew Research Center fact sheet. A separate report from the Center in September explored public attitudes toward women's leadership in politics and business.
As for Trump, the 45th president may have a unique perspective when it comes to women in the federal judiciary. His older sister, Maryanne Trump Barry, is a federal judge who was first appointed to New Jersey's district court by Reagan in 1983 before being elevated to a position on the 3rd Circuit Court of Appeals by Clinton in 1999. Trump Barry took senior status – a form of semi-retirement – in 2011.