As the number of Latinos attending college has surged in recent years, a new analysis of Census data finds wide variances by state in the share of Latino adults who have a bachelor's degree.
Overall, the District of Columbia has the highest college degree attainment rate among Hispanic adults, with 36.2% of those ages 25 and older holding a bachelor's degree, according to the U.S. Census Bureau's 2011 American Community Survey. Following D.C. are the neighboring states of Virginia and Maryland, with college degree-attainment rates of 24.1% and 21.2%, respectively, among their Hispanic adult populations.
These three states contain the Washington, D.C. metropolitan area, where nearly half (48.3%) of the adult population has a college degree. That is the highest share among large metro areas and reflects the presence of employers like the federal government.
In Florida, one-in-five (20.4%) Hispanic adults have a college degree. Florida has the third-largest Hispanic population in the country (8.4%) and one of the most diverse, with immigrants from Cuba, Colombia and Venezuela and a growing Puerto Rican population.
Among the states that have the largest Hispanic populations—California, Texas, Florida, New York and Illinois, respectively—only Florida and New York have college degree-attainment rates above the national Hispanic average. In California, which alone has 27.7% of the nation's Latino population, only one-in-ten (10.7%) Latino adults have a college degree. The Latino adult college degree-attainment rate for Texas, with the nation's second largest Latino population, is just 12.0%. In New York, the fourth biggest Latino state by population, 15.9% of Latino adults have a bachelor's degree. And in Illinois, the college degree-attainment rate is 12.2%.
The five states with the lowest Hispanic college degree attainment rates are Nebraska at 9.4%, Idaho at 9.1%, Mississippi at 8.6%, Arkansas at 8.5% and Nevada at 8.1%.
In Puerto Rico, home to nearly four million Latinos, 23.3% of adults ages 25 and older have a college degree. Compared with the 50 states and DC, this college degree attainment rate places Puerto Rico ahead of every state except Virginia and the District of Columbia.
The share of Latino high school graduates that immediately enroll in college is on the rise, as is the number of Hispanic students earning college degrees. But despite these gains, the share of Latino adults nationally that have a bachelor's degree, 13.4%, remains significantly below that of whites (31.8%), Asians (50.3%) and blacks (18.7%).
For more on Hispanic populations, see our interactive state, county and metropolitan area maps.
Danielle Cuddington
is a former research assistant focusing on global attitudes at Pew Research Center.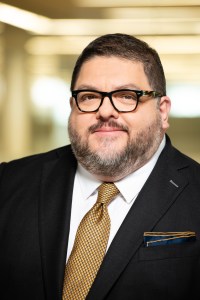 Mark Hugo Lopez
is director of race and ethnicity research at Pew Research Center.