Survey report
Voters who support Hillary Clinton and Donald Trump offer a variety of reasons why they do so, ranging from the candidates' issue positions to their personal backgrounds.
But a major factor for both groups, beyond their candidate's attributes, is who they are not: Asked in an open-ended format, 33% of Trump supporters and about as many Clinton supporters (32%) frame their vote at least partially in opposition to the other candidate, often using harsh language.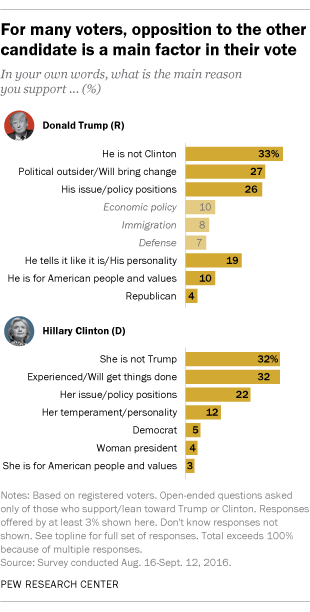 Among Clinton supporters, only her experience, at 32%, is mentioned as frequently as opposition to Trump. For Trump supporters, opposition to Clinton is among the most frequently cited factors for supporting their candidate, with nearly as many citing his status as a political outsider (27%) or his policy stances (26%).
This "opposition as support" takes place in the context of an election campaign that is far more likely to be viewed in negative than positive terms: Majorities of Americans describe themselves as "frustrated" and "disgusted" with the campaign, while few declare themselves "interested", "optimistic" or "excited." And these negative takes have only become more widespread over the course of the summer.
The survey conducted August 16-September 12 online and by mail among 4,538 adults, including 3,941 registered voters, provides a unique perspective on voters' feelings about the presidential candidates. Many voters have unqualified praise for their preferred candidate. A 78-year-old woman supporting Clinton describes her as "a seasoned veteran" who "can get things done," and adds: "We need a woman!"
A 43-year-old man who backs Trump says the main reason is that "he's not a career politician, and he doesn't owe politicians anything. He's got real-world experience that most career politicians lack."
Yet sizable shares in both camps focus at least partly – or in many cases exclusively – on the flaws or shortcomings of the opposing candidate. Several voters, including a 41-year-old woman who is supporting Clinton, describe their choice as "the lesser of two evils." A 49-year-old man who backs Trump says: "As bad as he is, I think Hillary is worse for our country."
Clinton and Trump supporters also were asked about concerns they have, if any, about their own candidate. Roughly six-in-ten Trump supporters (62%) and half of Clinton supporters (50%) offer a concern about the candidate they support (the remainder assert that they have no concerns or do not give an answer).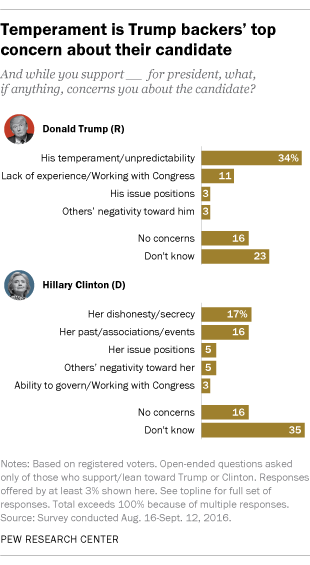 For Trump supporters, the candidate's character and personality is mentioned far more frequently than any other concern. Four-in-ten registered voters who support Trump point to his personality as their main concern – with 34% specifically referring to his temperament or speaking style.
Some Trump supporters express blunt criticisms of their candidate. One 65-year-old woman describes him as a "temperamental child saying anything in an attempt to get what he wants." A 40-year-old woman points to Trump's "temper" as a concern, but adds that she likes "his honesty and hard-line beliefs."
Fewer Clinton supporters (18%) cite her character and personality as a concern, but most of those who do (17% of Clinton supporters overall) specifically refer to concerns about honesty or secrecy. An additional 16% cite Clinton's past or some of her associations, such as her ties to Wall Street, her husband's administration, the Clinton Foundation or actions associated with her time as Secretary of State (including her use of a private email server).
A 45-year-old man who supports Clinton says she is "too guarded and not transparent enough. [She] doesn't speak to the media" and "is naturally defensive when it comes to any criticism." A 36-year-old woman says that while Clinton would make a "fine president," she adds she is "concerned about her trustworthiness."
The new survey also finds that, no matter who wins on Nov. 8, few voters anticipate feeling excited about the outcome. Just 11% of all registered voters say they would be excited if Trump won, 26% say they would be relieved, while a majority says they would be disappointed (34%) or angry (25%).
Just 12% overall would be excited if Clinton wins, while 36% would be relieved; nearly half would be disappointed (29%) or angry (20%).
Far more Clinton and Trump supporters say they would feel relieved than excited if their candidate wins. Just a quarter of Clinton supporters (25%) and a similar share of Trump backers (28%) say they would be excited if their candidate were to win.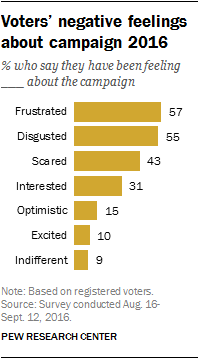 As previous Pew Research Center surveys have found, voters have very negative feelings about the presidential campaign. Far more say they have been feeling frustrated (57%), disgusted (55%) or scared (43%) than say they are interested (31%), optimistic (15%) or excited (just 10%). Yet only 9% of voters say they feel indifferent about the campaign. Trump and Clinton supporters express similar levels of frustration (55% and 53%, respectively) and differ little in their feelings of disgust (53% vs. 48%) or fear (46% vs. 41%).
Negative feelings about the campaign rose over the summer. The share of voters saying they've been feeling frustrated has risen 8 percentage points since earlier in the summer (from 49% to 57%). Similarly, a larger share now say they are disgusted (45% then, 55% now), while slightly more now say they are scared than said this two months ago (37% then, 43% now). There has been little change in the share expressing positive feelings about the campaign over the course of the summer.
Explaining their vote: Enthusiasm mixes with dislike of opponent
Voters offer thoughtful comments about why they support their candidate for president. Below are some illustrative examples of the more than 3,100 comments from voters in the nationally representative, randomly selected, American Trends Panel.
The concerns of supporters
Many backers of Trump and Clinton offer concerns they have about the candidate that they plan to vote for in November (though some supporters also take this opportunity to offer full-throated endorsements). Below is a sampling of voters concerns about their own candidates.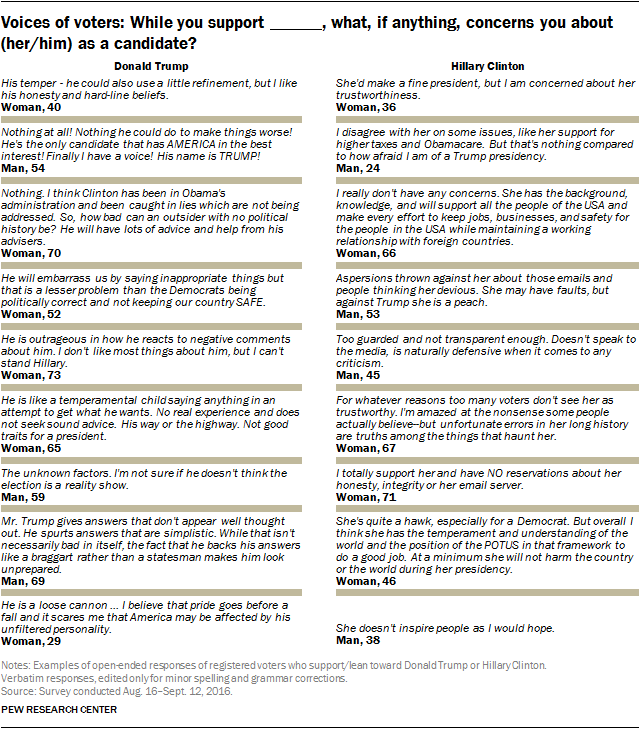 Experience and leadership are major reasons supporters back Clinton
When presented with a list of factors that might influence their vote choice, dislike of the opposition again ranks high for both Trump and Clinton supporters as a major reason for backing their candidate: Roughly two-thirds of voters who favor Donald Trump (67%) and Hillary Clinton (64%) say this.
Among Trump supporters, only the candidate's views on terrorism (78%) and the economy (76%) rank higher than dislike of Clinton on a list of major reasons for supporting him.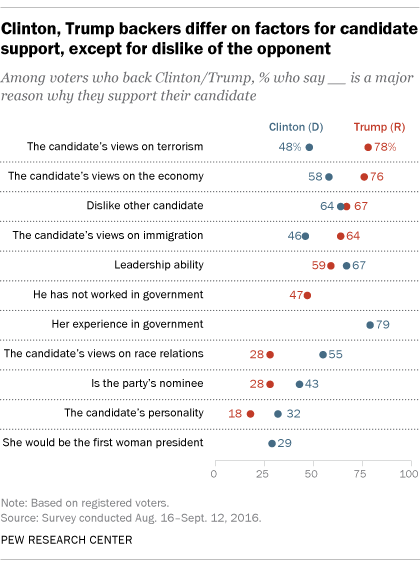 And among Clinton supporters, only her experience in government (79%) ranks higher than dislike of Trump, though roughly as many of her backers cite her leadership ability (67%) as a major reason underlying their support.
Clinton supporters are 30 percentage points less likely than Trump supporters to cite their candidate's views on terrorism as a major reason for supporting them (48% vs. 78%). By contrast, nearly twice as many Clinton supporters (55%) as Trump supporters (28%) cite their candidate's views on race relations as a major reason for support.
While a sizable majority of Clinton supporters (79%) cite her experience as a major reason for why they back the former Secretary of State, nearly half of Trump supporters (47%) say his lack of prior government experience as a major reason they are voting for him.
A greater share of Clinton backers than Trump supporters say loyalty to the party's nominee is a major reason for their support: 43% of Clinton voters say they support her because she's the Democratic Party's nominee, but just 28% of Trump supporters say a major reason they back him is because he's the Republican Party's nominee. Neither side has many voters who say the candidates' personalities are a major reason for their support (18% of Trump; 32% of Clinton).
The historic nature of Clinton's candidacy is not a major reason for her supporters to vote for her this fall. About three-in-ten (29%) say Clinton's potential to become the first woman to win the White House is a major reason they support her. About four-in-ten Clinton supporters (41%) say her gender is not a reason at all for their support of her.