One in three American adults have gone online to figure out a medical condition
Thirty-five percent of U.S. adults say that at one time or another they have gone online specifically to try to figure out what medical condition they or someone else might have.
These findings come from a national survey by the Pew Research Center's Internet & American Life Project. Throughout this report, we call those who searched for answers on the internet "online diagnosers."
When asked if the information found online led them to think they needed the attention of a medical professional, 46% of online diagnosers say that was the case. Thirty-eight percent of online diagnosers say it was something they could take care of at home and 11% say it was both or in-between.
When we asked respondents about the accuracy of their initial diagnosis, they reported:
41% of online diagnosers say a medical professional confirmed their diagnosis. An additional 2% say a medical professional partially confirmed it.
35% say they did not visit a clinician to get a professional opinion.
18% say they consulted a medical professional and the clinician either did not agree or offered a different opinion about the condition.
1% say their conversation with a clinician was inconclusive.
Women are more likely than men to go online to figure out a possible diagnosis. Other groups that have a high likelihood of doing so include younger people, white adults, those who live in households earning $75,000 or more, and those with a college degree or advanced degrees.
It is important to note what these findings mean – and what they don't mean. Historically, people have always tried to answer their health questions at home and made personal choices about whether and when to consult a clinician. Many have now added the internet to their personal health toolbox, helping themselves and their loved ones better understand what might be ailing them. This study was not designed to determine whether the internet has had a good or bad influence on health care. It measures the scope, but not the outcome, of this activity.
Clinicians are a central resource for information or support during serious health episodes — and the care and conversation take place mostly offline
To try to capture a focused picture of people's health information search and information-assessment strategies, we asked respondents to think about the last time they had a serious health issue and to whom they turned for help, either online or offline:
70% of U.S. adults got information, care, or support from a doctor or other health care professional.
60% of adults got information or support from friends and family.
24% of adults got information or support from others who have the same health condition.
The vast majority of this care and conversation took place offline, but a small group of people did communicate with each of these sources online. And, since a majority of adults consult the internet when they have health questions, these communications with clinicians, family, and fellow patients joined the stream of information flowing in.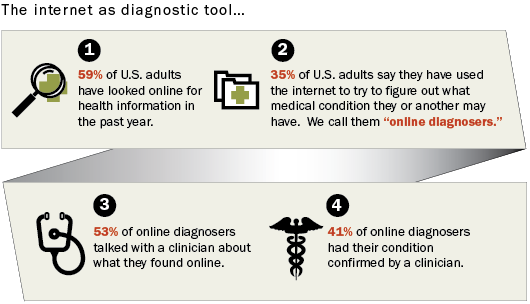 Eight in 10 online health inquiries start at a search engine
Looking more broadly at the online landscape, 72% of internet users say they looked online for health information of one kind or another within the past year.  This includes searches related to serious conditions, general information searches, and searches for minor health problems. For brevity's sake, we will refer to this group as "online health seekers."
When asked to think about the last time they hunted for health or medical information, 77% of online health seekers say they began at a search engine such as Google, Bing, or Yahoo. Another 13% say they began at a site that specializes in health information, like WebMD. Just 2% say they started their research at a more general site like Wikipedia and an additional 1% say they started at a social network site like Facebook.
Half of health information searches are on behalf of someone else
When asked to think about the last time they went online for health or medical information, 39% of online health seekers say they looked for information related to their own situation. Another 39% say they looked for information related to someone else's health or medical situation. An additional 15% of these internet users say they were looking both on their own and someone else's behalf.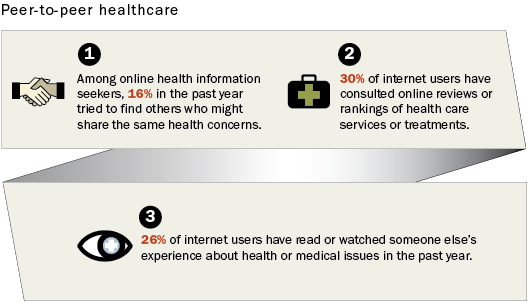 One in four people seeking health information online have hit a pay wall
Twenty-six percent of internet users who look online for health information say they have been asked to pay for access to something they wanted to see online.  Of those who have been asked to pay, just 2% say they did so. Fully 83% of those who hit a pay wall say they tried to find the same information somewhere else. Thirteen percent of those who hit a pay wall say they just gave up.
The social life of health information is a low-key but steady presence in American life
In past surveys, the Pew Internet Project has not defined a time period for health activities online. This time, the phrase "in the past 12 months" was added to help focus respondents on recent episodes. We find once again that there is a social life of health information, as well as peer-to-peer support, as people exchange stories about their own health issues to help each other understand what might lie ahead:
26% say they read or watched someone else's experience about health or medical issues in the last 12 months.
16% of internet users say they went online in the last year to find others who might share the same health concerns.
Health-related reviews and rankings continue to be used by only a modest group of consumers. About one in five internet users have consulted online reviews of particular drugs or medical treatments, doctors or other providers, and hospitals or medical facilities. And just 3-4% of internet users have posted online reviews of health care services or providers.
About this study
The results reported here come from a nationwide survey of 3,014 adults living in the United States. Telephone interviews were conducted by landline (1,808) and cell phone (1,206, including 624 without a landline phone). The survey was conducted by Princeton Survey Research Associates International. Interviews were done in English and Spanish by Princeton Data Source from August 7 to September 6, 2012. Statistical results are weighted to correct known demographic discrepancies. The margin of sampling error for the complete set of weighted data is ±2.4 percentage points.
The Pew Internet & American Life Project is an initiative of the Pew Research Center, a nonprofit "fact tank" that provides information on the issues, attitudes and trends shaping America and the world. The Project is nonpartisan and takes no position on policy issues. Support for the Project is provided by the Pew Charitable Trusts.
Support for this study was provided by the California HealthCare Foundation, an independent philanthropy committed to improving the way health care is delivered and financed in California.