Outside of their personal relationships (and pets), many people in the 17 publics surveyed find meaning in their surroundings and the broader world around them, including society, the natural environment and spirituality. People's own society, places and institutions – ranging from the specific area where they live to their government at large – appear within the top 10 most commonly mentioned topics in every public surveyed. Others describe finding a deep sense of meaning in their relationship with nature. And spirituality and faith also serve as a key pillar for some – though this is particularly the case in the U.S. relative to the other publics.
Society, places and institutions
When asked about where they find meaning in life, some people bring up the area where they live or their broader society and public institutions. These references include mentions of their country, the social services available, the state of their country's economy and any patriotic or nationalistic sentiments. For some, this includes expressions of appreciation for their country's health care system, such as one German woman who said, "I am grateful for our health care system. I am grateful that I can travel the globe and that we have the euro. Overall, I am content," and a woman in Taiwan who stated, "The public health insurance system is good; medical service is convenient."
Others speak more generally about the opportunities available where they live. This is the case for a French man, who said: "We're happy to live in France, where you can achieve anything you want. French people are lucky to live in a country where people are happy. Even those who have difficulties are able to get the right help."
"The fact that we live in paradise. If you want to have a go in this country, you're given a go. We're lucky, if we want work, we can get work, if we want to go to a beach we can go to a beach. We can do whatever we want. We're very lucky." –Man, 39, Australia
Some in Europe refer more specifically to the European Union. For instance, one Belgian woman explained, "Despite the coronavirus pandemic, we can still travel in the Schengen area. The European Union is advantageous for working and studying abroad." A Spanish man similarly mentioned his "freedom to travel the world, ease of movement between countries, not only between European Union countries but also others."
Of all respondents, adults in Taiwan bring up where they live most frequently; 38% of responses mention the respondent's surroundings, making it the top factor mentioned. Many people in Taiwan expressed appreciation of the convenience afforded to them by their local infrastructure, such as one woman who said "food, clothing, housing and transportation are all convenient."
About a quarter in Singapore also mention society and place in their discussions of meaning in life, which makes it a top-three factor there. In Singapore, some specifically reference public safety, including one man who explained, "I have job security in Singapore … and Singapore is a safe place," and another woman who reflected, "I think is the daily life, the security, in Singapore, like I mean there's no wars, is like the security in Singapore, is like the safe environment you don't need to worry about going home late."
In the U.S., 14% mention society and place when talking about meaning in their life. For some, these references were tied directly to the U.S. president or 2020 presidential election. Describing where she finds meaning, one U.S. woman responded: "Not too much because Revelations [is] playing out in front of my eyes. We are in scary times with Biden as President." By contrast, another woman said she was "relieved at the outcome of the last presidential election," expressing her support for President Joe Biden's victory. Notably, Americans who mention something negative in their response are nearly 30 points more likely to bring up American society or where they live. Nearly half (41%) of those mention something negative in the U.S. mention society, compared with just 12% of those who do not mention anything negative.
Nature and the outdoors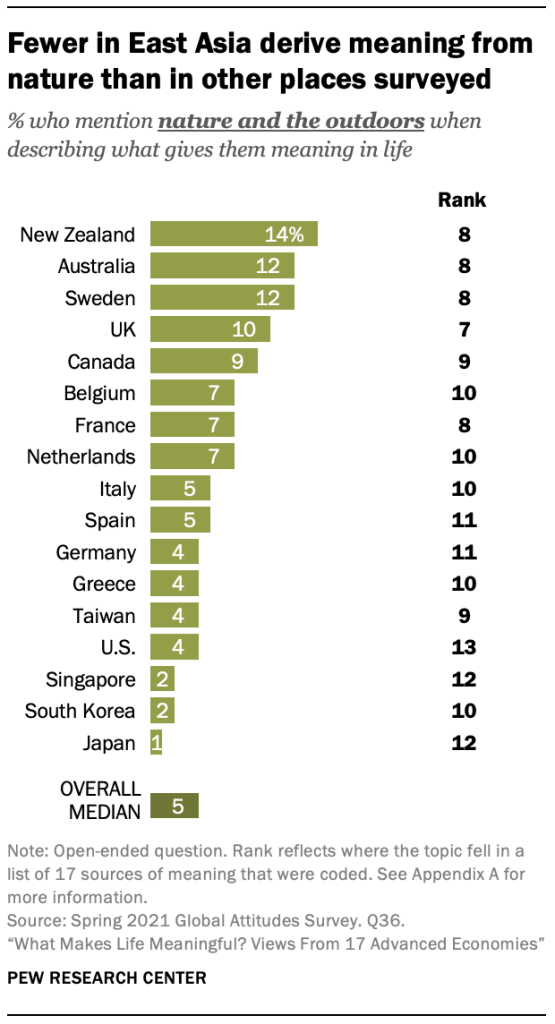 Whether it be personally getting outside for activities, admiring natural beauty in the form of "a beautiful sunset [or the] first bloom of flowers," or concerns related to the environment and preservation, nature is a key source of meaning for some people. One German respondent even highlighted how nature helps her cope with frustrations with humanity: "It is good to be alive. I am woken up by birdsong which makes me so happy and glad. I am, however, horrified by all the people in the world." A man in France similarly noted that even if other parts of life are bleak, nature can hold promise: "No particular aspect of my life is significant but I'm lucky to be able to get around and enjoy nature. It's fulfilling to look at nature and cross the road."
The degree to which people value nature, though, varies quite a bit across the publics surveyed, from a low of 1% in Japan to a high of 14% in New Zealand. And, while it factors into the top 10 most common sources of meaning cited by publics in Australia, Canada, France, New Zealand, Sweden, Taiwan and the UK, nature ranks relatively low in Japan, Singapore and the U.S.
"I may not have much economically, but I'm blessed by the abundance of Mother Nature."–Man, 79, Japan
One Australian tied together the personal meaning she gets from being outside with more general concerns about the environment and climate change, citing the following as what gives her meaning: "Climate, being able to enjoy my lifestyle outdoors, security that comes with having a relatively stable climate and resources, having clean air and clean water, which will be effective at increasing climate impact, and being able to enjoy the high biodiversity of plants and animals because that's an overlap of my job and my life." Similarly, after describing a variety of things that make her happy, one New Zealander concluded her response on a note of concern: "Really one of my main concerns is that people aren't taking climate change seriously."
Those on the ideological left are more likely to reference nature than those on the ideological right in five survey publics.
Spirituality, faith and religion
For some, religion plays a significant role in giving their life meaning. Mentions of religion include direct references to God, as is the case for a German man who said, "My faith in God and Jesus gives my life meaning – I am content," and references to religious communities, church attendance, and more general notions of spirituality and connectedness to a higher power. For example, one American woman identifies her "strong faith in God (with a church family to lean on when needed)" as part of what gives her life meaning. In other instances, responses also reference the impact of the pandemic on religious practices. As one American woman explained, "Attending church is important to me and I haven't been able to attend since the virus."
With 15% of all U.S. adults bringing up religion, Americans stand out for mentioning religion most frequently, and it is the fifth most frequently mentioned topic there.
"I have religious belief[s] and moral values, so I have the wisdom to solve the difficulties in life." –Woman, 70, Taiwan
In comparison, New Zealanders, who mention religion with the second highest frequency, only bring up religion 5% of the time. No more than 1% in France, Sweden, Belgium, South Korea and Japan reference religion when defining meaning in life. For Swedes, this makes faith the least mentioned topic, while for South Koreans, faith is the 11th most mentioned topic.
People generally mention religion with the same frequency regardless of age, income, education or gender. In the U.S., however, older adults ages 65 and older and Republicans and Republican-leaning independents are more likely than their younger and Democratic counterparts to bring up religion. Mentions of faith are also slightly more common among those on the ideological right in five other publics, but nowhere are the differences as large as in the U.S.