Note: For the latest data on media layoffs, read our 2022 post.
Newspaper layoffs have far from abated in the past year, and digital-native news outlets are also suffering losses, according to a new Pew Research Center analysis.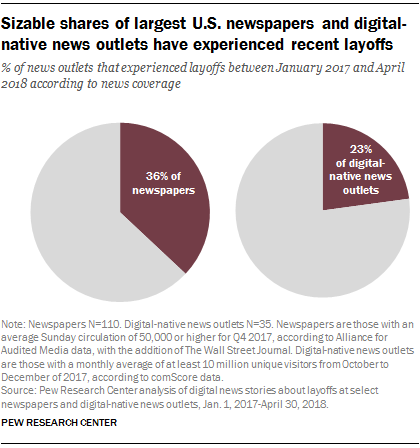 At least 36% of the largest newspapers across the United States – as well as at least 23% of the highest-traffic digital-native news outlets – experienced layoffs between January 2017 and April 2018, according to the study. Among newspapers, those with the highest circulation were most likely to be affected.
The analysis comes amid a series of highly publicized staff reductions by hedge fund companies that had acquired well-known newspapers, including The Denver Post, where employees publicly criticized the cuts made by the papers' owners.
To reach these estimates, the Center searched for and examined news articles that cited staff layoffs at 110 newspapers and 35 digital-native news outlets. Using these sources, the study tallied layoffs at daily newspapers with total Sunday circulations of at least 50,000 in the fourth quarter of 2017 (as measured by the Alliance for Audited Media), as well as The Wall Street Journal, which has no Sunday edition. Layoffs were also tallied for digital-native news outlets with a monthly average of at least 10 million unique visitors during the same period, as identified in the Center's annual research on the state of the news media for the digital news sector. The news articles examined did not always mention the kinds of positions eliminated, so the layoffs analyzed here were not necessarily of newsroom employees.
Of the 110 daily newspapers in the analysis, 40 – or 36% – were found to have gone through publicly reported layoffs during the 16-month study period, with at least 12 experiencing more than one round of layoffs. It is possible that even more occurred but remained under the radar of the search methods employed in this analysis.
Larger newspapers – those with circulations of at least 250,000 – were more likely than smaller-circulation newspapers to have experienced layoffs between January 2017 and April 2018. Nine of the 16 newspapers with circulations of 250,000 or more (56%) had layoffs. By comparison, that was true of 16 of the 44 newspapers with circulations between 100,000 and 249,999 (36%) and 15 of the 50 newspapers with circulations between 50,000 and 99,999 (30%).
While news reports did not always provide the exact number of newsroom staff being laid off, some broad conclusions can be drawn from the data. Of the 35 newspapers for which the Center could determine the number of laid-off newsroom staff, about half (49%) laid off 10 or fewer employees, according to the analysis. The cuts tended to be larger at eight digital-native news outlets where the number of layoffs could be determined: Only one outlet laid off fewer than 10 employees. (For more details on how these were counted, see the methodology.)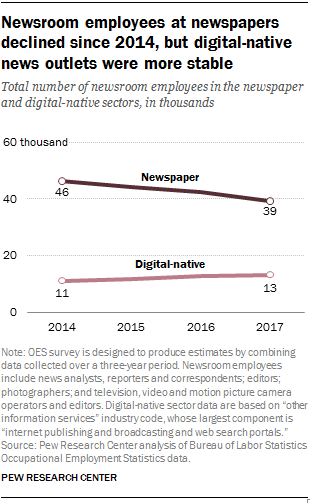 The prevalence of layoffs at newspapers in the analysis during the 16-month study period reflects recent employment trends in the newspaper sector, according to the Bureau of Labor Statistics. Between 2014 and 2017, the number of newspaper newsroom employees dropped by 15%, from about 46,000 to about 39,000. There was no significant change in digital-native newsroom employees, however, as the number remained around 11,000 to 13,000 over the same three-year period. Layoffs at digital-native news outlets, in other words, may have been offset by hiring at other outlets, which was not part of this analysis.
Note: Read full methodology here (PDF).
[callout]
Read more about American newsrooms:
[/callout]
Elizabeth Grieco
is a former senior writer/editor focusing on journalism research at Pew Research Center.
Nami Sumida
is a former research analyst who focused on journalism research at Pew Research Center.
Sophia Fedeli
is a former research assistant who focused on journalism research at Pew Research Center.