Pew Research Center's American News Pathways project conducted this study to understand how Americans are reacting to the news and information they are encountering in the wake of the 2020 presidential election.
For this analysis, we surveyed 12,648 U.S. adults between Nov. 18-29, 2020. Everyone who completed the survey is a member of the Center's American Trends Panel (ATP), an online survey panel that is recruited through national, random sampling of residential addresses. This way nearly all U.S. adults have a chance of selection. The survey is weighted to be representative of the U.S. adult population by gender, race, ethnicity, partisan affiliation, education and other categories. Read more about the ATP's methodology.
See here to read more about the questions used for this report and the report's methodology.
Visit our interactive data tool to access the questions included in this report, as well as content about the coronavirus outbreak and the 2020 presidential election.
In this starkly atypical year, the aftermath of the 2020 presidential election has been similarly out of the ordinary – with President Donald Trump thus far refusing to concede to President-elect Joe Biden (as of publication on Dec. 15). But a new Pew Research Center survey finds familiar partisan patterns in how Republicans and Democrats are reacting to the latest news developments, including both the unfolding political drama and the autumn surge in coronavirus cases across the country.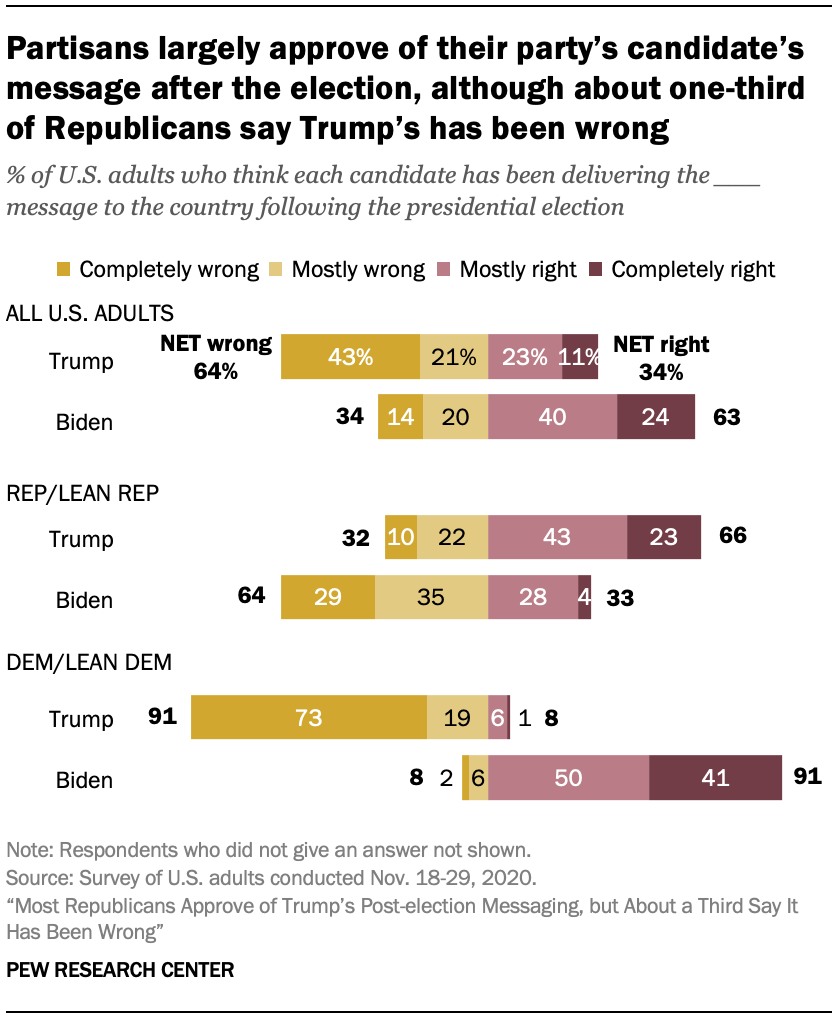 Americans across the partisan divide have drastically different opinions about Trump's and Biden's public statements since polls closed Nov. 3. Majorities within each party approve of the post-election messaging their party's candidate has been delivering and disapprove of the opponent's message. These opinions are particularly common among Democrats and independents who lean toward the Democratic Party, about nine-in-ten of whom say Biden has been delivering the right message and Trump the wrong one.
But the survey, conducted Nov. 18-29 as part of the Center's American News Pathways project, also finds that Republicans are more divided than Democrats. Roughly a third of Republicans and independents who lean Republican say that Trump has been delivering the wrong message since the election – and a nearly identical share say that Biden has been delivering the right one. And even though Trump has consistently claimed that widespread voter fraud was responsible for his defeat, roughly four-in-ten Republicans say allegations of voter fraud do not deserve more attention.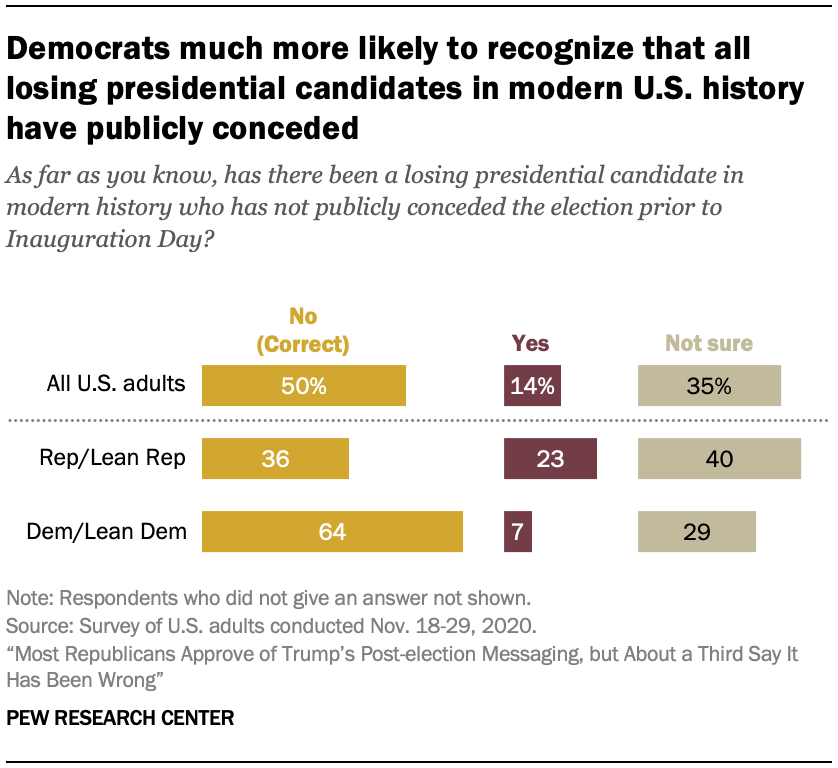 Half of U.S. adults know that in modern history, there has not been a losing presidential candidate who has declined to publicly concede prior to Inauguration Day. Again, however, there is a large gap between the parties: Roughly two-thirds of Democrats (64%) correctly answer this question, compared with 36% of Republicans. Republicans, on the other hand, are more likely to say that there has been a losing candidate who has not conceded in modern history (23%, vs. 7% of Democrats) or that they are not sure whether this has happened (40% vs. 29%).
Majorities of both parties say their most-used news sources covered the election well, but Democrats are much more likely to praise the media in general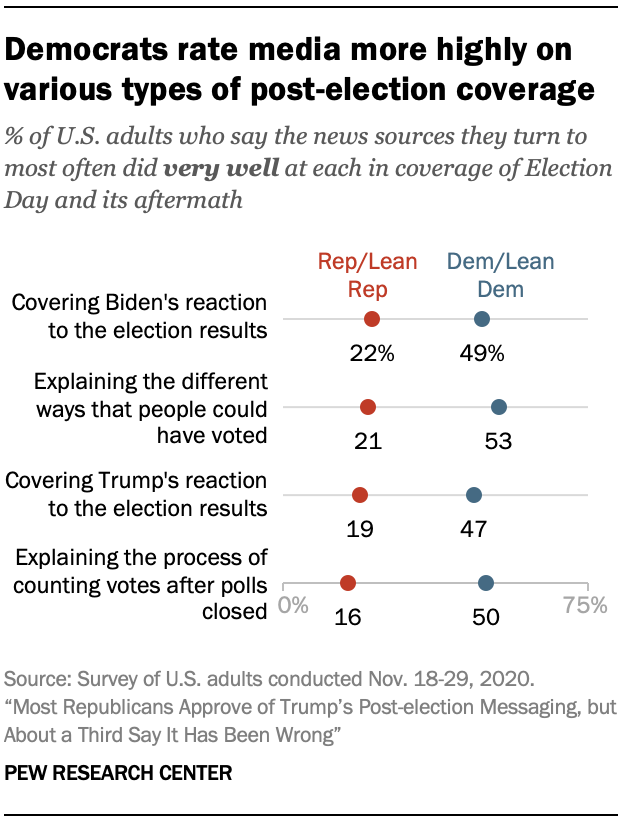 After an election that captured the attention of a large majority of Americans, most people give their main news sources positive marks on a range of post-election coverage areas, such as the voting process and each candidate's reaction. In each case, however, Democrats are far more likely than Republicans to say their news sources did a good job. For instance, 50% of Democrats say the news sources they turn to most did "very well" at explaining the process of counting votes after polls closed, compared with 16% of Republicans who say the same.
The partisan gaps are even larger when it comes to assessments of the news media's election coverage in general. While roughly seven-in-ten Democrats (69%) say that the news media overall provided "largely accurate" coverage of the election after the polls closed, just 18% of Republicans agree.
That said, the survey did not find evidence of particular dissatisfaction among Republican Fox News viewers following the network's election-night decision to call Arizona for Biden – a decision publicly criticized by Trump and others in the party. (Biden did ultimately win that state.) Republicans who say Fox News is a major source of election news for them actually give slightly more positive marks to their main news sources' election coverage compared with other Republicans who use a mix of the sources asked about (see Chapter 2 for more details).
Republicans' news sources continue to be closely linked with their views on a range of topics. For example, Republicans who rely only on Fox News and/or talk radio (among eight major news sources asked about) for their post-election news are much more likely than Republicans who use other major sources – or at least a wider variety of major news sources – to say Trump's post-election messaging has been right. This Fox News/talk radio group within the GOP also is far more likely to say that allegations of voter fraud deserve more attention.
Republicans more critical of social media companies' decisions about election content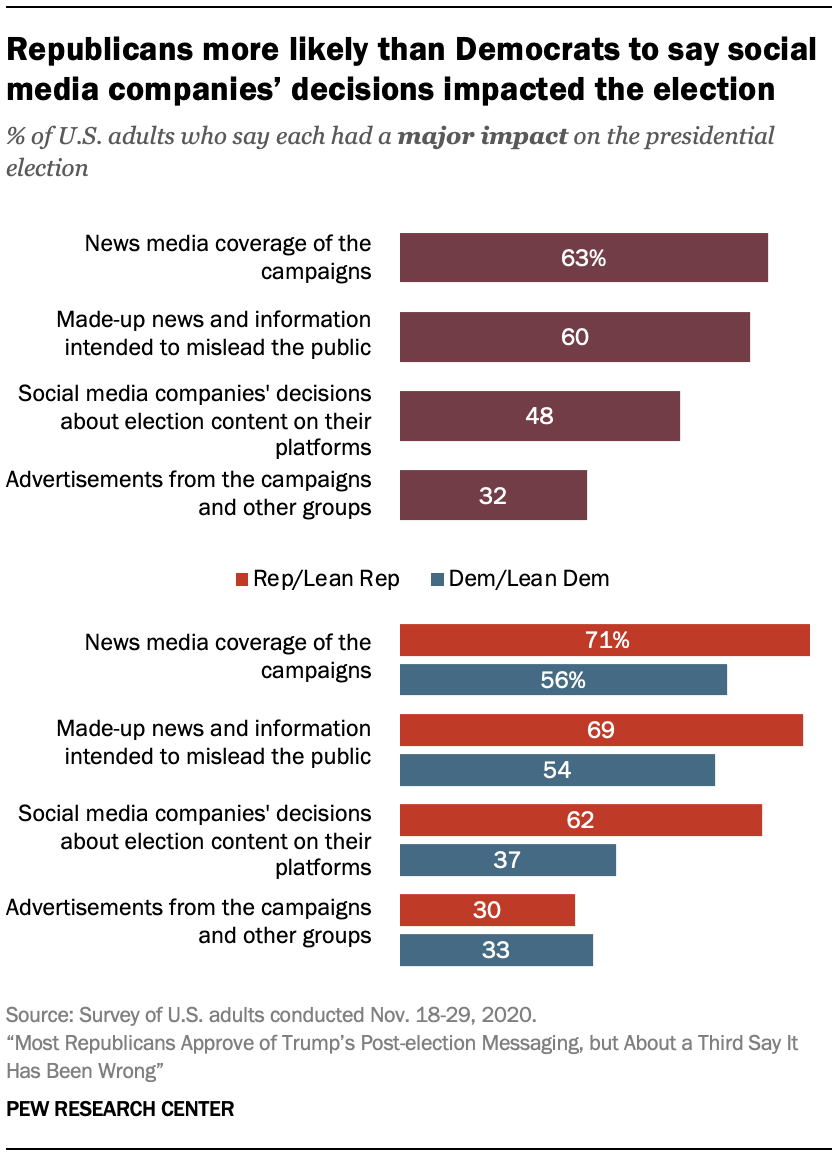 A majority of Americans (60%) say made-up news and information had a major impact on the 2020 presidential election, though Democrats and Republicans both overwhelmingly see it as targeting their own party (see Chapter 3). Roughly the same portion (63%) say news media coverage in general had a major impact, while fewer (48%) feel the decisions social media companies made about election content on their platforms greatly affected the election and about a third (32%) feel this way about campaign advertisements.
In three of these four areas – news coverage, made-up news and information, and social media companies' decisions – Republicans sense a greater impact on the election than do Democrats. But the biggest partisan gap emerges over the impact of social media companies' decisions: 62% of Republicans say these decisions had a major impact, compared with 37% of Democrats.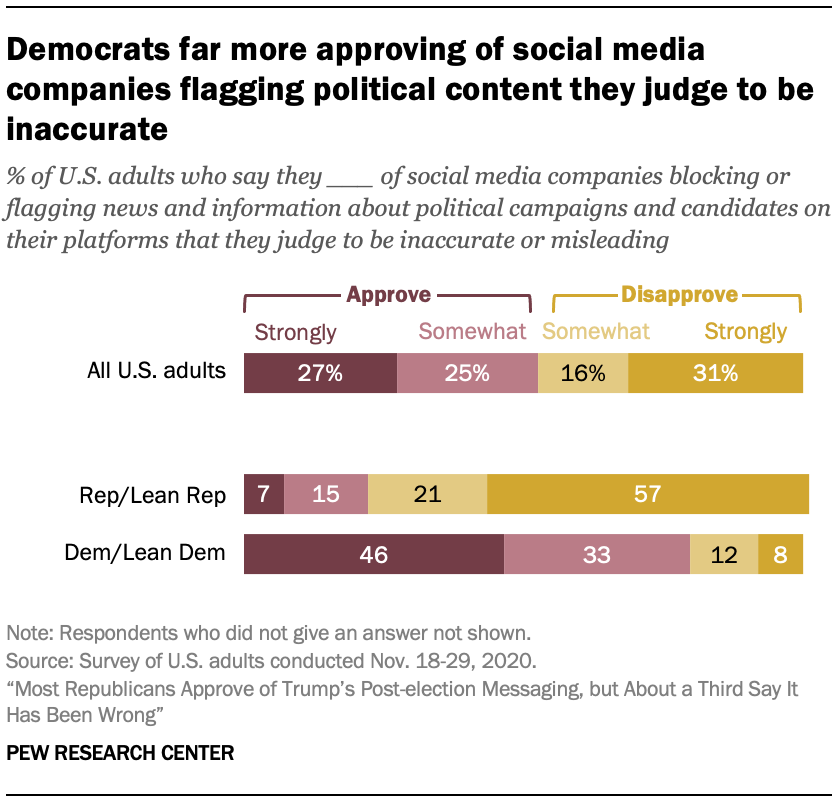 Perhaps tied to this disconnect is that Republicans are far more likely than Democrats to express disapproval of social media companies blocking or flagging election news and information on their platforms that they judge to be inaccurate or misleading.
Overall, Americans are largely divided between approving (51%) and disapproving (47%) of such actions. But a large majority of Republicans disapprove (78%), while an identical portion of Democrats approve. These findings come after social media companies flagged posts by Trump related to the election for being false or disputed.
Despite a surge in cases, COVID-19 views go largely unchanged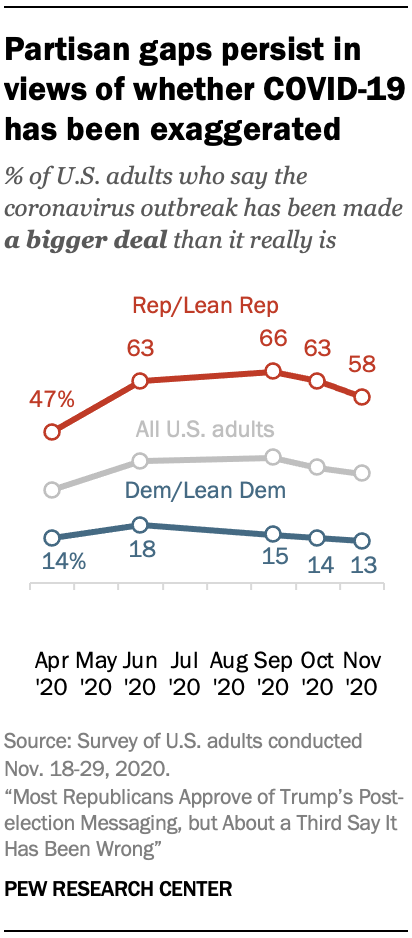 In addition to the election, the survey also gauged attention to the coronavirus outbreak as the number of COVID-19 cases surged throughout the country. The share of U.S. adults who were paying close attention to the pandemic did not change between mid-October through late November, with 37% following the outbreak very closely. The partisan gap that increased throughout the spring and summer also remains, with about half of Democrats (47%) following COVID-19 news very closely, compared with 28% of Republicans.
Americans overall are about evenly split on whether the outbreak has been overblown (34%) or underplayed (30%), but large partisan gaps on this question persist. Republicans (58%) are much more likely than Democrats (13%) to say that the pandemic has been exaggerated, though the share of Republicans who take this position has fallen by 5 percentage points in recent weeks.
Relatedly, about twice as many Democrats (45%) as Republicans (21%) say they greatly changed their Thanksgiving plans this year due to the outbreak (see Chapter 4).