Inside the country of origin, the Mexico City-based newspaper El Universal covered the outbreak more than any other newspaper in the study. There were 20 front page articles over 12 days, plus teasers to additional coverage on the inside pages. Looking at the number of stories to cases, it amounts to one front-page story per 81 cases.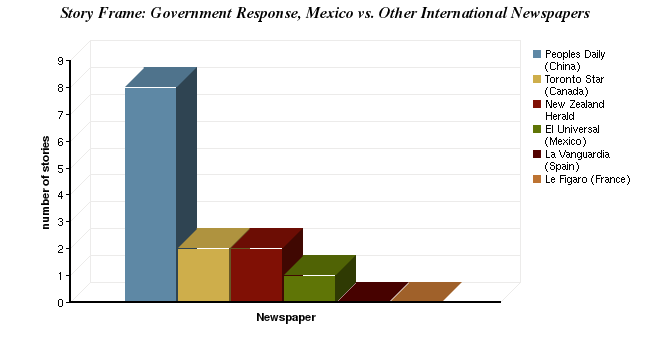 What stood out within that coverage, moreover, was the lack of attention to official government response—either that of Mexico, the U.S. or any other government. Looking across all of the papers studied, government responses were the dominating area of focus, accounting for 27% of the coverage. But in one of the most widely read newspapers in the country where the crisis was most acute and intense, just a single story focused on this aspect of the event.
Instead, the paper – primarily divided its coverage among three areas: the impact on business and the economy, work and school closings and the causes and history of the virus.
Headlines like "Workers Pay the Greatest Price of the Closures" and pictures of crowds of Mexican citizens wearing blue facemasks displayed the jolt felt by the working class.
The next greatest area of coverage was the question of international discrimination against Mexicans and was also a hot topic in the Spanish-language paper El Diario. Terminology around the world elicited complaints of racism and damage to the pork industry.
A May 3 headline, for example, stated in large bold letters "Discriminatory and Unjust Treatment of Mexicans." The article reported on the suspension of flights, detention of passengers and maltreatment of Mexicans and cited nations such as China, Ecuador, Peru and Cuba for taking "unnecessary action" against Mexicans in their countries as a result of the outbreak.
The other complaint surrounding the term "swine flu" was the damage it did to the pork industry. On May 7, El Universal ran an article reporting that national pork sales were down between 60% and 80%. As some international reports showed, the concerns that pork farmers were being unfairly stigmatized may not have been unfounded. Although it was made clear by the WHO and many news organizations that the disease could not be contracted from pig to human and that eating pork was safe, many countries reacted by cutting pork imports from North America, and many individual consumers temporarily stopped consuming pork.