Teens' Twitter use has grown significantly: One in four (24%) online teens uses Twitter, up from 16% 2011.
Fully 95% of those ages 12-17 use the internet. Eight in ten online teens use some kind of social media. Twitter is still not in the same league as Facebook, which attracts 77% of online teens. Still, 24% of online teens now use Twitter, a figure that is up from 16% in 2011 and 8% the first time we asked this question in late 2009. Teenagers' use of Twitter now outpaces that of adults; just 16% of online adults are Twitter users, up slightly from the 12% who were using Twitter in 2011.13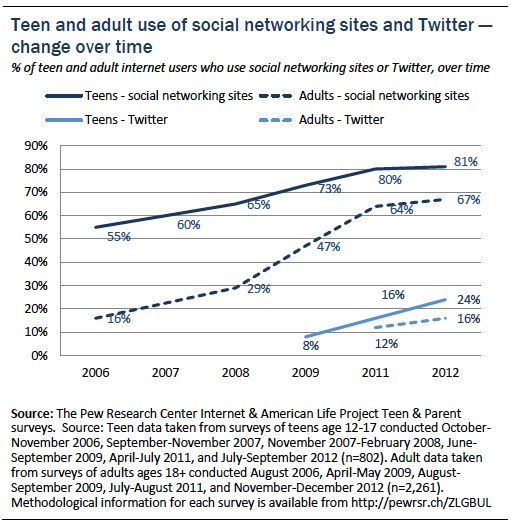 The number of teens who say they "use a social networking site like Facebook" is still significantly higher than it is among adults; 81% of online teens say they use social networking sites such as Facebook, while 67% of all online adults use these sites. However, the gap is now only due to adults ages 50 and older. Online adults under age 50 are now just as likely as teens to use the sites (79% vs. 81%).14
Teens don't always think of Twitter as a social networking site.
While Facebook and Twitter are often grouped together as "social media sites" or "social networking sites," our data have shown repeatedly that a small segment of teens and adults think of Twitter differently. When we ask a standalone question about Twitter use, there is consistently a group of users who say they are not users of social networking sites, but they do use Twitter. Looking more closely at the 24% of online teens who use Twitter, 3% say they do not use a social networking site like Facebook.
Looking at the full universe of teen social media users, we find that 82% of online teens say they are either users of social networking sites like Facebook or users of Twitter.15 This group will be referred to as teen social media users throughout the report.
Older teens (those ages 14-17) are significantly more likely than younger teens to use both social networking sites and Twitter, with older girls in particular standing out from both older boys and from younger teens of either gender.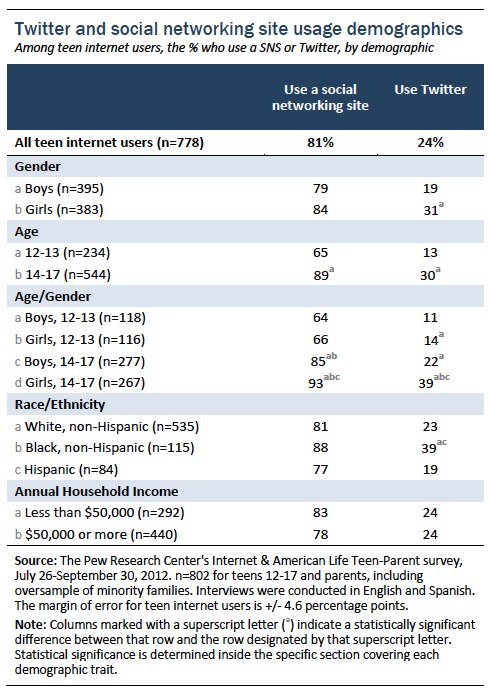 African-American teens are substantially more likely to report using Twitter when compared with white youth.
Continuing a pattern established early in the life of Twitter, and reflected in our earlier data, African-American teens who are internet users are more likely to use the site than their white counterparts. Two in five (39%) African-American teens use Twitter, while 23% of white teens use the service.16 In 2011, African-American teens were three times as likely to be Twitter users when compared with white teens (34% vs. 11%).17
The frequency of teen social media usage may have reached a plateau; three in four teen social media users visit the sites on a daily basis.
Since 2011, the number of teen social media users who visit the sites "several times a day" has not changed in any significant way; 40% said they have visited the sites several times per day in 2011 and 42% reported that in the current survey. In 2011, 24% of teen social media users visited the sites "about once a day," while 25% reported doing so in the current survey.
Girls and older teens continue to be the heaviest users of social media sites. Among teen girls who are social media users, 48% say they visit social networking sites several times per day, compared with 36% of teen boys. Looking at younger teens ages 12-13, 26% use the sites several times per day, while nearly twice as many teens ages 14-17 (47%) use the sites that often.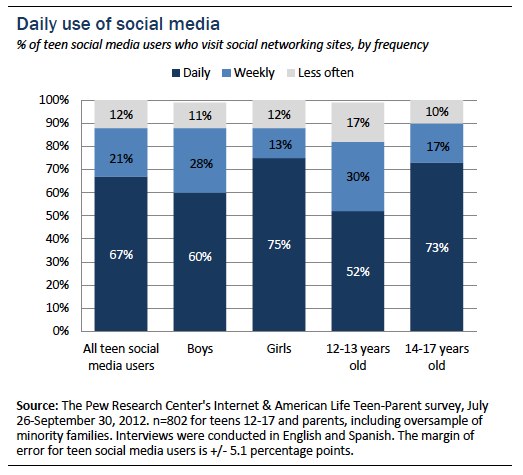 Facebook and other platforms have almost entirely displaced MySpace; relatively few teens say that Twitter is the profile they use most often.
In addition to asking about their general usage of social networking sites, we also asked the 82% of teens who use social media two follow-up questions about their social media use. First, we asked them to tell us on which site(s) they maintain a profile or account; next, we asked them to tell us which profile or account they use most often. Although Twitter use among teens has grown across several measures (such as general usage and for those who maintain an account), few teens point to Twitter as their primary or most-used account.
When asked where they maintain profiles or accounts, some 94% of teen social media users say they have a Facebook profile, and 81% say that Facebook is the profile they use most often. One in four (26%) teen social media users say that they have a profile or account on Twitter (with 7% saying that Twitter is the profile they use most often)18, and 11% have a profile or account on Instagram (3% say that Instagram is the profile they use most often). By comparison, only 7% of teen social media users say they maintain a Myspace account, and none of the survey respondents said MySpace is the account they used most often. That is in stark contrast to the 85% of teens who said in 2006 that MySpace was their most frequently used profile.
As was the case with the general Twitter usage figures discussed earlier, teen girls who are social media users are much more likely than boys to maintain an account on Twitter (31% vs. 21%) and older teens ages 14-17 are more likely than younger teens to have a Twitter account (31% vs. 13%). Among older teen girls who are social media users, 37% have Twitter profiles. A similar pattern emerges among those who use Twitter most often; older teens are more likely than younger teens to say Twitter is their primary social media account (9% vs. 2%).
Platform Adoption and Shifts — Facebook and the Worlds of Instagram, Snapchat, Twitter, and Texting
Simply having an account on a social media site does not necessarily reflect liking or caring about the site. For Facebook in particular, while some focus group participants enjoyed using it, far more associated it with constraints through an increasing adult presence, high-pressure or otherwise negative social interactions ("drama"), or feeling overwhelmed by others who share too much.
Female (age 19): "Yeah, that's why we go on Twitter and Instagram [instead of Facebook]. My mom doesn't have that."
Female (age 15): "If you are on Facebook, you see a lot of drama."
Female (age 14): "OK, here's something I want to say. I think Facebook can be fun, but also it's drama central. On Facebook, people imply things and say things, even just by a like, that they wouldn't say in real life."
Male (age 18): "It's because [Facebook] it's where people post unnecessary pictures and they say unnecessary things, like saying he has a girlfriend, and a girl will go on and tag him in the picture like, me and him in the sun having fun. Why would you do that?"

Consequently, many reported maintaining multiple profiles or accounts on Facebook and using different sites for different purposes, or migrating wholesale away from Facebook to other platforms or to offline interactions in which they felt more free.
Female (age 15): "I have two [Facebook] accounts. One for my family, one for my friends."
Female (age 16): "And so now I am basically dividing things up. Instagram is mostly for pictures. Twitter is mostly for just saying what you are thinking. Facebook is both of them combined so you have to give a little bit of each. But yes, so Instagram, I posted more pictures on Instagram than on Facebook. Twitter is more natural."
Female (age 15): "I have a Facebook, a Tumblr, and Twitter. I don't use Facebook or Twitter much. I rather use Tumblr to look for interesting stories. I like Tumblr because I don't have to present a specific or false image of myself and I don't have to interact with people I don't necessarily want to talk to."
Female (age 17): "I don't go on Facebook, Twitter or Instagram, I prefer like talking to people face-to-face. Like I don't – I honestly think that – I probably like only like talk to people that I'm really close to…"
In contrast to the widespread negative feelings about interactions on Facebook, the focus group participants who used Instagram expressed particular excitement about this social media site. In addition to being free of drama, they find Instagram a place that ties more directly into creative self-expression and sharing one's perspective. The site may have less social interaction overall, and fewer interactions with known friends, but the interactions for many are generally supportive and encouraging. The presence or absence of high social stakes seems to be less about the specific features of the site, and more about the way in which people use it.
Female (age 14): "I got mine [Facebook account] around sixth grade. And I was really obsessed with it for a while. Then towards eighth grade, I kind of just– once you get into Twitter, if you make a Twitter and an Instagram, then you'll just kind of forget about Facebook, is what I did."
Male (age 17): "[Instagram] It's more safe… It's less social [than Facebook]."
Female (age 16): "[Instagram] It's the only kind [of social media] I have, but I would do it because I'm more into photography, and I love to look at nature, and those are one of my favorite things too"
Female (age 15): "I mean Instagram is just basically like letting everybody else see what you're seeing."
Female (age 13): "Yeah, some of the people that follow me on Instagram that I don't know, they're just really nice to me, and they always say nice things."
Female (age 13): "I feel like over Facebook, people can say whatever they want to. They can message you. And on Instagram you can delete the comment really easily, and you don't have to live with it, kind of. Whereas Facebook, if they say something mean, it hurts more. I don't know why it does. And also [Instagram] it's not public, so people tend to not come off so mean. Because all they really want is for people [to] like their photos."
Twitter holds a different kind of attraction as an alternative or supplement to Facebook. In previous years' focus groups, participants seemed to engage with Twitter primarily to follow others and stay current on celebrity updates, news, and concerts. However, in this year's in-person focus groups we saw a shift, with participants posting their own content, and following/being followed by friends and people they know personally rather than celebrities or strangers. Much of the attraction of Twitter now comes from this personal element. Additionally, focus group participants saw the 140-character limit as preventing the type of excesses found on Facebook.
Male (age 18): "Facebook doesn't have a limit to characters on it. So in Twitter, there's only so much you can say. On Facebook, they say so many details of things that you don't want to know. You'd be like, are you serious? No one really cares that much."
Male (age 16): "A lot of friends convinced me to make a Twitter. Because everyone's saying Facebook's dead."
Female (age 15): "I mean, I could just tweet forever. There's no limit on my tweets. Cause on Twitter like I express myself more, but at the same time, and like I said, I just do my thing."
Female (age 13): "Like, sometimes you just like express your feelings [on Twitter]. Like you feel like yourself."
Female (age 15): "I'm on Twitter more often, and it's easier. I mean Facebook is easy since I know how to do it, but Twitter is I think more addictive."
Female (age 13): "On Twitter you like, get to say whatever you want, and you tweet it. But there's like a limit to what you tweet and everything. But whatever you tweet it's like random things of what's on your mind. And like she said, like, you could express yourself. No one judges you."
A popular new application brought up repeatedly in the focus groups is Snapchat, an image-messaging app where sent pictures and videos are displayed for only several seconds and then are deleted by the platform (receivers can take a screenshot, but the sender is usually alerted to this). One of Snapchat's attractions is simply that pictures and videos are sent through it much faster than through email or texts. Another is that the platform is so new many schools have not yet blocked access to the site. But the primary attraction of Snapchat is its central feature, the limited time a recipient sees a picture or video. Focus group participants reported using this feature to send silly or embarrassing pictures.
Female (age 13): "And [Snapchat] it's really fast like if you sent it over a text it takes like two minutes to load."
Female (age 16): "Yeah, [Snapchat] it's faster. And you can use Snapchat at school with the school's website – because I have the basic phone, I use my iPod."
Female (age 13): "[Snapchat] It's really great. I have to admit, it's better because I could pick the most embarrassing photo, and know that they'll [the recipient will] see it for 10 seconds, and then I'm done."
Female (age 17): " And it's just kind of fun. Because it's like texting, but you get to use your face as the emoticon instead of an actual emoticon."
Female (age 16): "Well, because Facebook, everyone sees what I'm doing. But Snapchat is just to one person, unless they're a jerk and they screenshot it and post it on Facebook. But mostly it's just the person that you're sending it to, so it's like a conversation."
Lastly, some focus group participants mentioned using Google Plus, perceiving that adults see it as more related to Google and homework and hence consider it more acceptable than other social media sites. Many focus group participants who have a Google Plus account, though, expressed some frustration or unfamiliarity with its functionality.
Male (age 13): "I think parents feel safer with Google Plus."
Female (age 13): "With Google Plus it was like, you should add this person to your circle. And then it automatically brings up their profiles. No, I do not want to put my teacher into a circle."
Female (age 13): "But sometimes it's [Google Plus is] annoying because there's a lot of spam. And so I don't use it that much. I like Facebook way more. And also it's kind of like on Google Plus, people just kind of follow you."
Yet, despite the overwhelming use of social media among teens, we found among focus group participants that text messaging and offline conversations are still the preferred method of communication for very sensitive, personal, or significant information.
Male (age 18): "Texting is always the backup for any social media."
Interviewer: "Let us say you go partying or drinking, smoking, things like that, how would you share those pictures with your friends?"
Male (age 17): "Text."
Interviewer: "So if you were going to get in touch with your friends, how would you do it?"
Female (age 16): "I usually text them or blow up their phone by calling, but if it's an emergency, it would be like commenting on their picture, like 'yo, pick up the phone.'"
Overall, a picture emerged where changing teenage social media preferences are driven as much by what type of interactions take place on a given site as by the features of the site itself. It also may be seen as an extension of underlying teenage social dynamics, where teens seek out spaces free of adults, and teens who want to avoid the drama of teenage life try to inhabit alternative social spaces.