Summary of findings
The online health-information environment is going mobile, particularly among younger adults. The Pew Internet Project's latest survey of American adults, conducted in association with the California HealthCare Foundation, finds that 85% use a cell phone. Of those:
17% of cell owners have used their phone to look up health or medical information and 29% of cell owners ages 18-29 have done such searches.
9% of cell owners have software applications or "apps" on their phones that help them track or manage their health. Some 15% of those ages 18-29 have such apps.
This means that health-information searches and communications have joined the growing array of non-voice data applications that are being bundled into cell phones. Fully 76% of cell phone owners (age 18+) use their phones to take pictures, for example, up from 66% in April 2009. Seven in ten cell phone owners send or receive text messages; four in ten access the internet on their phones. In addition, 35% of U.S. adults have software applications or "apps" on their phones (but only one in four adults actually use them).
Even with the proliferation of mobile and online opportunities, however, most adults' search for health information remains anchored in the offline world. Most people turn to a health professional, friend, or family member when they have a health question; the internet plays a growing but still supplemental role — and mobile connectivity has not changed that
Mobile health apps
There are now more than 250,000 apps available for the iPhone, more than 30,000 such apps for smartphones running Android, and several thousand for those who have Blackberry devices.
There are apps for counting calories and nutrition information; apps for logging fitness workouts; apps to monitor vital signs; apps providing health tips; apps to calculate disease risks; apps to calculate body mass index; apps for keeping personal health records and for providing users' health information to physicians and emergency workers; apps to learn about medicines; apps for smoking cessation; and apps for yoga stretching exercises people can perform at their desks at work.
Cell phone users between 18-29 years old are more likely than older cell owners to use mobile health apps: 15% do so, compared with 8% of cell users ages 30-49, for example. African American cell phone owners are more likely than other groups to use such apps: 15% do so, compared with 7% of white and 11% of Latino cell phone users. Urban cell phone owners are more likely than those who live in suburban or rural areas to have a mobile health app on their phone. There are no significant differences between men and women, nor among income groups.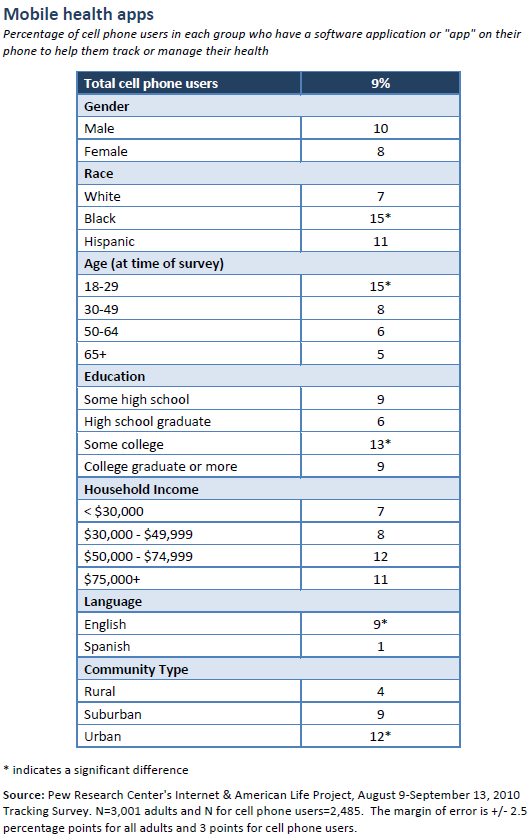 Mobile health information
The demographic mix shifts a bit when it comes to looking for health information on the go.
Younger cell phone users are certainly the most likely group to do this activity, but the drop-off point is closer to age 50, rather than age 30. Latino cell phone users are significantly more likely than other groups to use their cell phone to look for health information: 25% do so, compared with 15% of non-Hispanic whites, for example. Cell phone owners living in urban areas are more likely than their suburban and rural counterparts to use their phones to gather health information.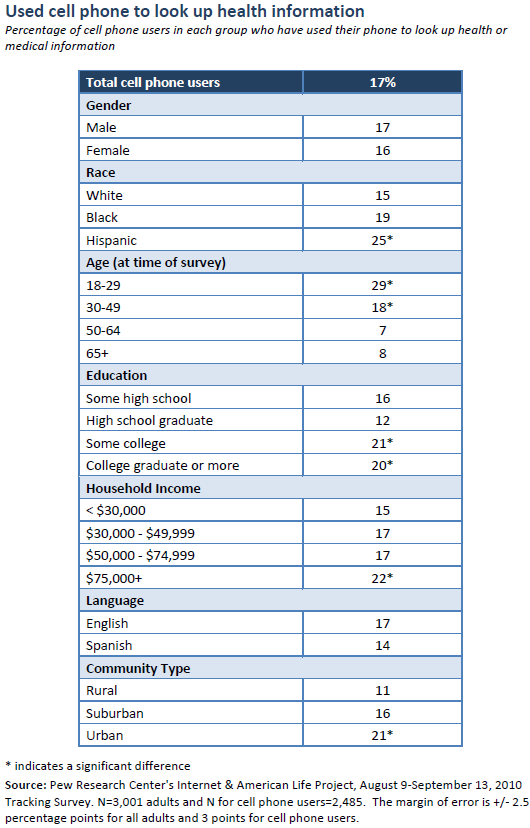 Wireless access
In addition to the findings related to cell phones, the September 2010 survey finds that 57% of American adults have a wireless connection and use a laptop or a cell phone to access the internet.
The "mobile difference," which Pew Internet first identified in 2009, is the observation that once someone has a wireless device, that person is more likely to use the internet to gather information, share information and create new content. These patterns are beginning to emerge in Americans' pursuit of health information on mobile devices as well as traditional wired computers.
This survey finds that 78% of wireless internet users have looked online for health information, compared with 70% of internet users with desktop access and 59% of all American adults.
Previous research by the Pew Internet Project has shown that wireless connections are associated with deeper engagement in health-related social media. Mobile internet users are more likely than those with tethered access to post comments and reviews online about health and health care, for example. Information is now portable, personalized, and participatory, thanks in part to the growing number of American adults who are leading the wireless pack.