A total of 299 women have served as U.S. representatives or senators since 1917, when Jeannette Rankin of Montana was elected as the first woman to serve in Congress.7 And this month, a record 104 women were sworn in as members of the 114th Congress. Yet, while the share of women serving in Congress has risen steadily for more than two decades, women remain heavily outnumbered in both the House and the Senate.
Women have also made inroads into the top leadership positions in corporate America, but the progress has been much slower in that realm. Today, women make up 5% of CEOs in the nation's Fortune 500 companies and 17% of the corporate board members among Fortune 500 companies.
This section presents statistics and trends on women in a variety of leadership roles. It also includes data on women's educational attainment, labor force participation and representation in various professional fields.
Political Leaders
The results of the 2014 midterm election marked an important milestone in the history of the U.S. Congress. For the first time, more than 100 women will be serving in Congress: 20 in the Senate (20% of all senators) and a record 84 women in the House of Representatives (19% of all House members).8
The number of women serving in Congress has increased significantly since the early 1990s, when there were two female senators and 25 female representatives in the 101st Congress (1989-1991).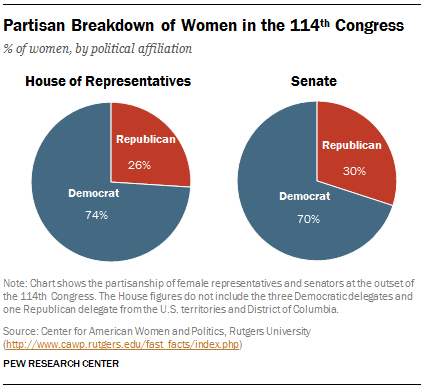 A large majority of the women serving in Congress today are members of the Democratic Party. In the 114th Congress, 70% of female senators and 74% of female representatives are Democrats. However, this hasn't always been the case. The number of Republican and Democratic women in Congress (the House and Senate combined) was near parity in the 1990s (for example, 12 Republicans and 15 Democrats in 1989). However, since 1991, the number of female members of Congress who are Democrats has increased at a faster pace than the number who are Republicans. Currently, 28 of the women in Congress are Republicans and 76 are Democrats.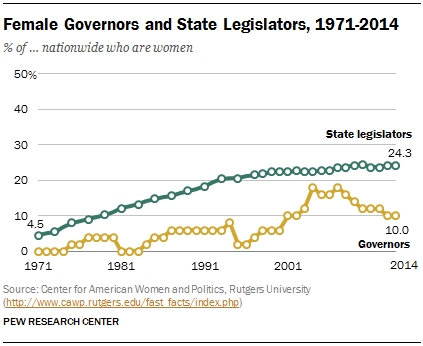 Women also make up a growing share of state-level elected officials. The share of state legislators who are women has risen from 4.5% in 1971 to 24.2% in 2015. The number of female governors has also increased, although not at a steady rate. Today five women are serving as governors. This is down from a peak of nine in 2007 and 2004.
As of 2015, a total of 36 women (21 Democrats and 15 Republicans) have served as governors in 27 states. In addition, one woman has served as governor in Puerto Rico.
Corporate Leaders
Compared with their representation in the political realm, women have made only modest progress in gaining top leadership positions in the business world. Today, 26 women are serving as CEOs of Fortune 500 companies (5.2%). The share serving as CEOs of Fortune 1000 companies is virtually the same (5.4%).
Even though the corporate world is still mainly a man's world, women have made inroads in this area slowly over time. Just 20 years ago, there were no female CEOs of Fortune 500 companies.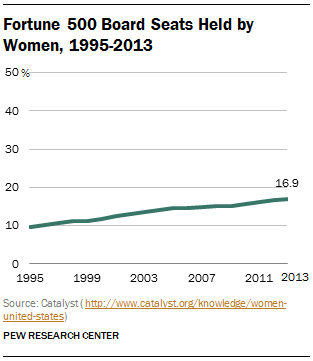 Women are slightly better represented in the corporate boardrooms than they are at the CEO level. As of 2013, about one-in-six (16.9%) board members for Fortune 500 companies were women, up from 9.6% in 1995.9
Women in the Labor Force
Today a majority of American women are in the labor force. In 1965, 39% of women ages 16 and older were in the labor force. That share rose steadily and peaked at 60% in 1999. As of November 2014, 57% of women were in the labor force, only 12 percentage points lower than the share for men (69%). Women account for about half of the U.S. labor force (47% in November 2014).10
And women have made strides in terms of positioning themselves to move into the leadership pipeline. They are increasingly taking jobs in managerial positions. In 2013, over half of managerial and professional occupations (52.2%) were held by women, up from 30.6% in 1968.11 Even so, women continue to lag far behind men in senior management positions. According to a survey of top leaders from mid-market businesses throughout the U.S., only 22% of senior managers in 2014 were women.12
Women have also made significant progress in traditionally male-dominated professional fields. Today, about one-in-three (34%) professionals in the legal field are women, and so are one-in-five partners in private law firms. Women also make up about a quarter of U.S. federal (24%) and state (27%) court judges.13 In addition, women account for 30% of the physician workforce in the country.14
Women continue to lag far behind men in the STEM industries of science, technology, engineering and math. As of 2010, they made up 13% of employed engineers. Among undergraduates who were enrolled in engineering programs in 2011, 18.6% were women.15
At the same time, young women are more likely than young men to graduate from college nowadays. Since the 1990s, women have outnumbered men in both college enrollment and college completion rates, reversing a trend that lasted through the 1960s and '70s. By 2013, 37% of women ages 25 to 29 had at least a bachelor's degree, compared with 30% of men in the same age range.
Women are also more likely to continue their education after college: 12% of women ages 25 to 34 in 2013 had a master's, doctorate or professional degree, compared with 8% of men in the same age group. In 2012, women earned 60% of all master's degrees (up from 46% in 1977) and 51% of all doctorates (up from 21% in 1977). In 2013 women earned 36% of MBAs (Master of Business Administration).16
Despite all the progress women have made in educational settings and the workplace, a gender wage gap persists. In 2012, the median hourly earnings for female workers 16 and older were 84% of men's earnings. The gap is much smaller among young workers ages 25 to 34; women in this age group made about 93% of what men in this age group made. In 1980, the median hourly earnings for young women were 67% as much as young men were paid; and earnings of all employed women were 64% as much as all employed men received.