The number of unauthorized immigrants living in Europe increased between 2014 and 2016, then leveled off to an estimated 3.9 million to 4.8 million in 2017, according to new estimates from Pew Research Center.
These immigrants lived in the 32 countries of the European Union (EU) and European Free Trade Association (EFTA), but about half lived in just two countries – Germany and the United Kingdom. Europe's unauthorized immigrants are diverse in their origins, coming from many nations outside of the region. They are also largely recent arrivals to Europe, with about half having arrived in the past five years.
Europe is one of the world's top destinations for international migrants. In recent years, their population has grown as high numbers of immigrants have entered Europe, including some seeking asylum.
Here are five facts about the unauthorized immigrant population in Europe.
Who's counted as an unauthorized immigrant?
Unauthorized immigrants in Europe are noncitizens living in a European Union or European Free Trade Association country who do not have a residency permit. Most of these immigrants entered one of these European countries without authorization, overstayed a visa, failed to leave after being ordered to do so or have had their deportation order temporarily stayed. Other groups counted as unauthorized immigrants in Europe include those born in Europe to unauthorized immigrant parents (because most European countries do not have birthright citizenship), and asylum seekers with a pending decision.
Who counts as an unauthorized immigrant is subject to debate, in part because immigration policies vary by country. A broad definition includes anyone who entered the country without authorization and has yet to receive permanent residency. Narrower definitions exclude those with legal protection from deportation, even if the protection is temporary.
When deciding who counts as an unauthorized immigrant, Pew Research Center takes into account whether a person entered a country legally and their potential path to permanent residency. For example, those with a deferred deportation order may have a legal right of residence and be allowed to work, but they are still included as unauthorized immigrants since most entered a European country without permission and their long-term future in the country is uncertain. Similarly, asylum seekers with a pending decision on their asylum application are counted as unauthorized immigrants because many entered Europe without authorization and asylum rejection rates are high.
1In 2017, unauthorized immigrants accounted for nearly one-in-five people living in Europe without EU or EFTA citizenship. The region's 3.9 million to 4.8 million unauthorized immigrants accounted for less than 1% of Europe's total population (500 million).
2Asylum seekers waiting for a decision on their application accounted for nearly one-quarter of Europe's unauthorized immigrant population in 2017. This group totaled nearly 1 million at the end of 2017, up from about 600,000 in 2014. Driving this increase were the roughly 1.3 million asylum applications filed in 2015, when a surge in asylum seekers arrived in Europe. Asylum seekers have legal standing in Europe while they await a decision on their case, but have an uncertain legal position going forward. Most asylum seekers entered Europe without permission, and in recent years the majority have had their asylum applications rejected. Not counting asylum seekers, the estimated number of unauthorized immigrants in Europe was 2.9 million to 3.8 million in 2017, up from 2.4 million to 3.2 million in 2014.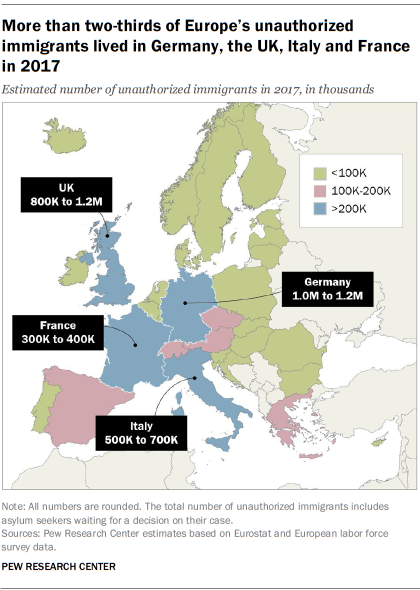 3Four countries – Germany, the UK, Italy and France – account for 70% of Europe's unauthorized immigrants. Germany had an estimated 1.0 million to 1.2 million unauthorized immigrants in 2017, while the UK had 800,000 to 1.2 million. Together, these two countries had about half of Europe's total. Italy had an estimated 500,000 to 700,000 unauthorized immigrants, followed by France with 300,000 to 400,000. The remaining European countries had an estimated 1.2 million to 1.4 million unauthorized immigrants.
4Unauthorized immigrants in Europe are from all over the globe. About 30% came from countries in the Asia-Pacific region in 2017, while another 23% were citizens of the handful of European countries that are not part of the EU or EFTA. About one-in-five (21%) were from the Middle East-North Africa region. Another 17% were from countries in sub-Saharan Africa, and 8% came from countries in the Americas.
[callout align="alignright"]
Learn more
Full report: Europe's Unauthorized Immigrant Population Peaks in 2016, Then Levels Off
Q&A and video: How we estimated the number of unauthorized immigrants
How European and U.S. unauthorized immigrant populations compare
[/callout]
5About half of Europe's unauthorized immigrants have arrived in the region recently, and most are young. In 2017, more than half of Europe's unauthorized immigrants (56%) had arrived in the past five years, while 27% had arrived 10 years ago or more. About two-thirds were less than 35 years old (65%), and about half were male (54%).
To learn more: Read our report on Europe's unauthorized immigrant population. For more information on how estimates were calculated, see the Methodology.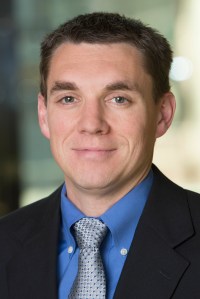 Phillip Connor
is a former senior researcher focusing on demography and migration studies at Pew Research Center.