World leaders and representatives from 193 United Nations member states are convening this week at the organization's headquarters in New York for the 74th session of the General Assembly. Delegates will discuss issues central to the UN Charter: maintaining peace and security, developing friendly relations and strengthening international cooperation.
Here are five key facts about how people around the world view the UN, based on new data from Pew Research Center's spring 2019 Global Attitudes Survey. These findings are the result of a survey of 34,904 respondents across 32 countries, from May 13 to Aug. 29, 2019.
1The UN has a positive international image. Across 32 surveyed countries, a median of 61% have a positive view of the UN, while a median of just 26% have a negative view. In three of the countries surveyed, eight-in-ten or more view the institution favorably: the Philippines (86%), South Korea (82%) and Sweden (80%).
Regionally, support for the UN is strong in Europe, where majorities in 12 of 14 countries surveyed have a positive view. Majorities of Canadians (69%) and Americans (59%) also express a favorable opinion.
While support for the UN is also robust in many of the Asia-Pacific, sub-Saharan African and Latin American nations surveyed, substantial minorities rate the international body negatively in certain countries. In Israel, 65% have an unfavorable opinion of the UN, the most negative rating among the countries surveyed. And in Russia, a permanent member of the UN Security Council, 43% have an unfavorable view of the organization. In seven countries, roughly a quarter or more of the public does not express any opinion on the UN, including 24% of Russians.
2Views of the UN have remained relatively stable over time in many countries. In six of the 19 nations surveyed by the Center in both 2007 and 2019, views of the UN have grown more favorable. In Poland, for example, 78% now have a favorable view, up 10 percentage points since 2007. In three other countries surveyed in the same years, public attitudes have become less favorable over time. These countries include Russia, where favorable views of the UN have declined 24 percentage points, from 58% in 2007 to 34% in 2019. In nine other countries surveyed in both 2007 and 2019, however, there has been no statistically significant change in opinion.
3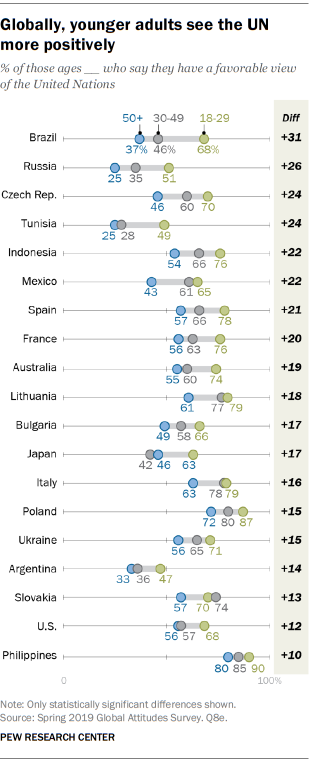 Younger people across the globe are more likely to have a favorable view of the UN. In 19 of the 32 countries surveyed, those ages 18 to 29 are more favorable toward the UN than those ages 50 and older. The difference is greatest in Brazil, where about seven-in-ten younger adults say they have a positive view of the UN and only about four-in-ten of those 50 and older say the same. In Russia, Indonesia, the Philippines, Tunisia, Brazil and Mexico, older adults are more likely to have no opinion about the UN.
In the U.S., young adults have generally been more favorable than older adults toward the UN since the Center first asked the question in 2004. This year, 68% of Americans ages 18 to 29 have a favorable view of the UN, compared with 56% of those 50 or older, a difference of 12 percentage points.
4Supporters of some, but not all, populist parties are less favorable toward the UN. Supporters of six populist parties in Europe are less likely than those with an unfavorable opinion of these parties to express a positive opinion of the UN. For example, 48% of those who favor the Czech ANO 2011 party have a positive view of the UN, compared with 69% of those who do not favor this party.
Supporters of five other populist parties are more likely than those with the opposite opinion to see the UN favorably. For example, 78% of those who support Slovakia's Ordinary People and Independent Personalities (OLaNO) party have a favorable view of the UN, compared with 61% of those who do not support this party.
It's worth noting that many supporters of the populist parties in the Czech Republic (ANO 2011), Hungary (Jobbik), the Netherlands (Party for Freedom) and Slovakia (OLaNO) express no opinion at all on the UN.
5Americans' views of the UN have generally remained steady, but partisan divides have widened since 2013. The share of Democrats who have a positive view of the UN is generally higher than the share of Republicans who say the same, but the partisan gap has been especially large since 2013. That year, 72% of Democrats and 41% of Republicans expressed a favorable view – a difference of 31 percentage points. This year, Democrats are 41 points more likely than Republicans to see the UN positively (77% vs. 36%). The share of Republicans who currently have a favorable view of the UN is at its lowest point in almost 30 years of Pew Research Center surveys.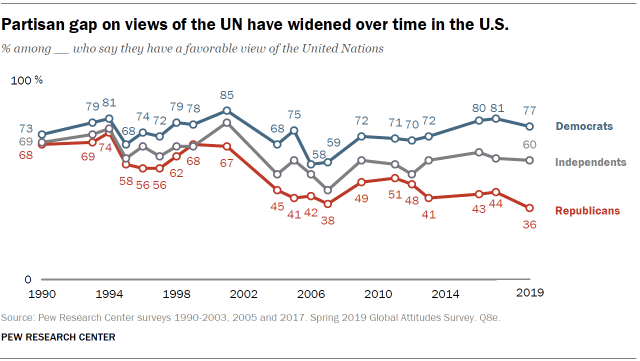 Correction (Sept. 24, 2019): This post has been updated with the proper characterization of Russians' views of the UN and the correct global medians for favorable and unfavorable views of the UN.
Note: See full topline results and methodology.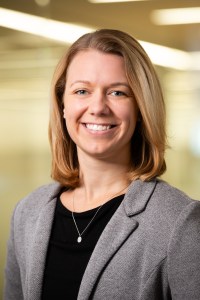 Moira Fagan
is a research associate focusing on global attitudes research at Pew Research Center.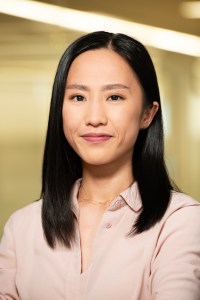 Christine Huang
is a research associate focusing on global attitudes at Pew Research Center.