As the lesbian, gay, bisexual and transgender (LGBT) community celebrates Pride Month in June, bisexual Americans are becoming more and more visible. Bisexuals, who account for about four-in-ten LGBT adults in the United States, stand apart from gay and lesbian adults in many ways, such as the fact that they are less likely to view their sexual orientation as central to their identity.
Bisexual adults are much less likely than gays and lesbians to be "out" to the important people in their lives, according to a new Pew Research Center analysis of recently released survey data from Stanford University.
Only 19% of those who identify as bisexual say all or most of the important people in their lives are aware of their sexual orientation. In contrast, 75% of gay and lesbian adults say the same. About one-quarter of bisexual adults (26%) are not "out" to any of the important people in their lives, compared with 4% of gay and lesbian adults. Roughly half of those who are bisexual (54%) are out to some or only a few people.
The experience of coming out to friends and family can be complex. Many bisexuals say they haven't come out to their parents because they didn't feel it was important to tell them or the subject never came up, according to the Center's 2013 survey of LGBT adults. Among those who did come out, bisexual adults report somewhat different experiences from gays and lesbians.
Roughly four-in-ten adults who describe themselves as bisexual (43%) say they are sexually attracted to men and women equally. A similar share (40%) say they are attracted mostly to the opposite gender and 4% report feeling attracted only to the opposite gender, while 12% and 1%, respectively, say they are attracted mostly or only to their own gender.
Among people who identify as straight or heterosexual, the vast majority (96%) say they are attracted only to the opposite gender, and a small share (3%, mostly made up of women) say they are mostly attracted to the opposite gender. Gays and lesbians are somewhat less likely to report being solely attracted to one gender. Still, most (81%) are attracted solely to the same gender while 14% are attracted mostly to the same gender.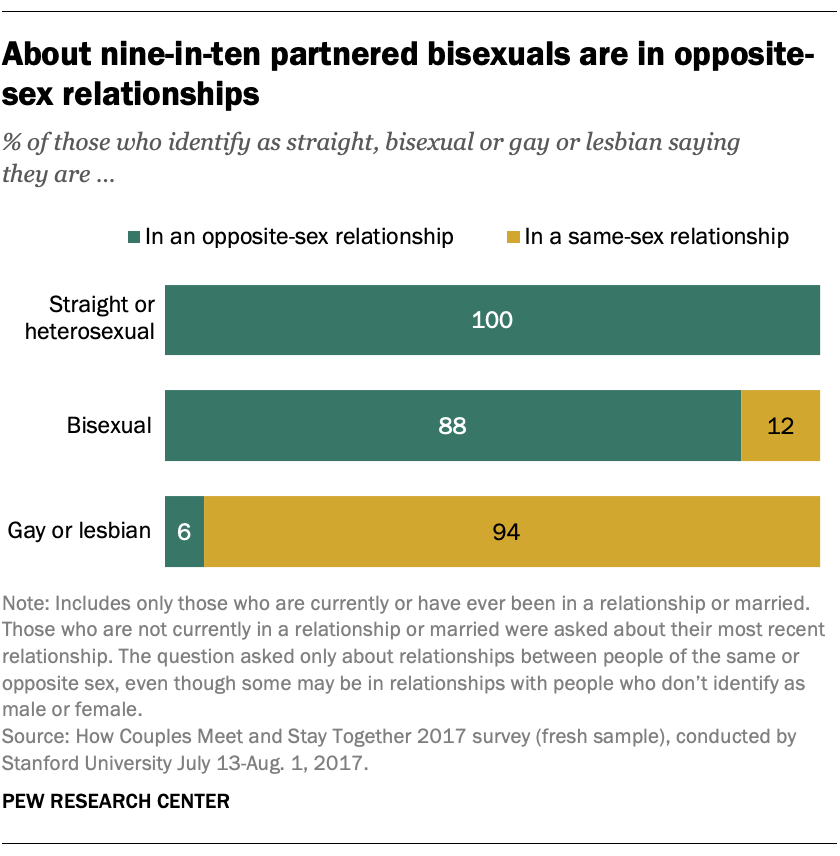 Among people with partners, many more bisexual adults are married or in a relationship with someone of the opposite sex than are with someone of the same sex – 88% say this. This is likely due at least in part to the fact that LGB adults make up a small share of the overall adult population, so the pool of potential same-sex partners is much smaller than the pool of opposite-sex partners. Meanwhile, all the respondents in the survey who identified as straight were in opposite-sex relationships, and nearly all (94%) of those who identified as gay or lesbian were in same-sex relationships.
The 2013 survey also found that LGBT adults said that bisexual men faced less social acceptance than bisexual women, gay men and lesbians. Just 8% of LGBT adults felt there was a lot of social acceptance of bisexual men, while 46% said there was only a little or no social acceptance for this group. Among bisexuals, 40% reported in 2013 that they had ever been subject to slurs or jokes and 31% said they had been rejected by a friend or family member because they were bisexual.
Note: The sample size of bisexual adults is too small to analyze men and women or other demographic subgroups separately. People who did not identify as either a man or a woman or who identified as transgender could not be analyzed separately. The questions asked only about attraction to and relationships with people of the same or opposite gender, even though some may be attracted to or in relationships with people who don't identify as a man or a woman.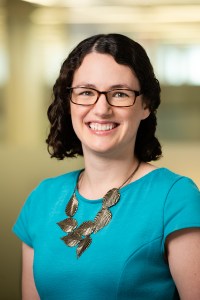 Anna Brown
is a research associate focusing on social and demographic trends research at Pew Research Center.