While most Americans are concerned about the negative impact made-up news and information has on the country, Republicans and Democrats are particularly divided on how closely they connect it to the news media or to President Trump, according to a Pew Research Center survey conducted Feb. 19 to March 4, 2019.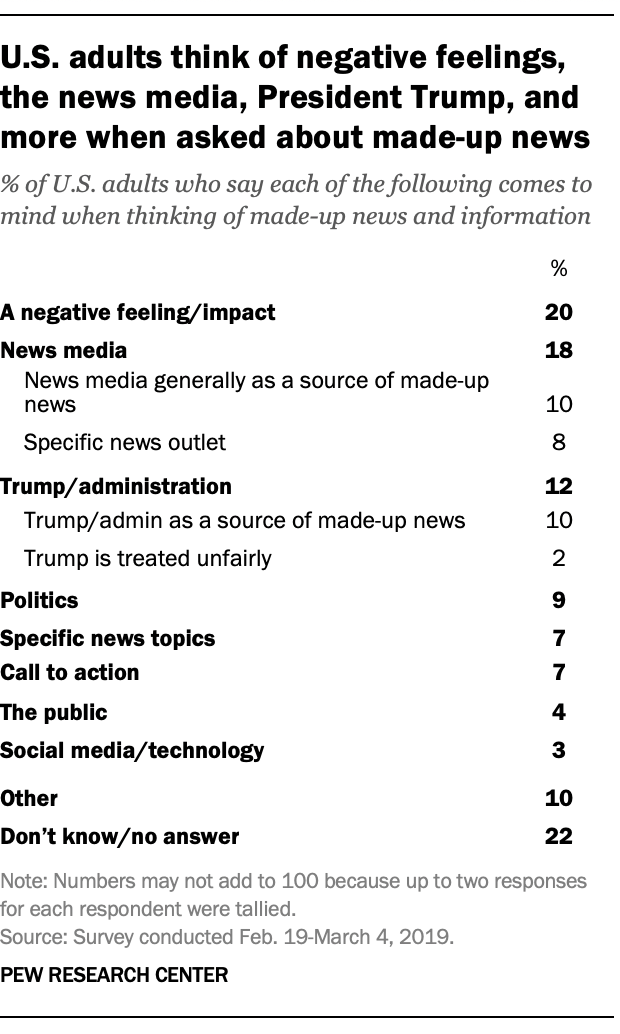 The survey asked Americans to share what first comes to mind when they think about made-up news and information. The first two distinct answers given by each respondent were included in the analysis. An analysis of specific news outlets was also conducted by tallying the first three news outlets, if any, that were named in either answer.
Reflecting the general concern people have about this issue, one-in-five U.S. adults respond with a negative feeling, saying made-up news is "wrong," "unethical" or "bad for democracy." About the same share (18%) mention the news media, either generally as a source of made-up news (10%), or by calling out a specific news outlet (8%), with 4% naming Fox News, 3% CNN, and no more than 1% naming any other specific outlet:
"Mainstream media news outlets clearly intend to only report one political side of the story with bias, not facts."
"I feel very angry towards these news sources and tend not to trust them."
"24 hour news stations on all sides of the political spectrum."
Fewer Americans mention President Trump and his administration than mention the news media when asked about made-up news. Roughly one-in-ten (12%) mention the president or his administration, mostly as a source of made-up news (10%). A small percentage (2%) say the president is the victim of misleading information spread by others:
"I think a lot of what President Trump says is made up as he goes along. So much is exaggerated or very misleading or false!!"
"Anything reported from the White House or the current administration is probably not true, or at the very least, facts are changed to mislead the public."
"Everything they report about the president. They don't tell the whole story."
No more than one-in-ten gave any other response. About one-in-ten U.S. adults (9%) associate made-up news with politics generally, the political parties or individual politicians, though no more than 1% named either party or any individual politician outside of the Trump administration. Another 7% cite news topics, such as immigration or climate change, while 7% call for something to be done, saying made-up news should be "restricted," "stopped" or its publishers "prosecuted." Smaller shares say the public's ability to recognize made-up news or its role in spreading it (4%), or social media sites, such as Twitter or Facebook (3%), come to mind when thinking about made-up news:
"Political parties with an agenda trying to sway public opinion on an issue."
"I find it scary that most of the public just takes false information and believes it. They do not even care enough to research or list or read different sources."
"Social media sites serve to amplify information that is not fact checked at all."
Certain segments of the population, though, diverge on what they tie to the issue of made-up news and information, with some of the most notable differences occurring along party lines. As previous research has shown, Republicans and Democrats hardly see eye to eye in their views of the news media and President Trump – a split that extends to how often members of each party connect these actors to made-up news.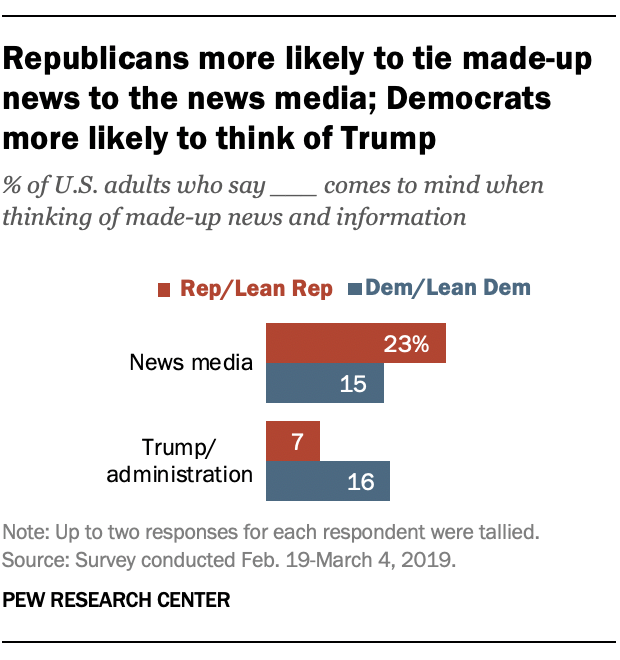 Republicans are more likely than Democrats to say the news media comes to mind when thinking of made-up news: 23% of Republicans and GOP-leaning independents say this, compared with 15% of Democrats and Democratic-leaning independents, an 8-percentage-point difference. Among those who mention a specific news outlet, Republicans are more likely to mention CNN (6% vs. less than 1%) while Democrats are more likely to mention Fox News (7% vs. 1%). On the flip side, Democrats are about twice as likely as Republicans to name Trump or his administration (16% vs. 7%, respectively).
Note: Topline of the survey question is available here (PDF). For more information, read the full report and see its methodology.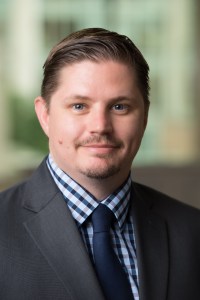 Galen Stocking
is a senior computational social scientist focusing on journalism research at Pew Research Center.
Elizabeth Grieco
is a former senior writer/editor focusing on journalism research at Pew Research Center.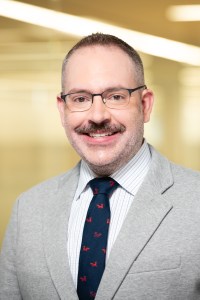 Jeffrey Gottfried
is a senior researcher focusing on news and information research at Pew Research Center.