The share of Latinos who say there are too many immigrants living in the United States has declined sharply over the past decade and a half, according to a recent Pew Research Center survey of Hispanic adults. This finding comes as the foreign-born share of the U.S. population approaches a record high and as the issue of immigration is a top policy priority for many Americans.
A quarter of Latinos in the U.S. say there are too many immigrants living in the country, while about half (48%) say there are the right amount and 14% say there are too few, according to the survey, conducted between July and September 2018. These numbers represent a dramatic shift from 2002 – the first time the Center asked this question – when 49% of Latinos said there were too many immigrants in the country, 37% said there were the right amount and 8% said there were too few.
Latino connections to the immigrant experience are strong. Just under half of Latino adults are foreign born and another 31% are the U.S.-born children of immigrant parents, according to a Center analysis of the Current Population Survey. Today, immigrants from Latin America make up more than half of the roughly 45 million immigrants living in the country, including the majority of unauthorized immigrants.
As Latino attitudes toward the number of immigrants living in the U.S. have changed, an age gap in these views has emerged. In the 2018 survey, Latinos ages 18 to 29 were 13 percentage points less likely than those 30 and older to say there are too many immigrants in the U.S. In 2002, by comparison, there was virtually no age gap.
Hispanics are the youngest major racial or ethnic group in the country: In 2017, they had a median age of 29, compared with a median age of 38 among all Americans. That same year, 29% of Hispanic adults were ages 18 to 29, compared with 21% among all Americans.
The recent survey of Latinos found additional age gaps on other questions related to immigration. On how much attention they pay to immigration issues, for example, young Latinos (79%) were more likely than older Latinos (68%) to say they have talked about immigration policy debate with family, friends or coworkers since Donald Trump became president. Young Latinos (23%) were also more likely than their older Latino counterparts (14%) to say they have participated in a protest or demonstration to support immigrant rights since the start of the Trump administration.
Age gaps in views of immigrants are not unique to Latinos. The same general pattern is evident among the general public, as other recent Pew Research Center surveys have shown. For example, in a January 2019 survey, 76% of U.S. adults ages 18 to 29 said immigrants today strengthen the country through their hard work and talents, compared with 59% of those 30 and older.
Luis Noe-Bustamante
is a research associate who studies race and ethnicity, Hispanic trends and migration/immigration at Pew Research Center.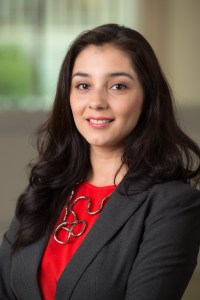 Ana Gonzalez-Barrera
is a former senior researcher focusing on Hispanics, immigration and demographics at Pew Research Center.