It's common for Americans to know someone with a current or past drug addiction – and it's an experience that mostly cuts across demographic and partisan lines.

A Pew Research Center survey conducted in August found that 46% of U.S. adults say they have a family member or close friend who is addicted to drugs or has been in the past. Identical shares of men and women say this (46% each), as do identical shares of Democrats and Democratic-leaning independents when compared with Republicans and Republican leaners (also 46% each). There are no statistically significant differences between whites (46%), Hispanics (50%) and blacks (52%).
Data from the federal government provide context for these survey findings. In 2016, about 7.4 million Americans ages 12 and older (2.7%) reported behavior in the past year that meets the criteria of an "illicit drug use disorder," according to the Substance Abuse and Mental Health Services Administration (SAMHSA). These criteria include a drug user making "unsuccessful attempts to cut down on use" or continuing the habit "despite physical health or emotional problems associated with use."
The illicit drugs included in the SAMHSA survey are marijuana, cocaine, heroin, hallucinogens, inhalants, methamphetamine and the misuse of prescription drugs, such as pain relievers or stimulants. In 2016, the most common illicit drug use disorders were related to marijuana (estimated to affect about 4 million people ages 12 and older) and prescription pain relievers (about 1.8 million). Opioids, which have become a focus of the Trump administration, can come in the form of street drugs, such as heroin, or prescription pain relievers.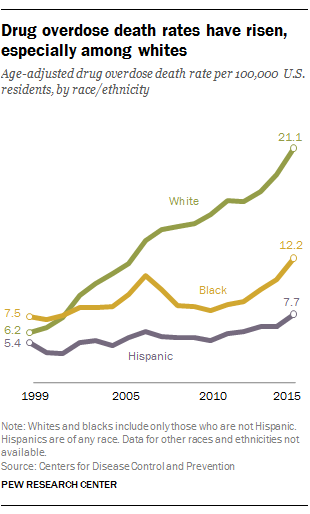 While a relatively small share of Americans report having an illicit drug use disorder, the number and rate of drug overdose deaths has grown sharply in recent years, with opioids accounting for a rising share of these fatalities. Opioids now account for more than six-in-ten drug overdose deaths.
There were 52,404 drug overdose deaths in 2015, more than triple the 16,849 that occurred in 1999, according to the Centers for Disease Control and Prevention. During the same period, the age-adjusted rate of drug overdose fatalities – which takes population change into account – rose from 6.1 deaths per 100,000 people to 16.3. Increases have come across gender, age and racial and ethnic lines, and rural as well as urban areas have been affected.
Preliminary estimates show that U.S. drug overdose deaths continued to rise sharply in 2016.