Following last year's presidential election, some major U.S. newspapers reported a sharp jump in digital subscriptions, giving a boost to their overall circulation totals. The newspaper industry as a whole, however, faced ongoing challenges in 2016, according to new Pew Research Center analysis.
Yearly financial statements show that The New York Times added more than 500,000 digital subscriptions in 2016 – a 47% year-over-year rise. The Wall Street Journal added more than 150,000 digital subscriptions, a 23% rise, according to audited statements produced by Dow Jones. And the Chicago Tribune added about 100,000 in weekday digital circulation, a 76% year-over-year gain, according to its filings with the Alliance for Audited Media (AAM), an organization that verifies many daily newspapers' circulation figures.
But these gains did not translate into circulation growth for the industry overall. A Pew Research Center analysis of data from AAM shows that total weekday circulation for U.S. daily newspapers – both print and digital – fell 8% in 2016, marking the 28th consecutive year of declines. (Sunday circulation also fell 8%.) The overall decline includes a 10% decrease in weekday print circulation (9% for Sundays) and a 1% decline in weekday digital circulation (1% rise for Sundays). Total weekday circulation for U.S. daily newspapers fell to 35 million, while total Sunday circulation declined to 38 million – the lowest levels since 1945. (For more information on how these totals were calculated, see our fact sheet.)
While the print circulation figures include the large papers cited above, digital circulation is more difficult to assess. Three of the largest U.S. daily papers – The New York Times, The Washington Post and The Wall Street Journal – do not fully report their digital subscriptions to AAM, so they are not included in the overall circulation estimate above. Had the independently produced digital circulation figures from the Times and Journal been included, total weekday circulation would have fallen by 4%, rather than the 8% figure shown in the AAM data alone.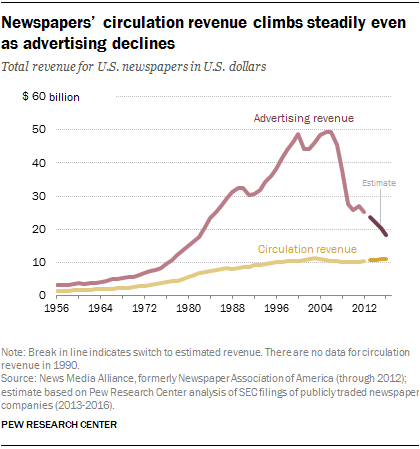 This overall decline in circulation coincided with a double-digit decline in advertising revenue for the industry as a whole. A separate Pew Research Center analysis based on the year-end financial statements of seven publicly traded U.S. newspaper companies suggests that advertising revenue across the industry declined even more sharply than in recent years: a 10% decline, which outpaces the 8% decline in 2015. (More details about this analysis are also available in the newspaper industry fact sheet.) This decline put total ad revenue for the industry in 2016 at $18 billion. This is nearly a third of what it was just 10 years ago: In 2006, the Newspaper Association of America, now known as the News Media Alliance, put total industry ad revenue at $49 billion.
By contrast, circulation revenue has been steady over the past few years, rising from $10.4 billion in 2012 to $10.9 billion in both 2015 and 2016. This is a small bright spot for the industry, and comes as some publishers are pursuing a "subscription-first model" by focusing on growing the number of subscribers rather than retaining advertising revenue. Still, gains in circulation revenue have not been nearly enough to make up for losses in advertising revenue – a pattern that holds true even at the large newspapers and major chains.
According to year-end financial statements, The New York Times saw a year-over-year decline of 9% in advertising revenue but a 3% rise in circulation revenue, for an overall revenue decline of 2%. Tronc, which has emphasized digital innovation in changing its name from Tribune Publishing, saw an 8% decline in advertising revenue and a 4% decline in total revenue, though circulation revenue increased 5%. (Tronc owns the Chicago Tribune and Los Angeles Times, among other papers.) And Gannett saw no change in its advertising revenue, but this was due mainly to the company's acquisition of additional newspapers over the course of the year; once these new acquisitions are taken out of the equation, ad revenue declined by 13%. (The Washington Post, as a private company, does not publish its financial results, but the company's chief revenue officer said in a recent New York Times article that 2017 would be "our third straight year of double-digit revenue growth.")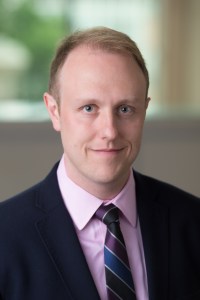 Michael Barthel
is a former senior researcher focusing on journalism research at Pew Research Center.