Every year, we publish a collection of facts about the important events, issues and trends we documented in our wide-ranging research over the past 12 months. In 2016,  Pew Research Center examined an array of topics in America – from immigration to the growing divide between Republicans and Democrats – as well as many from around the globe. Here are 16 of our most striking findings.
1The American middle class is shrinking in most metropolitan areas. From 2000 to 2014, the share of adults living in middle-income households fell in 203 of the 229 U.S. metropolitan areas examined in a Pew Research Center analysis of government data. The decrease in the middle-class share was often substantial, measuring 6 percentage points or more in 53 metropolitan areas, compared with a 4-point drop nationally. However, the share of adults in the upper-income tier increased more than the share of adults in the lower-income tier in 119 of the 229 areas examined.
2Significant demographic changes taking place in America have reshaped both major parties. The Democratic Party is becoming less white, less religious and better-educated at a faster rate than the country as a whole, while aging somewhat more slowly. Republican voters are becoming more diverse, better-educated and less religious at a slower rate than the country generally.
3Millennials are projected to become the nation's largest living adult generation in 2019, surpassing Baby Boomers. Numbering 71 million in 2016, the Millennial population is expected to continue growing as young immigrants expand its ranks. Millennials also are approaching the Boomers in their share of the American electorate.
Note: Item No. 3 in this post was updated on May 1, 2018, to reflect the Center's revised definition of the Millennial generation and the updated year in which Millennials will be the largest generation in the U.S. and in the American electorate.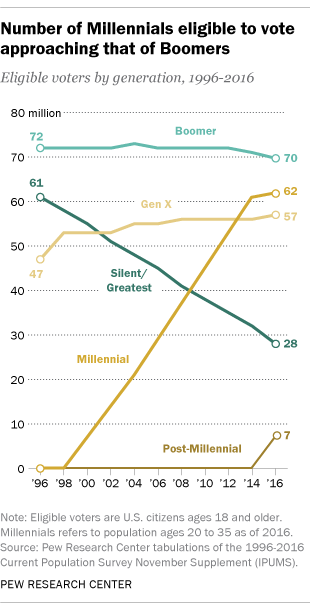 4Young people today are more likely to be living with their parents than with a spouse or partner. In 2014, for the first time in more than 130 years, adults ages 18 to 34 were slightly more likely to be living in their parents' home than they were to be living with a spouse or partner in their own household. These new living arrangements largely reflect a shift away from marriage and partnership as young adults increasingly focus on education and the workplace. Partly as a result, a record 60.6 million Americans are now living in multigenerational households.
5Nearly 1 in 100 worldwide are now displaced from their homes. As of the end of 2015, the number of displaced people in the world – more than 60 million – is at its highest since World War II. Conflict in Syria has been the principal contributor to the recent growth in the world's displaced population.
6Europe was gripped by rising popular discontent with the European Union and concerns about refugees. While the United Kingdom's vote to leave the EU – known as "Brexit" – was one of the most dramatic reflections of the mood in Europe, a spring survey found a median of just 51% across 10 EU countries had a favorable view of the institution and a median of 42% wanted more power returned to their nations' capitals. Unhappiness with the EU coincided with the influx of refugees, mostly from the Middle East, stoking concerns about security and economic repercussions. In eight of the 10 European nations surveyed, half or more said incoming refugees would increase the likelihood of terrorism in their country. As immigrant populations increased, few Europeans said the resulting cultural diversity made their countries a better place to live.
7Republicans have grown increasingly skeptical of free trade. About two-thirds of Republicans and Republican-leaning registered voters (68%) say free trade has been a bad thing for the U.S., while only 24% say it has been good for the country. These views, which have shifted starkly since May 2015, when 51% of Republican voters said free trade was a good thing for the U.S. and 39% said it was bad, came as President-elect Trump criticized free trade throughout the 2016 election cycle. Democrats, on the other hand, remain largely positive about free trade.
8As global competition between the U.S. and China intensifies, people in both countries view one another warily. Today, 45% of Chinese see U.S. power and influence as posing a major threat to their country, up from 39% in 2013. In America, more than half of adults (55%) have an unfavorable view of China and just 37% give China a favorable rating. While half of Chinese see the U.S. favorably, 52% see the U.S. as trying to prevent China from becoming as powerful.
9Prior to the election, Donald Trump and Hillary Clinton supporters had starkly different views about how life in America has changed over the past 50 years. About eight-in-ten Trump backers (81%) said life is worse than it was 50 years ago for people like them, compared with just 11% who said it has gotten better. Most Clinton supporters took the opposite stance: About six-in-ten (59%) said life for people like them has gotten better over the past half-century, while 19% said it has gotten worse.
10About four-in-ten blacks (43%) are skeptical that America will ever make the changes needed for blacks to achieve equal rights with whites. Only 11% of whites express the same doubts about the U.S. making the necessary changes for blacks to have equal rights with whites. Overall, blacks are much more likely than whites to say black people are treated less fairly in the workplace, when applying for a loan or mortgage, in dealing with police, in the courts, in stores or restaurants and when voting.
11Americans have conflicting views on some controversies that pit claims of religious liberty or traditional morality against nondiscrimination policies. About half of U.S. adults (49%) say businesses that provide wedding services should be required to provide those services to same-sex couples, even if they have religious objections, while a similar share (48%) say business owners should be able to refuse service to same-sex couples on religious grounds. Americans are also split over whether transgender people should be allowed to use public restrooms of their current gender identity (51%) or required to use the bathrooms matching the gender they were born into (46%).
12A wide gap in presidential preferences emerged in the 2016 election between whites with and without a college degree. Trump's margin among whites without a college degree was the largest among any candidate in exit polls since 1980. Two-thirds (67%) of non-college whites backed him, compared with just 28% who supported Clinton.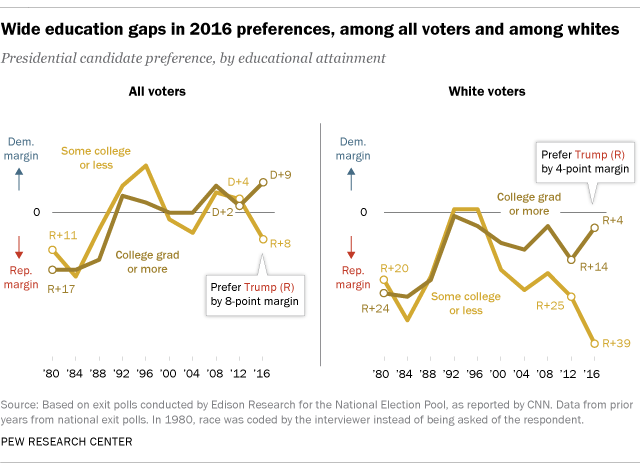 13Americans' pathways to news are changing, and mobile news is on the rise. Almost four-in-ten Americans (38%) often get news online today, behind only television (57%); radio (25%) and print newspapers (20%) trail both. Within the digital realm, mobile news consumption is rising rapidly: The proportion of Americans who ever get news on a mobile device has gone up from 54% in 2013 to 72% today. And among people who get news on both mobile and desktop, 56% prefer mobile.
14Facebook is by far the most popular social media platform among Americans. Today, about eight-in-ten online Americans (79%) use Facebook, more than double the share that uses Twitter, Pinterest, Instagram or LinkedIn. About three-quarters (76%) of Americans who use Facebook now report that they visit the site on a daily basis – up from 70% in 2015.
15The sharing economy and on-demand services are starting to weave their way into the lives of Americans. About seven-in-ten Americans (72%) have used some type of online or shared service, such as the ride-hailing service Uber or the home-sharing service Airbnb. College graduates, those with relatively high household incomes and those younger than 45 are most exposed to these services. Those with lower incomes and who live in rural areas are less exposed.
16The American public is wary of technologies that could "enhance" human abilities. Majorities of U.S. adults say they would be "very" or "somewhat" worried about gene editing (68%), brain chips (69%) and synthetic blood (63%), while no more than half say they would be enthusiastic about each of these developments. Some people say they would be both enthusiastic and worried, but, overall, concern outweighs excitement. The biggest resistance is toward technologies that would result in abilities "far above that of any human known to date" or in permanent changes.
Note: Item No. 3 in this post was updated on May 1, 2018.
[callout]
Read the other posts in our striking findings series:
[/callout]
A.W. Geiger
is a former associate digital producer and writer for Pew Research Center.