When Pew Research Center started the Fact Tank data blog back in 2013, our goal was to present data that would help people better understand the news of the day. But in looking at our top blog posts of 2015, we realized that the pieces we published often made news, too. From Millennials in the workforce to religion in America, our most popular posts told important stories about trends shaping our world.
Here's a look at some of the themes of 2015's most popular Fact Tank posts.
1This year's deadly attacks by radical Islamic groups sparked a hunger for information about Muslims and Islam, as evidenced by the amount of traffic reaching our posts via Web search.
Our five facts about the Muslim population in Europe answered the question: Just how large is Europe's Muslim population, and how fast is it growing? Another post explored why Muslims are the world's fastest-growing religious group. And our roundup of key findings about Muslims and Islam published shortly after the Paris attacks answered key questions about Muslims and the Islamic faith.
We also dug into our international polling and found that in nations we surveyed that have significant Muslim populations, there is much disdain for ISIS – but in a few countries, such as Pakistan, favorable views were not insignificant. 
2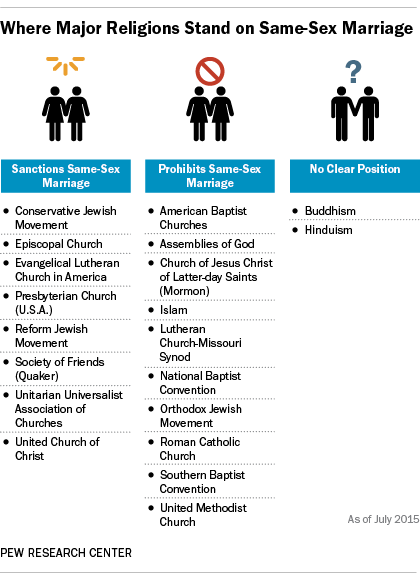 Many of our posts looking at data through the lens of religion proved popular, too. We explored which religious groups in the U.S. were most and least racially diverse (the results were a little surprising), and we highlighted seven facts about atheists and their beliefs.
We also started keeping track of where Christian churches and other religions stand on same-sex marriage, a landscape that was often changing (we had to update this post and chart a few times). And we examined how the Supreme Court's decision to legalize gay marriage could affect religious institutions.
3By and large, Americans don't much like income taxes or the federal tax system as a whole. But it's not, as you might imagine, because they think they pay too much. Rather, they feel corporations and the wealthy don't pay their fair share. But are they right?
We took a look at the data and found that high-income Americans pay the most in income taxes – though people can and will differ on whether it's enough to be "fair." As for corporations, it's true they are funding a smaller share of overall government operations than they used to, and corporate tax receipts haven't kept pace with the overall growth of the U.S. economy.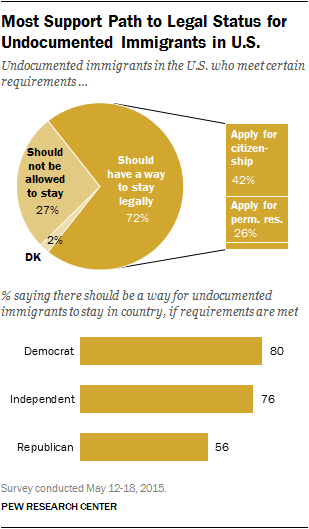 4Illegal immigration has been a hot political topic in recent years. Even though Congress did little to address the issue in 2015, our post on five facts about illegal immigration resonated with readers who were looking for nonpartisan information about undocumented immigrants, from how many there are in the U.S. currently to where they come from and where they live.
And as the 2016 presidential race shifted into high gear, we looked at what Americans think should be done about illegal immigration, as well as their overall views of immigrants.
5Alexis de Tocqueville, the early 19th century French political thinker, famously described the United States as "exceptional." And indeed, the data show that Americans stand out from the rest of the world in a few distinct ways, from our sense of individualism and our work ethic to how religious or optimistic we are, especially in comparison with other wealthy countries.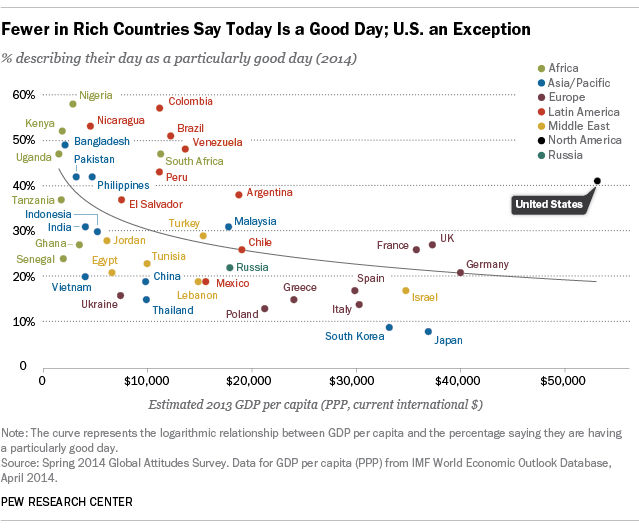 6Information about the middle class is a perennial favorite of both presidential contenders and Fact Tank readers. Our recent analysis found that the American middle class is both shrinking and falling behind financially. But middle-class Americans are still rich by global standards.
Two of our most popular posts this year offered readers interactive calculators that helped them discover whether they are part of the American middle class and the global middle class – and if they aren't, where they do fall relative to the rest of the country or the world, respectively.
7Millennials continue to make headlines, including on our Fact Tank posts. Our research showed that this confident, politically independent generation not only overtook Generation X as the largest generation in the U.S. workforce, but also is projected to overtake Baby Boomers as the nation's largest living adult generation – two data points that resonated with our audience.
There was also our striking finding about Millennials and free speech: 40% of Millennials say it should be OK for the government to limit speech that's offensive to minority groups, a far greater share than in other generations. Overall, our survey found that a majority of Americans say people should be able to say offensive things about minority groups publicly. And our post examining how Millennials compare with their grandparents 50 years ago offered a popular long view on this younger generation.
Note: Item No. 7 in this post was updated on June 16, 2018, to reflect the Center's revised definition of the Millennial generation and the updated year in which Millennials will be the largest generation.
8Studying the nation's demographics and shifting habits leads us inevitably to … yes, online dating. Our survey about online dating sites finds that they've lost their stigma; in fact, a majority of Americans say they are a good way to meet people, and 5% of married or committed Americans say they've met their significant other this way. Still, a third of those who sign up say they've never gone on a date with someone they met on an online dating site.
9Scientists and the general public have markedly different views on any number of topics, from evolution to climate change to genetically modified foods. But one thing both groups agree on is that science and math education in the U.S. leaves much to be desired.
A Pew Research Center survey found that only 29% of Americans rated their country's K-12 education in science, technology, engineering and mathematics (known as STEM) as above average or the best in the world. And, among scientists surveyed, just 16% called U.S. K-12 STEM education the best or above average.
Fact Tank's look at standardized test results around the world seemed to bear out these sentiments: U.S. students are improving – slowly – in math and science, but still lagging their peers internationally.
Note: Item No. 7 in this post was updated on June 16, 2018.