Overview
On the eve of the New Hampshire primary, Republican voters continue to express mixed views of the party's presidential field. Roughly half (51%) of Republican and Republican-leaning registered voters say the candidates are excellent or good, while 44% say they are only fair or poor.
The percentage expressing positive views of the GOP presidential field is largely unchanged from 48% in November and 49% in August. Republicans and GOP leaners expressed much more positive views of the presidential field at a comparable point four years ago: In January 2008, 68% of Republicans and Republican leaners said they had good candidates to choose from, as did 78% of Democrats and Democratic leaners.
The latest national survey by the Pew Research Center for the People & the Press, conducted Jan. 4-8 among 1,507 adults, including 549 Republican and Republican-leaning registered voters, finds that Mitt Romney holds a sizable lead in the race for the GOP nomination: 27% favor Romney, while Rick Santorum and Newt Gingrich are tied for second with 16% each. Ron Paul is not far behind at 12%.
Santorum's support has surged since December, when he drew just 3% of the vote. Romney's support has ticked up during this period, from 21% to 27%, while Gingrich has
lost ground. In December, Gingrich was the front-runner with 33% of the vote; in the new survey, only about half as many (16%) favor the former House speaker.
Despite Santorum's strong showing in the Iowa caucuses, where he only lost to Romney by eight votes, Romney has been the most visible GOP candidate in recent days. In a separate survey conducted Jan. 5-8, 44% of Republican and Republican-leaning voters name Romney as the candidate they have heard the most about recently, compared with 16% who name Santorum and 12% Gingrich.
GOP Ratings of Field Far Less Positive than in '08
In 2008, both Democrats and Republicans grew increasingly satisfied with the quality of the candidates for their party's nomination as the campaign progressed. By contrast, the continued lackluster ratings offered by Republicans this year track more closely with how Democrats viewed their
options in early 2004.
In January of that year, just 47% of Democratic voters felt the field of candidates was excellent or good; as many (47%) said the candidates were only fair or poor.
In the current survey, conservative Republicans and GOP-leaning independents express more positive opinions of the presidential field than do moderates or liberals (56% excellent or good vs. 43%). In January 2008, 70% of conservatives and 64% of moderates and liberals said the GOP candidates as a group were excellent or good.
Tea Party Republicans, White Evangelicals Divided
The new survey finds that Republican voters who agree with the Tea Party are divided in their preferences for the nomination: 26% support Romney while Santorum and Gingrich each draw 24%.
Romney holds a wide lead among Republicans who do not agree with the Tea Party: 29% favor Romney, 14% support Santorum, 13% Gingrich and 10% Paul.
Romney also leads Santorum and Gingrich among independents and other voters who lean to the Republican Party, a group that comprises about a third of all Republican and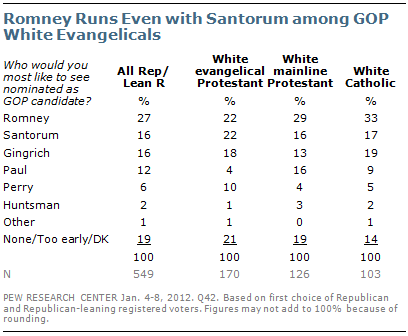 Republican-leaning voters. However, his advantage over Ron Paul among these voters is not significant.
White evangelical Republican and Republican-leaning voters are divided: 22% each favor Romney and Santorum, while 18% favor Gingrich. Romney fares slightly better among white mainline Protestants and white Catholics.
Little Change in 2012 Generic Ballot
As has been the case since the summer, voters are divided over whether they would like to see Barack Obama win reelection or would prefer to see a Republican win. Among all registered voters, 41% support Obama and the same percentage favors an unnamed Republican.
Independent voters also are divided (36% Obama vs. 36% Republican candidate). That is little changed from August when 38% favored Obama's reelection and 36% wanted to see a Republican win.