Generations Divide on Some—Not All—Social Issues
As discussed in Sections 1 and 4, different generations of Americans have starkly different views on some of the social changes occurring in the country today. That's particularly the case when it comes to trends related to diversity, homosexuality, and secularism.
While Millennials tend to take a more liberal position on most social issues, this is not universally true. Most notably, there is no significant generational difference on one of the most divisive issues in the nation: abortion rights.
Gay Marriage
The American public divides almost evenly today on the issue of allowing gay marriage: 46% favor allowing gays and lesbians to marry legally, while 44% are opposed. Public views on this issue have changed gradually over time; five years ago – in 2006 – 33% favored gay marriage while 56% were opposed. Fifteen years ago – in 1996 – just 27% favored gay marriage while 65% were opposed. But support has grown much more steeply recently. It is up nine points in just the past two years (37% in 2009, 46% today).
Almost six-in-ten Millennials (59%) favor gay marriage, but just a third (33%) of the Silent generation shares this view. About four-in-ten Boomers (42%) support legal marriage for same-gender couples, as does half (50%) of Generation X.
The gradual change over the long term largely reflects the arrival of the new generations politically. Over the course of the past 15 years each younger generation has been more supportive of gay marriage than those older than them. As the younger generations make up
a larger share of the public, the balance of opinion shifts inexorably in that direction.
But the shift toward support for gay marriage has been steeper in recent years because this generational replacement has been augmented by significant attitude changes within generations as well. As recently as 2009, just 23% of Silents supported allowing gay marriage. Now 33% say they do. The increase in the past two years also has been notable among Boomers (from 32% to 42%), Gen Xers (from 41% to 50%) and Millennials (from 51% to 59%).
Attitudes about this issue vary by race across generations. Among whites, 50% support gay marriage; among non-whites, the figure is 39%. Even among Millennials – the generation most in favor of gay marriage – the race gap is large. Two-thirds of white Millennials (67%) favor legalizing gay marriage, compared with 48% of non-white Millennials.
Little Change in Abortion Attitudes
Abortion
The dynamics of public opinion regarding abortion stand in stark contrast to the issue of gay marriage. While attitudes about legalizing gay marriage have shifted dramatically, public views on the legality of abortion have been far more stable. And while there are huge generational differences when it comes to gay marriage, the same is not true for abortion.
Just more than half of Americans (54%) think abortion should be legal in most (35%) or all (19%) cases. Fewer (41%) say it should be illegal in most (25%) or all (16%) cases. This is comparable to the balance of opinion in Pew Research Center and ABC/Washington Post surveys over the past 15 years, aside from a brief period in 2009 when the balance of opinion ran about even.
As has been the case in the past, differences by generation are small. About half of Silents (51%) say abortion should be legal in all or most cases. That view is shared by 56% of Boomers, 55% of Generation X and 53% of Millennials. Meanwhile, about four-in-ten in each generation say abortion should be illegal in all or most cases.
The Death Penalty
A majority of Americans – including over half within each generation – favors the death penalty for persons convicted of murder. Still, support has declined substantially over the past 15 years. The change reflects shifting personal attitudes on this issue, as well as more consistent opposition among Millennials.
Overall, more Americans favor (58%) than oppose (36%) the death penalty for persons convicted of murder. But opposition to the death penalty, while still the minority view, has been on the rise for the past 15 years. In 1996, just 18% of Americans opposed the death penalty. Opposition is up six points in just the past year – from 30% in 2010 to 36% today. (A longer Gallup trend shows that the period from the late 1980s to the mid 1990s was a high point in support for the death penalty. Support had been much lower in a trend going back to 1936. For more, see Gallup's report: "In U.S., Support for Death Penalty Falls to 39-Year Low.")
Millennials have been consistently more opposed to the death penalty than have older generations. Currently, 51% of Millennials favor the death penalty for persons convicted of murder, while 46% are opposed. In each other generation, support outweighs opposition by nearly two-to-one, with little difference between Silents, Boomers and Generation X.
Overall, support for the death penalty remains higher for whites than for people of other races. Whites favor the death penalty by a 65% to 30% margin. Among nonwhites, just 43% favor the death penalty while 50% are opposed. The greater opposition to the death penalty among Millennials in part reflects the racial and ethnic diversity of that generation. The size of this racial gap is similar across all generations, but nonwhites make up a larger share of the younger groups. Still, younger whites and nonwhites express more opposition to the death penalty than their over-30 counterparts.
Gun Rights and Gun Control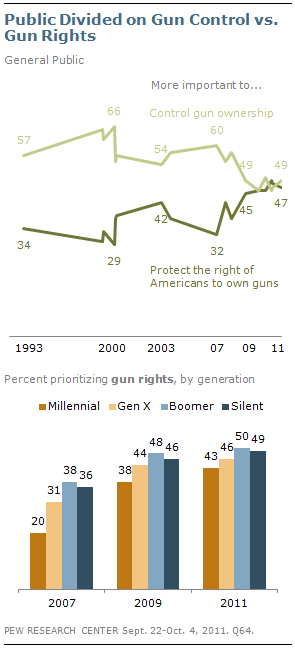 Public attitudes about gun control and gun rights took a sharp turn after Barack Obama took office. Over the previous two decades, majorities of Americans consistently put a higher priority on controlling gun ownership than protecting the right of Americans to own guns. But since early 2009, the public has been divided almost evenly.
In the past, major events have affected the public's views. Most notably, there was an uptick in support for gun control following the Columbine High School shootings in 1999, and more recently, following the mass killings at Virginia Tech in 2007. But there was no such shift following the Tucson shootings earlier this year that left six dead and Rep. Gabrielle Giffords severely injured.
Millennials continue to be somewhat more supportive of gun control than older generations, but the difference is relatively small. Currently, Millennials support controlling gun ownership over protecting gun rights by a 55% to 43% margin. All other generations are divided about evenly.
Marijuana Legalization
Public attitudes about the legalization of marijuana have shifted dramatically over the past four decades. In 1973, just 20% of Americans said the use of marijuana should be made legal, though this included a substantial 43% of Baby Boomers, who were then still under age 25. Overall support rose to 31% by 1978, but then fell significantly in the 1980s, bottoming out at 16% from 1987 to 1990. Once popular among Baby Boomers, just 18% of Boomers supported marijuana legalization in 1990, when they were between the ages of 26 and 44.
But over the past two decades a growing share of Americans have backed the legalization of marijuana. That number rose to 31% in 2000, 41% in 2010 and 45% in the latest Pew Research Center survey on the issue in March 2011. Still, 50% in the latest survey say the use of marijuana should remain illegal.
Millennials are the only age group in which a majority favors legalizing the use of marijuana – 55% say yes, while 42% say no. Gen Xers are divided about evenly (49% yes, 47% no). Among Silents, opposition continues to outweigh support by roughly two to one (31% yes, 65% no). Though Silents are the least likely to say marijuana should be legal, their current level of support is about the highest it has ever been.
And Baby Boomers, who turned the most sharply against legalizing marijuana in their late 20s and 30s, have now shifted their views again. Currently, 41% of Boomers support legalizing the use of marijuana, while 52% are opposed, roughly the same balance of opinion among Boomers as in 1973.
Foreign Policy
Younger generations hold more liberal values when it comes to U.S. foreign policy. They are more likely than older people to favor multilateralism over unilateralism and the use of diplomacy to ensure peace, rather than a reliance on military strength.
Two-thirds of Millennials (66%) say that relying too much on military force to defeat terrorism creates hatred that leads to more terrorism. A slimmer majority of Gen Xers (55%) agree. But Boomers and Silents are evenly split between this view and the position that using overwhelming military force is the best way to defeat terrorism.
The Iraq and Afghanistan Wars
Millennials, more than any other generation, question the value of the unilateral use of military force and encourage diplomatic engagement. But over the years, Millennials have not been more likely than older generations to oppose the wars in Iraq and Afghanistan. When it comes to Afghanistan, in particular, it is the Silents, who have the greatest reservations.
When asked whether the war in Iraq has been worth fighting considering the costs and benefits, comparable majorities in all generations say no. Overall, 57% say the war has not been worth fighting, while 36% say it has.
A majority of Americans (52%) also says the war in Afghanistan has not
been worth fighting, considering its costs and benefits. There are relatively small generational differences in opinions on this question. But just 32% of Silents say the war has been worth fighting, compared with at least four-in-ten in younger generations.
Younger generations are far more optimistic about the situation in Afghanistan than are their older counterparts. Millennials, and Gen Xers to a slightly lesser degree, mostly think the U.S. will succeed in achieving its goals there. And they are more confident than older generations that Afghanistan will be able to maintain a stable government after most U.S. forces leave the country. Consistent with these views, Millennials and Gen Xers tend to express more support for keeping troops in Afghanistan until the situation has stabilized.
Americans are divided over whether it is appropriate (45%) or inappropriate (48%) for the military to engage in non-combat missions – as it has in Iraq and Afghanistan – such as reconstruction operations intended to strengthen a country's social, political and economic institutions. A majority of Millennials (53%) view these missions – sometimes
called "nation building" – as appropriate, but just a third of Silents (33%) agree.
Generations also differ over the nation's foreign policy priorities. While 24% overall say promoting human rights in foreign countries should be a top long-range foreign policy priority, Millennials are more likely to rate this as a top priority than are Silents (29% vs. 14%). By contrast, Silents are about twice as likely as Millennials to say solving that the Israel-Palestinian conflict should be a top priority (39% vs. 21%).
Terrorism and Civil Liberties
Though many Millennials were very young at the time of the Sept. 11 terrorist attacks in 2001 there is little doubt that it remains a vivid memory. Virtually all adults (97%) say they can
remember exactly where they were or what they were doing when they first heard the news. This includes nearly all Millennials (97%), who were between 8 and 20 years old at the time of the attacks. The figure is just as high among the youngest Millennials – who were ages 8 to 12 at the time – as among the oldest.
While the recollection is distinct, Millennials are far less likely to describe the attacks as something that moved them or affected them emotionally. More than half (55%) of Millennials say the 9/11 attacks affected them a great deal emotionally, but among older generations, at least eight-in-ten say this. Still, Millennials are about as likely as the public as a whole to say that the Sept. 11 attacks fundamentally changed life in America (68% of Millennials, 61% of public).
One stark difference across generational lines is how people look back at America's actions prior to the attacks. Younger Americans are far more likely to say that there are things the U.S. did wrong in its dealings with other countries that might have motivated the Sept. 11 attacks. A slim majority (53%) of Millennials, along with 47% of Gen Xers, say the U.S. did things that may have motivated the attacks. This view is less prevalent among Boomers (39%) and especially Silents (30%).
Civil Liberties
Millennials take a starkly different position than older generations when it comes to the tradeoff between civil liberties and security from terrorism. By nearly three-to-one (72% vs. 25%) Millennials say it will not be necessary for the average American to give up some civil liberties in order to curb terrorism. All other age groups are divided over this issue.
There are only modest generational differences in opinions about whether airports should be allowed to conduct extra checks on people of Middle Eastern descent. However, Millennials are more concerned than older generations about government monitoring of Muslims. Most Millennials (55%) believe U.S. policies single out Muslims for increased surveillance, and 37% say this bothers them. Far fewer Xers (23%), Boomers (20%) or Silents (19%) are bothered by this kind of policy.
But Millennials are not uniformly opposed to government anti-terrorism policies that could be seen as infringing on civil liberties. For example, half of Millennials (50%) favor government monitoring of credit card purchases as a measure to curb terrorism. Just 32% of Silents agree. And there are no substantial generational differences over requiring a national ID card.
In addition, there are only modest differences in attitudes about the government use of torture against suspected terrorists in order to gain important information. Overall, 54% of Americans believe this can be often or sometimes justified, including roughly half in all generational groups.
Free Trade and China
Millennials stand out for their strong support of free trade. By about two-to-one (63% to 30%) more Millennials say free trade agreements are good for the country rather than bad. Other generations are divided about evenly on this question.
Moreover, nearly seven-in-ten Millennials (69%) say it is more important to build a stronger economic relationship with China; just 24% say it is more important to get tough with China on economic issues. Gen Xers on balance favor building stronger economic ties with China, but by a much smaller margin (53% to 41%). Boomers and Silents are about evenly divided over this.
Immigration
The public has long endorsed measures aimed at restricting the flow of illegal immigration, as well as a so-called path to citizenship for people in this country illegally. A large majority (78%) favors stronger enforcement of immigration laws and border security. Nearly as many (72%) favor providing a way for illegal immigrants already in the country to gain legal citizenship if they meet certain requirements.
Younger generations are more likely to favor creating a path to citizenship than are older ones. Eight-in-ten Millennials (81%) favor providing a way for illegal immigrants currently in the country to gain legal citizenship if they pass background checks, pay fines and have jobs. Three-quarters of Gen X (76%) also favor this approach, but fewer Boomers (68%) and Silents (61%) do.
When it comes to immigration enforcement, at least eight-in-ten Xers, Boomers and Silents favor enhancing it. Fewer Millennials (68%) favor stronger enforcement of immigration laws and border security.
Americans are divided over whether to build a fence along the entire border with Mexico: 46% favor this idea and 47% oppose it. Millennials are the only generation in which a majority (55%) opposes building a fence along the border with Mexico.
The Environment, Energy and Climate Change
There are deep generational divides over the nation's energy and environmental priorities, and in terms of general values, it is the Silent generation that stands apart. In setting America's energy policy priorities, 71% of Millennials say we should focus on developing alternative energy sources rather than expanding oil, coal and natural gas exploration. Roughly the same number of Gen Xers (69%), and a broad majority of Boomers (60%) agree. But among Silents, opinion is more divided; 47% say alternative energy should be the priority, while 40% say the country should focus on expanding exploration and production of fossil fuels.
The pattern is similar in how the generations evaluate the impact of environmental laws and regulations. Just over half (53%) of Americans say these laws are worth the cost, including most Millennials, Gen Xers and Boomers. A 39% minority of Americans say stricter environmental laws and regulations cost too many jobs and hurt the economy. This figure rises to 49% among the Silents.
These generational differences extend to specific policy proposals as well. A March Pew Research Center survey found overwhelming majorities of Millennials (82%), Xers (80%) and Boomers (74%) favoring increased federal funding for wind, solar and hydrogen technologies. Barely half of Silents (54%) agreed. And while the three younger generations clearly favor tax incentives for people who buy hybrid or electric vehicles, Silents tend to be opposed.
While Americans, on balance, prioritize investment in alternative energy sources over expanding fossil fuel production, most support both ideas. By a 57% to 37% margin, most favor allowing greater offshore oil and gas drilling in U.S. waters. (Support had decreased to a low of 44% in the wake of the summer 2010 BP oil spill in the Gulf of Mexico.) Both Boomers and Silents endorse expanded offshore drilling by more than two-to-one, while Xers and Millennials are more divided.
Public support for promoting the increased use of nuclear power fell to 39% in the wake of the catastrophic damage to a Japanese nuclear power plant following the March 2011 earthquake and tsunami there. Even so, a modest generational divide persisted, with Millennials and Xers expressing more opposition to expanded nuclear power (58% each) than Silents (38%).
Perspectives on Climate Change
A majority of Americans (58%) say there is solid evidence that the average temperature on earth has been getting warmer, according to the most recent Pew Research Center survey on this issue in March of this year. Among those who say the earth is warming, more say it is caused by human activity (36%) rather than natural patterns (18%).
Millennials are slightly more likely than the older generations to say there is solid evidence of warming and that the warming is caused mostly by human activity. Currently, 64% of Millennials say they think the earth is getting warmer, a view shared by 59% of Xers and 55% of Silents and Boomers. And Millennials are almost twice as likely as Silents to say that global warming is caused mostly by human activity (43% vs. 22%).
The overall share of Americans who say the earth is warming has declined over the past five years. In 2006, 77% said there is solid evidence of global warming. That fell sharply from 71% in 2008 to 57% in 2009 and now stands at 58%.
The decline in the view that the earth is warming has occurred across generational lines. Currently, 64% of Millennials say there is solid evidence that the average temperature on earth has been warming, down from 80% in 2006. There has been a similar shift among Silents from 76% in 2006 to 55% this year.
As reported in 2009, the public's views on climate change have become increasingly partisan, and there continues to be a wide partisan divide on this issue. Pew Research Center polling over the past three years has found that twice as many Democrats and Democratic-leaning independents say there is solid evidence of global warming than Republicans and GOP-leaning independents (76% vs. 38%).
Among Democrats and leaners, there is virtually no generational divide on whether there is solid evidence of warming (about three-fourths in all generations say this) and only a modest divide on whether warming is caused by human activity (55% of Millennial Democrats say this, compared with 43% of Silent Democrats).
But there are generational differences among Republicans. About half (49%) of Millennial Republicans and Republican leaners say global warming is occurring, compared with 33% of Silent Republicans. There also is a generational gap among Republicans on whether warming is caused mostly by human activity (29% of Millennial Republicans say this compared with just 9% of Silent Republicans).