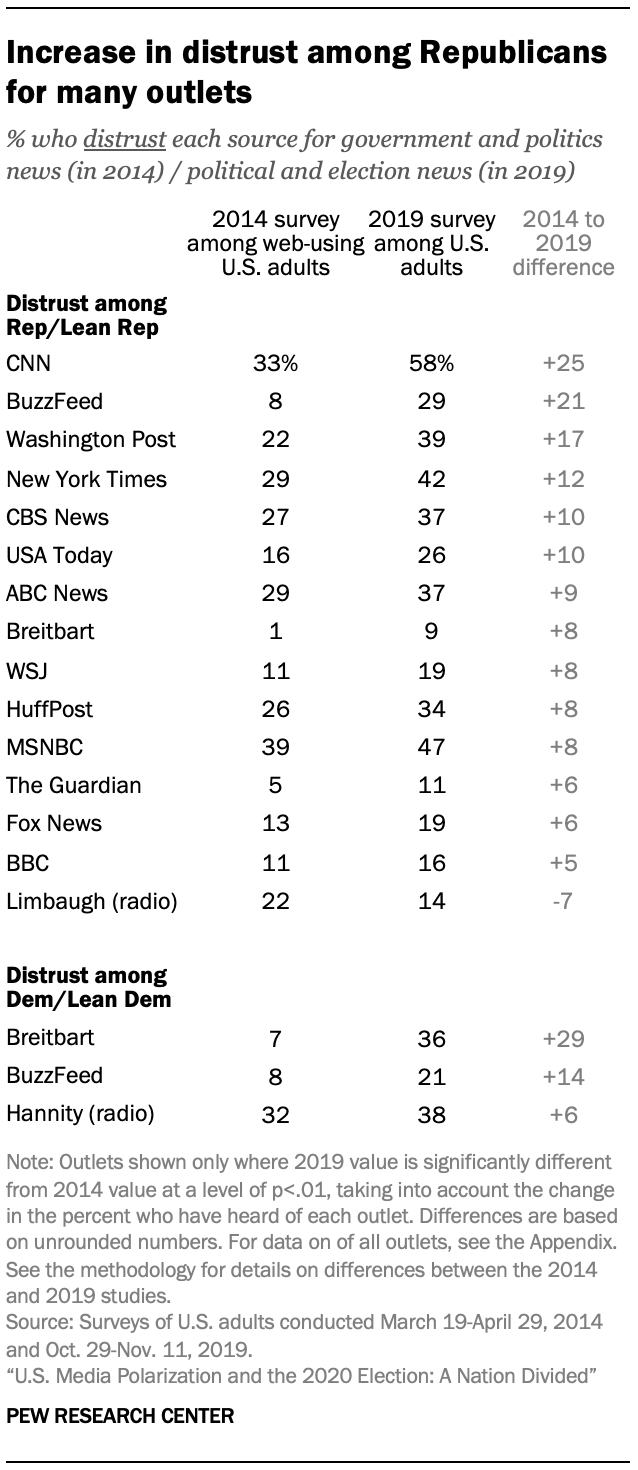 In 2014, Pew Research Center conducted its foundational "Political Polarization & Media Habits" report. That study – which was conducted among web-using adults only – revealed that political polarization had bled into Americans' news preferences. The new 2019 data suggests that, the chasm has widened in the five years since. Although there are a few methodological differences between the two studies, the central questions regarding trust and distrust have been repeated for 20 news outlets, allowing us to make a rough comparison over time (a fuller discussion of the two studies can be found in the methodology.)
Most of the movement over these five years has come from Republicans and Republican- leaning independents increasing their distrust of many of the more traditional outlets tied to legacy platforms like network TV and print newspapers. There has been far less movement among Democrats and Democratic-leaning independents, and those smaller changes are largely expressed as greater trust in a few outlets.
Of the 20 sources asked about in both the 2014 and 2019 studies, distrust among Republicans increased for 15. Among those that have seen the largest erosion are those often decried by President Trump. Take for example CNN, where distrust has increased among Republicans from 33% in 2014 to 58% today. The percentage of Republicans who distrusted The Washington Post in 2014 was 22%; now it is 39%. There was a similar shift with The New York Times, where distrust jumped from 29% to 42% in the past five years.
Republican distrust in The Wall Street Journal increased from 11% to 19% in that span and distrust of USA Today grew from 16% to 26%. CBS and ABC have also seen Republican distrust increase by 10 percentage points and 9 percentage points, respectively.
Among Democrats, levels of distrust and trust remained remarkably stable from 2014 to 2019. One exception is the Sean Hannity radio show, where distrust among Democrats increased moderately, from 32% to 38%. The percentage of Democrats who distrust Breitbart News also increased, from 7% to 36% in that period, accompanied by a rising familiarity with the conservative news outlet. In 2014, only 10% of Democrats were aware of Breitbart, compared to 42% now. Only two outlets experienced an increase in trust among Democrats: The Washington Post (37% in 2014 and 47% in 2019) and Politico (1o% to 21%).
A recent Pew Research Center study sheds light on what may be at least partly behind the growing distrust on the right. In that study, researchers examined questions from more than 50 different surveys to determine what factors connect with higher or lower trust in the news media writ large. It revealed that in the Trump era, under a president who has frequently criticized much of the traditional news industry, no factor comes close to matching the impact of political party identification on trust in the news media overall. What's more, within the Republican Party, approval of Donald Trump aligns with much greater animosity toward news organizations and journalists.