Findings
Overview
In a national survey between November 30 and December 27, 2009, we find:
74% of American adults (ages 18 and older) use the internet — a slight drop from our survey in April 2009, which did not include Spanish interviews. At that time we found that 79% of English-speaking adults use the internet.
60% of American adults use broadband connections at home – a drop that is within the margin of error from 63% in April 2009.
55% of American adults connect to the internet wirelessly, either through a WiFi or WiMax connection via their laptops or through their handheld device like a smart phone.  This figure did not change in a statistically significant way during 2009.
These data come from the Pew Research Center's Internet & American Life Project. The most recent survey was conducted from November 30 to December 27, 2009, using landline and cell phones and including interviews in Spanish. Some 2,258 adults were interviewed and the overall sample has a margin of error of ± 2 percentage points.
---
Internet Users
Not all Pew Internet Project surveys include Spanish interviews, so these survey results are not completely comparable to all previous Project surveys. This latest survey finds that 74% of adults use the internet, a figure that has not markedly changed since early 2006, when we measured the online population at 73%. There is some variation from survey to survey. Here is the current profile of internet users:1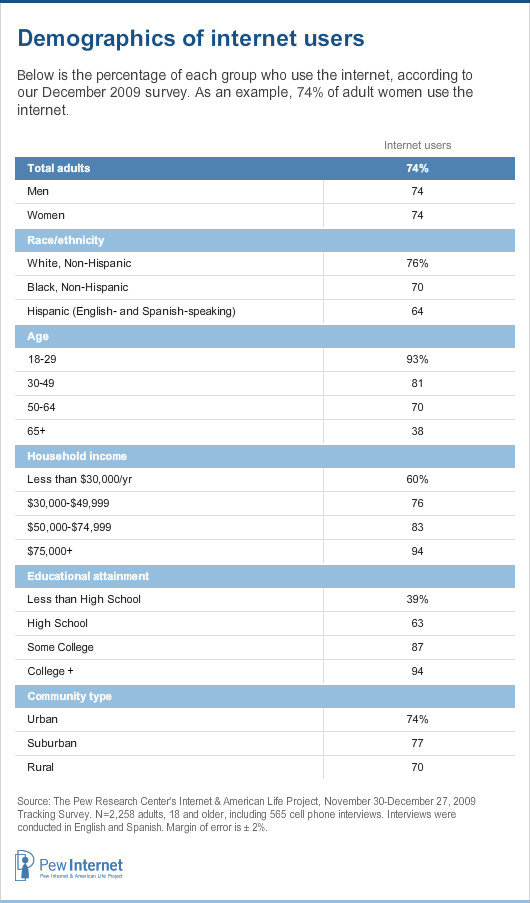 These latest figures add to a long-term picture in Pew Internet Project data that there has been little significant growth in the overall internet user population since 2006.
Broadband Users
Again, this survey included Spanish interviews and that somewhat decreased the number of Americans reporting that they have broadband connections in their homes. Some 60% of adult Americans said they had home broadband connections in this survey and here is a portrait of the home broadband users:2
Broadband use at home has risen fairly consistently since the Pew Internet Project began to measure it in 2000, but growth rate has slowed somewhat in the general population.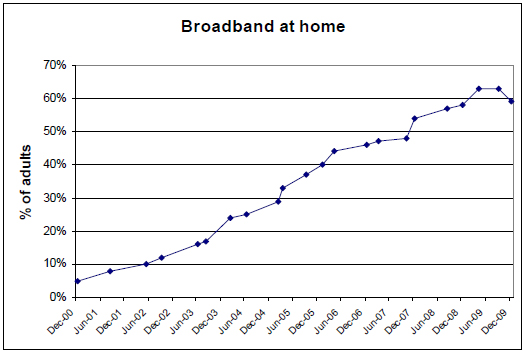 Wireless Users
Overall, 55% of Americans connect to the internet wirelessly at least on occasion. The Pew Internet Project measures wireless connectivity to the internet in several ways. First, it looks at those who connect via standard computer. Some 46% of adults now own laptop and, among them, 83% connect via WiFi and 28% connect via wireless broadband. In this survey, we also found that 83% of adults have cell phones or smartphones and, among them, 35% have accessed the internet via their phone. Here is the portrait of wireless users: