For Lackluster Veterans, modern ICTs are just OK. Although they are content with gadgets' communicative aspects, few like their intrusiveness and not many see ICTs adding to their personal productivity.
This group's typical member has been online for a long time – roughly ten years – and has folded the use of the internet into his everyday life. Along the way, he has acquired the necessary armaments for the information age, such as a broadband connection, cell phone, and a digital camera.
But the wealth of ICTs possessed by Lackluster Veterans does not translate into particularly high levels of satisfaction about gadgets' impacts on their lives. Although they seem to value internet connectivity, that is less true for cell phones. Overall, Lackluster Veterans do not link ICTs to better personal productivity, their ability to work with others in their community, or keeping up with family and friends.
Assets
Nearly all of Lackluster Veterans (92%) have desktop computers and 77% have broadband at home, trailing only Omnivores and Connectors. Perhaps because members of this group are in their forties and likely to have children, most have digital cameras – 79% do – and many have video cameras (55%).
90% of this group goes online on the average day, but it doesn't do a lot for them.
Lackluster Veterans are oriented to things that enhance traditional media, but less to technology that takes them down new paths. Some 25% have a digital video recorder (compared with the 18% average). Three quarters (76%) of them have cell phones and of these cell phone users, just 34% say their cell phones can take photos and 13% say their cell phones can play music, both figures that trail the average.
As to devices that facilitate online mobility, the picture is mixed for this group. Half (45%) have laptop computers, which exceeds the average but significantly trails the figure for Omnivores (79%). Just 14% have personal digital assistants, and Lackluster Veterans are half as a likely as Omnivores to have a PDA that can check email or surf the internet.
Activities
Members of this group have deeply embedded online habits, as witnessed by the high frequency with which they use the internet, and their predilection to log on just to pass the time. Nine of 10 of Lackluster Veterans (89%) go online on the typical day and many are checking out the internet several times a day from both home and work (47% do so from both places). Nearly half (45%) go online on the typical day just for fun or to pass the time.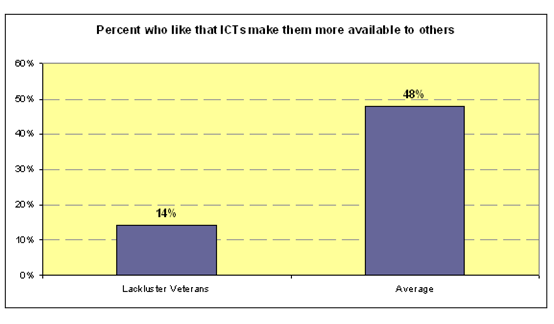 Approaching half (47%) of Lackluster Veterans have tried at least one of the six activities relating to user-generated content, above the 37% average. Although they are no different from the average when it comes to blogging, they rate above average in posting comments online and just above the average for participating in group blogs or web pages and having their own web pages.
Lackluster Veterans do not show a strong inclination to take old media to new devices. One in seven (14%) have watched a TV program on a non-television device, which is about the average. For radio, 36% have listened to radio on a device other than a home or car radio. That is above the 24% average, but well below the rate reported by Omnivores and Connectors.
With their high rate of digital camera adoption, many share digital photos over email or post them online. Fully 77% of Lackluster Veterans who take digital photos email them and 22% post them to the internet.
Finally, Lackluster Veterans members are not very extensive users of cell phones. One-third (35%) of cell users make most of their calls with their cell phones – below the average of 39% — and very few use them for things such as taking pictures or email.
Attitudes
Despite Lackluster Veterans' steady rhythm of internet use, ICTs do not play a central role in different dimensions of their lives. Fully 57% say that information technology helps them "a lot" to stay in touch with family and friends and the same number (57%) say this about how information technology improves their ability to learn new things. And 47% say that information technology helps "a lot" their ability to do their job.
These numbers are just a bit above the average, with the exception of the figure for staying in touch with family and friends, which slightly lags the average. These minor differences from the norm are somewhat striking in light of this group's many years of online experience and extensive collection of ICTs.
When Lackluster Veterans were asked what would be "very hard" to give up, from a list of technologies that include the TV, telephone, cell phone, and cable TV, the internet comes in first for them with 46% saying this (against the average of 34%), for email 34% said this (matching the average) and 34% said this about whether it would be very hard to give up the cell phone, nine points below the average.
Just a third of Lackluster Veterans would find it hard to give up their cell phones.
These tepid attitudes about ICTs' specific impacts filter into broader concerns expressed by Lackluster Veterans about ICTs. When asked whether they like that information technology makes them more available to others, just 14% said they did, well below 48% average and one-fifth the figures registered by Omnivores and Connectors. As to personal productivity, just one fifth (20%) of Lackluster Veterans thought ICTs make them more productive; this is below thee 33% average and less than a third of the figures recorded for Omnivores and Connectors.
Demographics
This group has a median age of 40 and has a lot of online experience, as the typical Lackluster Veteran has been online for about 10 years. Most of them are men – 65% – and they are well educated and comfortably financially. Some 41% are parents of a child under the age of 18. They make up 8% of the general population.