What spiritual leaders do online
Much of the journalism on religion and the Internet to date points out that the Internet gives the site visitor a sense of anonymity – that seekers, particularly those not deeply connected to particular churches or synagogues, may be more willing to go to the Internet than to actually set foot in a church or temple. While anonymity is an advantage online, church-wary folk are hardly the only ones who venture into cyberspace for religious purposes.
Our survey provided an opportunity to ask those filling out the questionnaire to talk about their own uses of the Internet. They were mostly ministers and rabbis, other major officials, or congregational Webmasters. We asked them to tell us what they did when they surfed the Web for spiritual content.
The comments of respondents illustrated that the Internet is used for an array of purposes. Not surprisingly, many indicated they looked at other congregational sites for ideas, or they looked for clip art, music, or other elements available to download to their own sites. Individuals wrote to us that they do Biblical research, look up information about other denominations and faiths, seek out devotional material, and even listen to religious radio online. Clergy participate in online groups with other clergy in which they discuss areas of common interest and provide feedback on sermons, and participate in prayer networks; they research biblical text and sermon resources. Youth leaders look for youth group ideas, music leaders frequent cyber-hymnals, and one respondent used the Web to find recipes for prosphora, loaves of bread used during the Orthodox Eucharist.
We asked participants to indicate whether they had done specific activities online. Their responses show a mix of goals, some seeking to further congregational worship and programs, and others for personal study or mediation.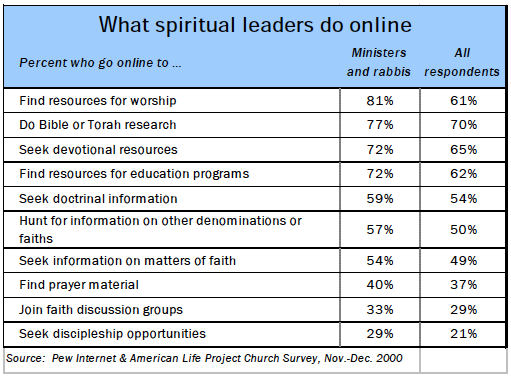 In addition, one-third of respondents noted that they found some resources on-line that they wish were available within their congregations. This finding may have particular relevance in light of current speculation as to whether it is possible for believers to have all their spiritual needs met online. George Barna, a social scientist who studies trends in religious and secular culture, found that one out of six teenagers "expect to use the Internet as a substitute for their current church-based religious experience" within the next five years.
A few churches used the term "cyber-member" in their comments to us, but they generally wrote that those who access worship via the Internet are elderly people who could not attend services, or previous members who had moved away but retain ties. If Barna's prediction is correct, and if teens can accurately predict their preferences five years down the road (two very big "ifs"), congregational sites may need to find ways to engage both the spiritual and financial interests of a new young breed of spiritually-minded surfers.