German Chancellor Angela Merkel is scheduled to visit the White House and President Joe Biden this week as she wraps up her final year in office. The trip is likely to be Merkel's last visit to the United States as chancellor; German federal elections are to be held in late September. Merkel's trip is aimed at deepening bilateral relations and addressing shared challenges, such as the COVID-19 pandemic and climate change.
Here are some fast facts about how people globally see Merkel and Biden, based on recent Pew Research Center surveys.
This Pew Research Center analysis focuses on public attitudes toward German Chancellor Angela Merkel in 17 advanced economies in North America, Europe and the Asia-Pacific. For non-U.S. data, the report draws on nationally representative Pew Research Center surveys of 16,254 adults from March 12 to May 26, 2021, in 16 advanced economies. All surveys were conducted over the phone with adults in Canada, Belgium, France, Germany, Greece, Italy, the Netherlands, Spain, Sweden, the UK, Australia, Japan, New Zealand, Singapore, South Korea and Taiwan.
In the United States, we surveyed 2,596 U.S. adults from Feb. 1 to 7, 2021. Everyone who took part in the U.S. survey is a member of the Center's American Trends Panel (ATP), an online survey panel that is recruited through national, random sampling of residential addresses. This way nearly all adults have a chance of selection. The survey is weighted to be representative of the U.S. adult population by gender, race, ethnicity, partisan affiliation, education and other categories.
This study was conducted in countries where nationally representative telephone surveys are feasible. Due to the coronavirus outbreak, face-to-face interviewing is not currently possible in many parts of the world.
To account for the fact that some publics refer to the coronavirus differently, in South Korea, the survey asked about the "Corona19 outbreak." In Japan, the survey asked about the "novel coronavirus outbreak." In Greece, the survey asked about the "coronavirus pandemic." In Australia, Canada, New Zealand and Taiwan, the survey asked about the "COVID-19 outbreak." All other surveys used the term "coronavirus outbreak."
Here are the questions used for this report, along with responses. Visit our methodology database for more information about the survey methods outside the U.S. For respondents in the U.S., read more about the ATP's methodology.
Merkel's confidence ratings are similar to Biden's, according to a spring survey of 17 publics. A median of 77% have confidence in the German chancellor to do the right thing regarding world affairs, compared with a median of 74% who say the same of Biden. However, Merkel is viewed with more confidence among Germans than Biden is among Americans. About three-quarters of Germans (76%) express confidence in Merkel, compared with six-in-ten Americans who say the same of Biden.
Confidence in Merkel is at record highs in 10 of the 14 countries where trend data is available. In several places, confidence in Merkel to do the right thing in world affairs has increased significantly since the question was last asked. For example, Italians' confidence in the German leader has increased 24 percentage points since the summer of 2020. Positive assessments of Merkel also increased significantly in Spain (by 14 percentage points), Greece (+8), Australia (+7), South Korea (+6), Japan (+6) and Sweden (+3).
Roughly six-in-ten Americans (63%) have confidence in Merkel, yet opinion is divided along partisan lines. About three-quarters of Democrats and Democratic-leaning independents (76%) say they are confident in Merkel, compared with 49% of Republicans and Republican-leaning independents – a difference of 27 percentage points.
Merkel's nearly 16-year tenure as chancellor has survived several crises, both in Germany and across the European Union. When it comes to the most recent of these challenges – the COVID-19 pandemic – Germany has received mostly favorable ratings. In the Center's recent survey, a median of 61% say Germany has done a good job dealing with the coronavirus outbreak, which is the highest rating of the countries and organizations included in the survey, including the U.S., China and the EU. Germans themselves, however, are split on their country's response: 51% say it has done a good job, compared with 49% who say it has done a bad job.
Though Americans and Germans hold the leaders of each other's countries in relatively high regard, just 10% of Americans said in a September 2020 survey that Germany was their nation's most important foreign policy partner. Instead, Americans saw the UK as their most important foreign policy partner, with 27% saying so. Likewise, only one-in-ten Germans cited the U.S. as Germany's most important foreign policy partner. In a follow-up survey conducted after Election Day in the U.S., however, the share of Germans who named the U.S. as Germany's most important foreign policy partner more than doubled to 23%.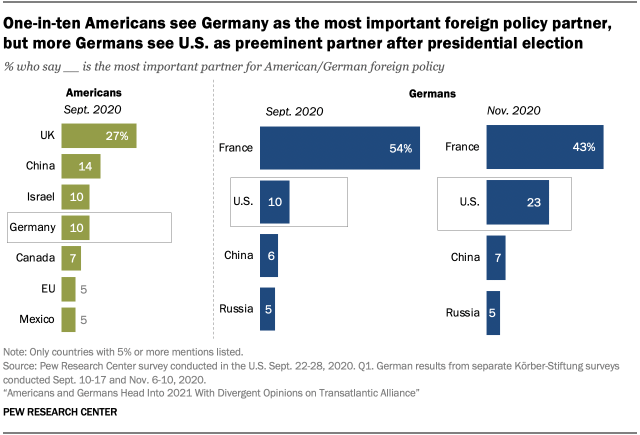 Note: Here are the questions used for this report, along with responses, and our U.S. methodology and international methodology.
Moira Fagan
is a research analyst focusing on global attitudes research at Pew Research Center.