Pope Francis begins a four-day trip this weekend to the Baltic states – Estonia, Latvia and Lithuania – the first papal visit to these countries in 25 years.
While the Baltic countries have a substantial Christian population, only Lithuania and Latvia have large numbers of Catholics, according to a Pew Research Center survey conducted in 2015 and 2016. Furthermore, the Catholics in these two nations are less religious than Catholics in neighboring countries, such as Poland.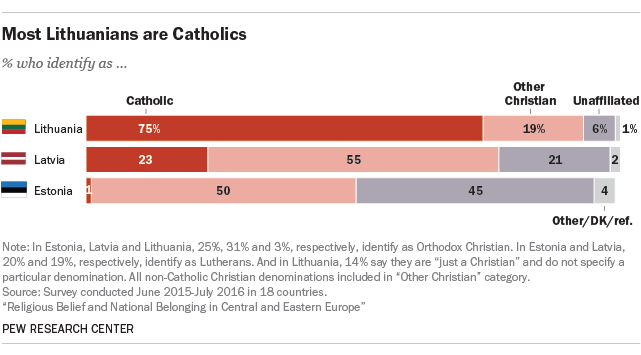 Lithuania is overwhelmingly Christian (93%), and three-quarters of its adults identify as Catholic. The adult population of Latvia also is mostly Christian (77%), but the share of Catholics in the country is smaller (23%). Substantial portions of Latvia's population are Orthodox Christians (31%) or Lutherans (19%).
By contrast, about half of Estonians identify as Christian (51%), and only 1% of the country's adults say they are Catholic. As with Latvia, numerous Estonians are Orthodox (25%) or Lutheran (20%). Most other Estonians (45%) – and about one-in-five Latvians (21%) – are religiously unaffiliated (those who identify as atheist, agnostic or "nothing in particular").
By some measures, Catholics in the Baltic states are less religious than Catholics in neighboring countries. For instance, among Catholics, the regional median for attending church at least weekly is 25%, but only 7% of Catholics in Latvia and 10% in Lithuania say they do this. (The survey sample of Estonian Catholics was not large enough to adequately measure their opinions.) By comparison, 45% of Polish Catholics say they attend church weekly or more.
Substantial numbers of Catholics in Latvia and Lithuania have expressed a favorable opinion of Pope Francis (69% and 74%, respectively). However, in other countries in the region that have large Catholic populations, Catholics generally have a more favorable view of the pontiff (median of 83%). That being said, most other Latvian and Lithuanian Catholics do not necessarily have a negative view of the pope; they simply do not have a stated opinion about Francis. (Data in this post about Pope Francis and the Catholic Church's policies were collected in 2015 and 2016, before recently publicized reports of sexual abuse in the Catholic Church.)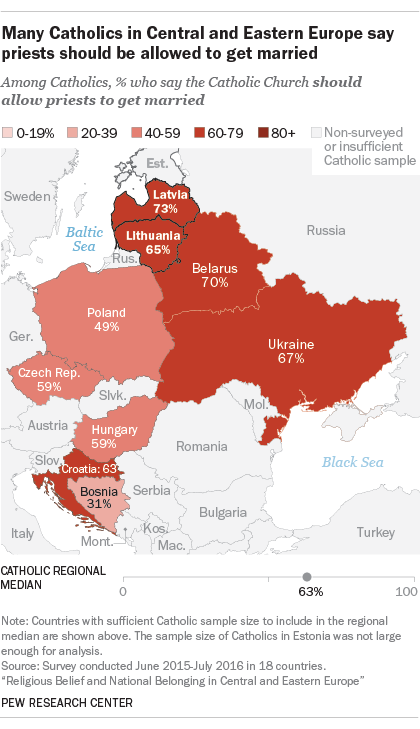 Finally, many Baltic Catholics are open to some change in the church. Most Lithuanian and Latvian Catholics think the Catholic Church should alter the current prohibition on priests marrying (65% and 73%, respectively). This is similar to many of the other Catholic populations in the region (median of 63%).
Latvian and Lithuanian Catholics are less supportive of allowing women to become priests (44% and 36%, respectively) than they are of permitting priests to marry. Again, this is similar to the views of other Catholics in the region (median of 41%).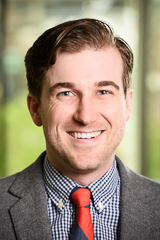 Jonathan Evans
is a research associate focusing on religion research at Pew Research Center.