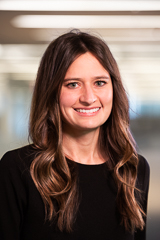 Download High-Res Photo
Displaying 31 - 40 of 42 results
Younger Americans more likely than older adults to say there are other countries that are better than the U.S.
Young people in the United States express far more skeptical views of America's global standing than older adults.
Two-thirds of Americans favor raising federal minimum wage to $15 an hour
Democrats are largely united in backing a $15 an hour federal minimum wage. Republican opinion on this issue is more divided.
Stark partisan divisions in Americans' views of 'socialism,' 'capitalism'
Republicans express intensely negative views of "socialism" and very positive views of "capitalism." Majorities of Democrats view both terms positively.
In year of record midterm turnout, women continued to vote at higher rates than men
Over half of women and men who were eligible to vote cast ballots in 2018. Compared with 2014, turnout increased by double digits among both genders.
Gender gap widens in views of government's role – and of Trump
Gender differences in the U.S. about the size and scope of government have been evident for more than a decade, but they have widened in recent years.
Response rates in telephone surveys have resumed their decline
Response rates to telephone public opinion polls conducted by Pew Research Center have resumed their decline, to 7% in 2017 and 6% in 2018.
In their own words: Why some people find voting difficult
Voters are more enthusiastic about voting than in any midterm election in over 20 years of Pew Research Center polling. Still, millions of Americans will not exercise their right to vote on Tuesday.
More in U.S. see drug addiction, college affordability and sexism as 'very big' national problems
In the nearly two years since the 2016 presidential election, Americans' views of the seriousness of several national problems have changed, with concerns about drug addiction, college affordability, sexism and racism on the rise.
Most Americans view openness to foreigners as 'essential to who we are as a nation'
For a large majority of Americans, the country's openness to people from around the world "is essential to who we are as a nation." In a new Pew Research Center survey, 68% say America's openness to foreigners is a defining characteristic of the nation, while just 26% say "if America is too open to people from all over the world, we risk losing our identity as a nation."
Republicans turn more negative toward refugees as number admitted to U.S. plummets
As the U.S. is on track to admit its smallest number of refugees in decades, opinions about whether the U.S. has a responsibility to accept refugees have become more polarized.