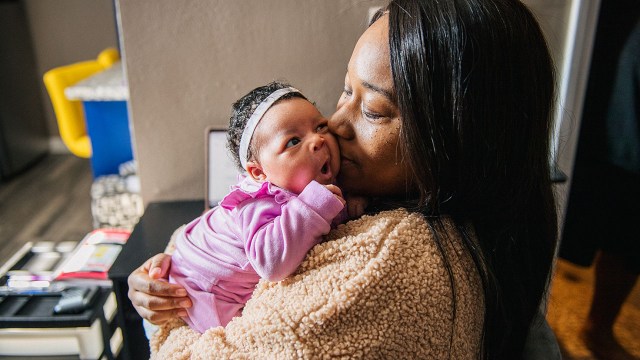 The experience of being a mom in the United States has changed over the last few decades as more women attend college, delay motherhood and stay in the labor force after their children are born. Still, working mothers typically take on more caregiving responsibilities at home than fathers do – and this was especially true during the coronavirus pandemic.
For Mother's Day, here's a snapshot of what motherhood looks like in the U.S. today, drawn from government data and Pew Research Center surveys.
Pew Research Center conducted this analysis ahead of Mother's Day 2023 to provide a snapshot of the demographics and experiences of mothers in the United States. The analysis is based on government data from the Centers for Disease Control and Prevention, the Census Bureau and the Bureau of Labor Statistics' American Time Use Survey, as well as survey data from the Center. Links to the methodology and questions of Center surveys and analyses can be found in the text of the analysis.
White, Black and Asian adults include only those who are not Hispanic and identify as only one race. Hispanics are of any race.
Moms' average age at first birth in the U.S. has ticked up steadily over the last decade. In 2021, the average woman gave birth for the first time at 27.3 years old, according to the most recent data from the Centers for Disease Control and Prevention. This was up from 2011, when the average mom was 25.6 at the birth of her first child.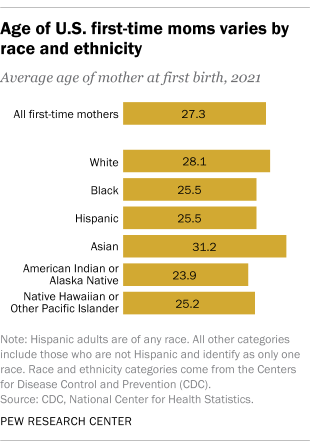 While mothers' average age at first birth has risen across racial and ethnic groups, some differences exist among them. In 2021, Black and Hispanic moms, on average, were younger at the birth of their first child (25.5 years for both groups) than White (28.1) and Asian moms (31.2). American Indian or Alaska Native first-time mothers were the youngest, on average (23.9).
The number of children women in the U.S. have in their lifetime has declined over time, Census Bureau data shows. In the late 1970s, women at the end of their childbearing years (ages 40 to 44) had, on average, more than three children. In 2020, women had about two children on average – a number that has been fairly stable for more than two decades. Most of this decline occurred between 1976 and the mid-1990s.
Women with more education have fewer children on average in their lifetimes. For instance, between 1976 and 2022, women ages 40 to 44 with at least a bachelor's degree had an average of 1.75 children, while women who do not have a high school diploma had, on average, 2.99 children.
Moms spend more time with their children than dads do – especially when their children are young, data from the 2021 American Time Use Survey shows. During waking hours, mothers with children under 6 spent 7.5 hours on child care per day on average, while dads spent 5.3 hours.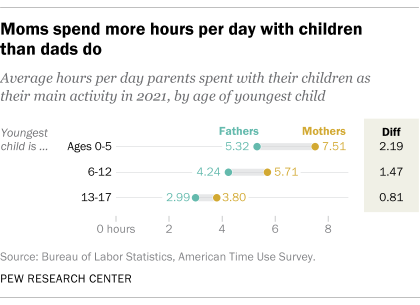 While with their young children, these moms spent 2.7 hours per day on caregiving tasks. Fathers spent 1.6 hours per day on caregiving activities.
Moms with children ages 6 to 12 reported spending an average of 5.7 hours per day on child care, while dads logged 4.2 hours. Mothers with teens ages 13 to 17 also spent more time doing this than fathers did (3.8 hours vs. 3 hours).
In opposite-sex couples, mothers report taking on more child care responsibilities than their spouse or partner does, while fathers are more likely to say these tasks are split about equally, according to a Pew Research Center survey conducted fall 2022.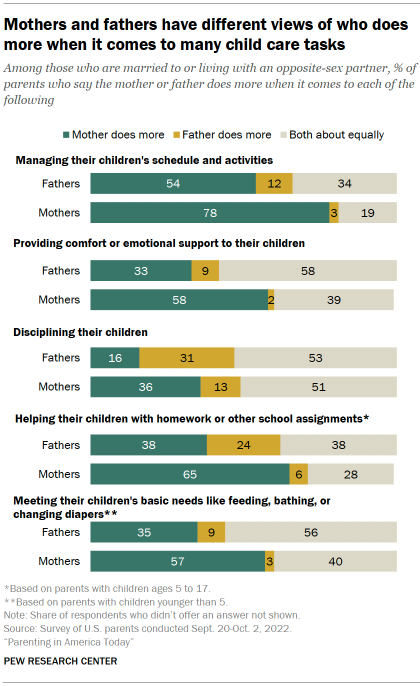 Among moms who are married to or living with a partner, majorities with children under 18 say they do more when it comes to managing their children's schedules and activities (78%) and providing comfort or emotional support to their children (58%). A majority (65%) of moms with school-age kids say they do more than their partner to help their children with homework or other school assignments. And 57% of moms with children under 5 say they do more to meet their children's basic needs, such as feeding, bathing or changing diapers.
Consistent with past surveys, perceptions of who takes on more child care responsibilities differ by gender among married and cohabiting parents in opposite-sex relationships.
Previous research has found that working mothers are more likely to carry greater household and caregiving loads, and many of the duties mothers take on in family life became even more difficult in the COVID-19 pandemic.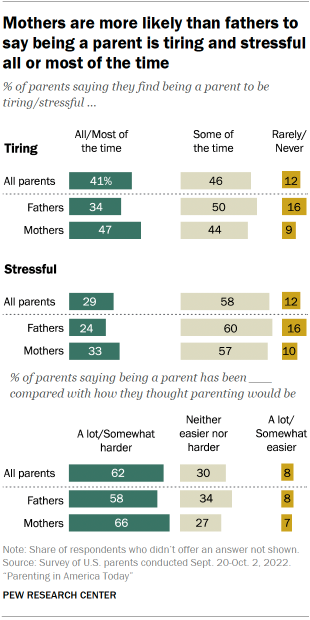 Moms are more likely than dads to say being a parent is harder than they expected, the fall 2022 survey found. Around two-thirds of mothers (66%) and a smaller majority of fathers (58%) say being a parent is a lot or somewhat harder than they thought it would be. That includes 30% of moms and 20% of dads who say it is a lot harder than they expected.
Larger shares of moms than dads also say they find being a parent tiring (47% vs. 34%) and stressful (33% vs. 24%) all or most of the time.
The vast majority of mothers find parenting enjoyable and rewarding, the same survey found. Overall, 83% of moms say that being a parent is enjoyable for them most (56%) or all of the time (27%). Eight-in-ten moms say being a parent is rewarding most or all of the time, with 37% saying this is the case all of the time.
Being a parent is a key part of most moms' personal identity, according to the fall 2022 survey. The vast majority of mothers (88%) say that being a parent is the most or one of the most important aspects of who they are as a person, with about a third (35%) saying it is the most important aspect. While a similarly large share of fathers (85%) say that being a parent ranks among the most important aspects of who they are, they are less likely than mothers to say it is the most important: 24% say this.
Note: This is an update to a post originally published on May 8, 2019.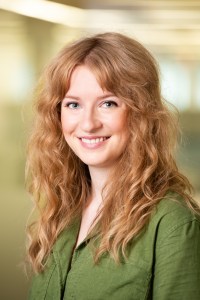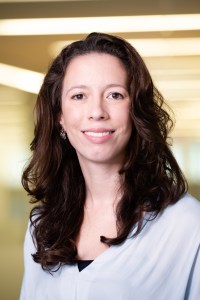 Carolina Aragão
is a research associate focusing on social and demographic trends at Pew Research Center.