President Donald Trump is a prolific Twitter user, using the social media site to promote his policies and criticize his opponents. But determining just how many Americans follow Trump on the platform is more challenging than it may sound: Twitter, after all, is an international platform used by institutional accounts and bots as well as living, breathing people in the United States.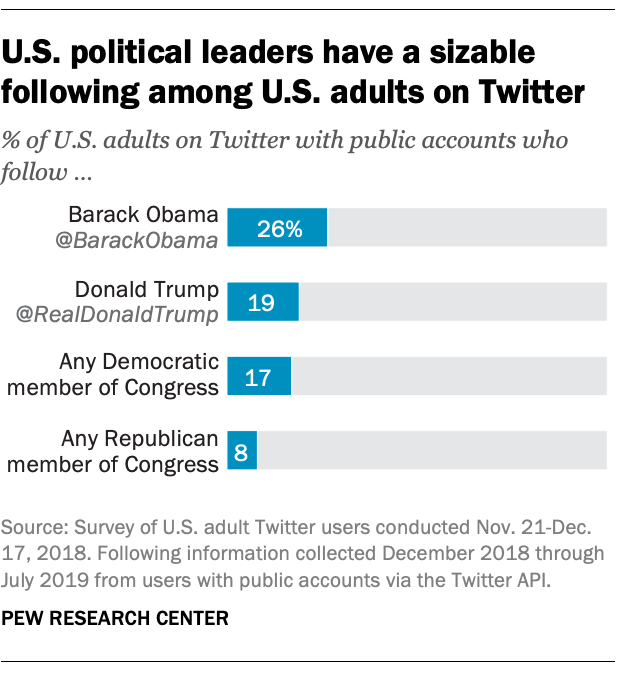 A new Pew Research Center analysis estimates that around one-in-five adult Twitter users in the U.S. (19%) follow Trump's personal account on the platform, @realDonaldTrump. Trump's immediate predecessor, Barack Obama (@BarackObama), is followed by 26% of U.S. adult Twitter users. Bill Clinton is the only other former president with a public Twitter account, followed by 6% of adult users. (George W. Bush has a private account and former president Jimmy Carter does not have a personal Twitter account.)
The analysis goes beyond simply counting each president's number of followers, which can include institutional or automated accounts, people in other countries and people younger than 18. Instead, it is based on a nationally representative sample of 2,388 U.S. adults who use Twitter and gave the Center permission to review their personal accounts, including who they follow. Researchers identified any accounts each respondent followed between December 2018 and July 2019.
The estimate is based on the 87% of adult Twitter users in the study who have public-facing accounts; it does not include the 13% of these users who have private accounts since it is not possible to independently verify which accounts those users follow. (For more on how Twitter users with public and private accounts compare, read our companion analysis.)
Perhaps not surprisingly, Republican and Republican-leaning adult Twitter users are more likely than Democrats and Democratic-leaning independents to follow Trump on the platform. About three-in-ten Republican adult Twitter users follow Trump (31%), while 13% of Democratic adult Twitter users do so. Conversely, nearly four-in-ten Democratic adult Twitter users (38%) follow Obama, compared with just 9% of those who are Republican or lean Republican.
Among users who follow Trump on the platform, 54% approved of his job performance as of late 2018, compared with 24% of adult Twitter users who don't follow the president.
Here are some additional findings from the Center's analysis:
Adults who say they post political content on Twitter are especially likely to follow the current and former presidents on the platform. Around a third (34%) of adult U.S. Twitter users who say they have tweeted about politics in the last 30 days follow Trump, and 51% follow Obama. By contrast, among those who say they have never tweeted about politics, 15% follow Trump and 18% follow Obama.
About two-in-ten adult Twitter users with a public account (21%) follow at least one member of Congress; 17% of these users follow one or more Democratic members of Congress, and 8% follow one or more Republican members of Congress. That includes the official, campaign, or personal accounts of all members of the House and Senate.
As of July 2019, 14% of adult Twitter users follow one or more of the 20 candidates for the Democratic presidential nomination in 2020 who participated in the first debates. The candidate with the largest share of followers among U.S. adult Twitter users is Bernie Sanders, with 6% of those users.
While considerable shares of adult Twitter users in the U.S. follow Trump and other political figures, it's important to keep in mind that relatively few Americans are on Twitter in the first place. Overall, 22% of U.S. adults say they use the platform, and those who do tend to be younger and more Democratic than the overall public, according to a Pew Research Center study earlier this year. Taking this into account, only a small share of Americans overall follow any individual politician on Twitter. For example, based on the analysis, a single-digit share of all U.S. adults are on Twitter and follow @realDonaldTrump. The same holds true for @BarackObama.
Still, tweets sent by political figures – particularly the president – often have far more reach than these estimates alone might suggest. Many Americans are exposed to Trump's tweets even if they don't follow him on the platform, such as through retweets, quote tweets or in media coverage. Trump himself has noted as much: In a June TV interview, he said, "I put it out, and then it goes onto your platform. It goes onto ABC. It goes onto the networks. It goes onto all over cable. It's an incredible way of communicating."
Note: See full topline results for this post and methodology for the complete survey.