The race for the Democratic presidential nomination enters a new phase this week with the first debates taking place in Miami, starting with 10 candidates who will face off tonight and another 10 on Thursday. Those who will appear are a diverse group – by background, age, gender, race and ethnicity and ideology – and reflect the competition of ideas within the party about its strategy and future.
Here are six facts about Democrats today.
1
Self-identified liberals make up a larger share of the Democratic Party than they once did. Nearly half of all Democrats and Democratic-leaning independents (46%) describe their political views as liberal, an increase of 17 percentage points since 2003. Today, 39% of Democrats say they are moderate, while just 14% are conservative.
2Democratic voters have become much more racially and ethnically diverse over the past two decades. The next generation of Americans will be the country's most diverse yet. Democrats are changing to reflect the nation's growing racial and ethnic diversity more quickly than Republicans. In 2017, 59% of Democratic and Democratic-leaning registered voters were non-Hispanic whites, down from 75% two decades earlier. The share of Democratic voters who are black, Hispanic, Asian American or of another race has increased from 24% to 39% over this period. Non-Hispanic whites made up an overwhelming share of Republican voters in 2017 (83%); in 1997, 92% of GOP voters were white non-Hispanics.
3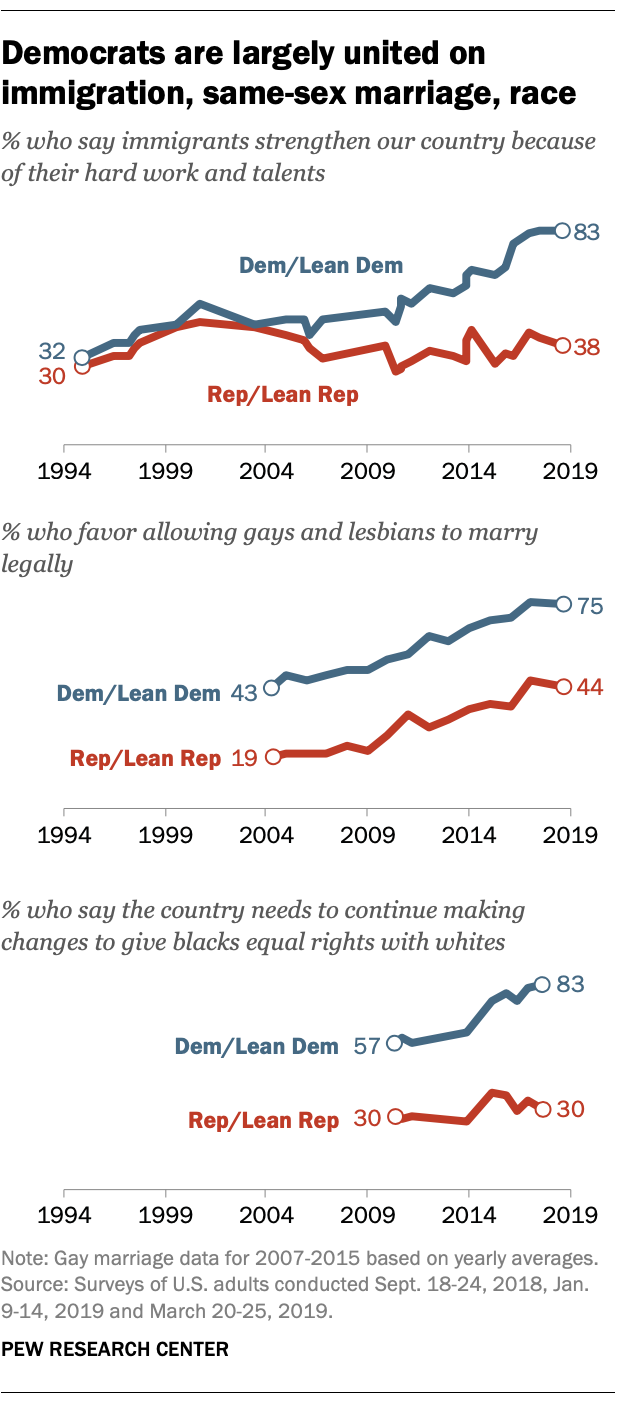 There is less division among Democrats than in the past on the issues of immigration, same-sex marriage and racial equality. A decade ago, there was more significant disagreement among Democrats over these issues, with the party nearly evenly split. Today, three-quarters of Democrats or more are in agreement on these issues.
In 2009, about half of Democrats (52%) said immigrants "strengthen our country because of their hard work and talents." Earlier this year, 83% of Democrats said immigrants did more to strengthen than burden the country.
A similar shift has occurred on same-sex marriage and views of the state of racial equality. In 2009, Democrats were divided in their views of same-sex marriage; today, three-quarters favor allowing gays and lesbians to marry legally.
Over the same period, the share of Democrats who say the country needs to continue making changes to give blacks equal rights with whites has increased from 57% to 83%.
4Democrats' top policy priorities are reducing health care costs, improving education, protecting the environment and securing Medicare. In our annual policy priorities survey in January, 77% of Democrats said reducing health care costs should be a top priority for the president and Congress, while comparable majorities said the same about improving the educational system (76%), protecting the environment (74%) and making Medicare financially sound (73%).
Democrats and Republicans differed on the importance of most of the 18 policy goals in the survey, but the widest gaps were over the environment and climate change. Democrats were 43 percentage points more likely than Republicans to say protecting the environment should be a top priority (74% vs. 31%) and 46 points more likely to cite dealing with global climate change as a top priority (67% vs. 21%).
5Democrats are united in their opposition to Donald Trump. Democrats are nearly unanimous in their disapproval of Trump's job as president. In May 2019, 93% of Democrats and Democratic-leaning independents said they disapproved of Trump's performance, including 81% who said they very strongly disapproved.
Democrats express overwhelmingly negative views of Trump's handling of major issues, his personal traits and his administration's ethics and honesty. In addition, a recent survey on political discourse found that sizable majorities of Democrats – at least 85% in each case – say they are often or sometimes concerned, exhausted, angry, insulted and confused by the things that Trump says.
6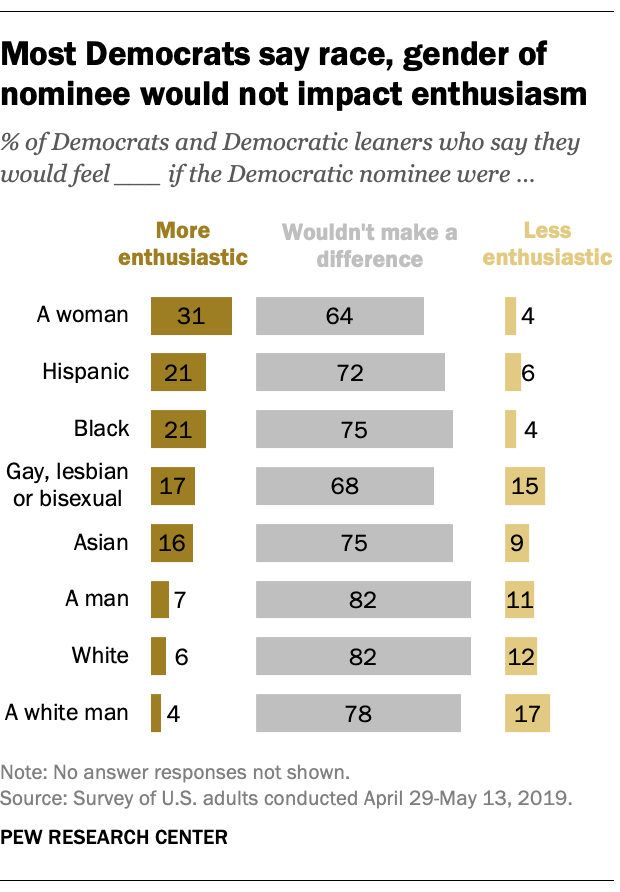 Majorities of Democrats say the gender, race or sexuality of the Democratic nominee in 2020 wouldn't make a difference in their enthusiasm. Nearly two-thirds of Democrats (64%) say it would not make a difference in their enthusiasm if the party's nominee is a woman, while nearly a third (31%) say they would feel more enthusiastic.
Among Democratic women younger than 50, 45% say they would be more enthused over a woman nominee, compared with 28% of Democratic men under 50.
Relatively small shares of Democrats overall say their enthusiasm would be affected if the party's nominee is black or Hispanic. However, about a third of black Democrats (35%) say they would be more enthusiastic if the nominee is black and 44% of Hispanic Democrats say the same about a Hispanic nominee.
The same survey in May finds that nearly half of Democrats (47%) say it is best for a president to be in their 50s; very few Democrats say the 30s (6%) or the 70s (3%) are the ideal age ranges for a president.